'Community' Made a $42 Million Mistake That Could Prevent 'Six Seasons and a Movie' From Ever Happening
Community has been off the air for five years now, but it has never been far from the minds of the show's devoted fans, who still clamor for the long-promised movie. The mantra that went on in Community circles was "Six seasons and a movie." We got the six seasons, so where's the movie?
That has proven to be easier promised than actually done. For one thing, even the sixth season almost didn't happen. The show has a rather fraught history, from the behind-the-scenes drama with Chevy Chase to the temporary absence of its creator, Dan Harmon. Despite all that, cast, crew, and fans still hold hope for the Community movie, as elusive as it has been.
What was 'Community?'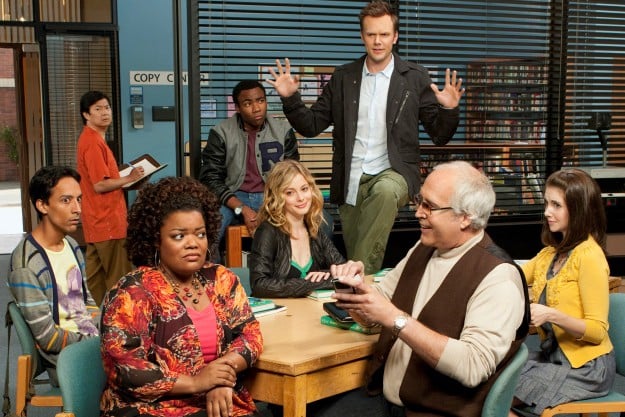 Community ran for its first five seasons on NBC, with its cast including Donald Glover. Joel McHale, Alison Brie, Gillian Jacobs, Yvette Nicole Brown, Danny Pudi, Ken Jeong, and Chevy Chase. The "community" was a fictional community college in Greendale Colorado. 
The premise was that Jeff Winger (McHale) is disbarred when it is discovered that he lied about possessing a bachelor's degree from Columbia University. To get a legitimate degree, he enrolls at Greendale Community College, He immediately becomes attracted to his classmate, social activist Britta Perry (Jacobs), and their social circle enlarges. 
The show has an overall rating of 88 percent on Rotten Tomatoes, with most seasons scoring 89 percent or better. However, the show never became a true breakout hit, with the ratings falling from season to season.
It didn't help that Dan Harmon sat out season 4. After getting dropped by NBC after season 5, the show was rescued at the last minute, but not by another network.
What was the mistake that could torpedo the movie? 
The sixth season of Community was an online-only venture by Yahoo, which had set up a streaming platform called Yahoo Screen. At the time of the switch from NBC to Yahoo, Harmon said: "I am very pleased that Community will be returning for its predestined sixth season on Yahoo … I look forward to bringing our beloved NBC sitcom to a larger audience by moving it online."
Whether that audience was really larger seemed unlikely, because Yahoo Screen was no Netflix. According to Screen Rant, the service was glitchy, and its backers had a hard time monetizing the show. As a result of all the problems, Yahoo was forced to take a $42 million write-down on Community. 
At the time, however, the movie seemed unlikely. Harmon pointed out the actors were making strong individual careers, saying: "We've exploded into these successful shrapnel. Dr. Ken is now Dr. Ken. Alison has probably got her eye on movies. Gillian is working on a Netflix show. If there was some magical way of guaranteeing that everyone could come back all at once, let's do it. But it would be a lot easier to put together a movie project and get them all on board than to say, 'Let's give it one more season!'"
Is there hope yet for the 'Community' movie? 
Despite all those individual careers, talent in front of and behind the cameras for the show kept hope alive for the movie. As reported by Vulture, Dan Harmon said it would take $1 million for Donald Glover for the movie to happen. Was that too much to ask? 
Apparently not. In May, most of the cast, with the noted exception of Chevy Chase, reunited for an online table read to benefit COVID-19 relief. Variety reported that Glover said he was game for a movie. 
It certainly helps that the show's six seasons are now on Netflix, and Netflix has been known for providing backing for movies when other outlets could not. While the pandemic prevents a movie from happening anytime soon, the cast and crew seemed too enthused for the movie prospects to fade away.