'Community' Star Chevy Chase Admits He 'Wasn't So Different' From Pierce Hawthorne
With its Netflix revival and cast reunion special, Community is back in the spotlight. And all this new attention has Chevy Chase is opening up about his role on the show. In a recent Instagram post, the actor admitted he isn't much different than his character, Pierce Hawthorne.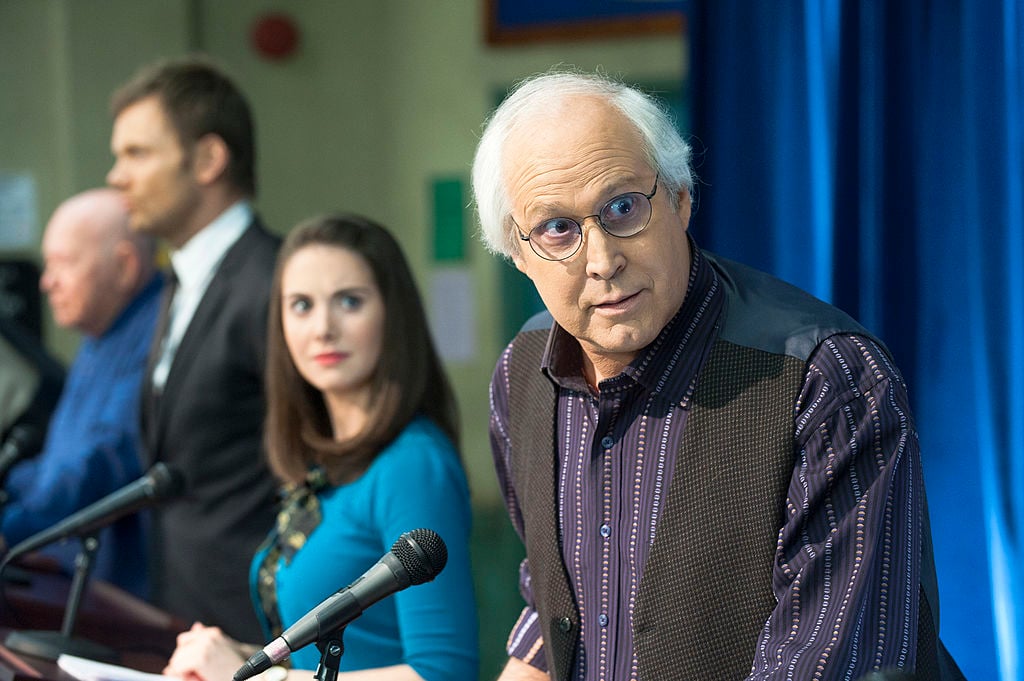 Chevy Chase is a comedy legend
Chase was making audiences laugh long before he joined Community. As a cast member and writer on the first season of Saturday Night Live in 1975, he is credited with making the show a success. Chase was only on SNL for a season and a half but picked up two Primetime Emmys for his work.
After leaving SNL, Chase went on to star in a number of hit films including Caddyshack, Three Amigos, and Fletch. He also led three National Lampoon movies: National Lampoon's Vacation, Christmas Vacation, and European Vacation. 
In 1997 and 1998, Chase hosted the Academy Awards. And in 2015, he returned to SNL for its 40th Anniversary special. 
'Community' is his most notable role in recent years 
Chase joined the cast of Community in 2009. For the first four seasons, he played Pierce Hawthorne, a moist-towelette mogul who has a hard time making friends because of his antiquated and bigoted beliefs. 
But Chase abruptly left the show in the middle of Season 3. As revealed by Community showrunner and writer Dan Harmon, Chase would often leave set early and complain about the script. 
"The answer I heard from the people on set was that he didn't think it was funny," Harmon wrote in a Reddit Q & A thread. "The real answer, I believe, is that he wanted to go home because he was tired. He probably didn't realize he was permanently damaging the episode by doing so because he often walked off set and then we would just pick up his shots later in the week."
Many people who worked on the show with Chase have openly discussed his behavior on set. In their Darkest Timeline podcast, Joel McHale and Ken Jeong talked to Community director Joe Russo about Chase. Russo revealed that Chase once called him a "Napoleonic pr*ck" because he didn't like the scene he was doing. 
Why did Chevy Chase leave the show? 
It isn't clear exactly why Chase left Community. It may have been because he was unhappy with the show, or, as Harmon suggested, he may have just gotten tired of the schedule. In a 2012 interview with Huffington Post UK, the actor revealed how grueling the hours were. 
"The hours are hideous, and it's still a sitcom on television, which is probably the lowest form of television," said Chase. "That's my feeling about it. I think the reason I have stuck around is because I love these kids, the cast – they are very good." 
He says he's not 'so different' than his 'Community' character
Now, as fans reconnect to his character on Community, Chase is also doing the same. He's been sharing fan posts on his Instagram stories. And in a recent Instagram post, the actor opened up about his role, admitting he's a lot like Pierce. 
"This is Chevy Chase, or Pierce Hawthorne if you guys like," Chase says in the video. "I know some of you have written in and said that you love the show, Community, and that's really nice, and I loved playing Pierce Hawthorne. He wasn't so different from me, Chevy Chase, and I tried to keep it that way. You know, it was a challenge of sorts to be me."
It's really no surprise that Chase and his character are so alike. When talking to McHale and Jeong on their podcast, Russo revealed that Harmon would hear things actors would say on set and add them to the script. So many things Chase said to the cast and crew during filming turned into Pierce's dialogue.
Even though Community is over, it's nice to see the cast, including Chase, celebrate their time on the show. Hopefully, if a movie ever comes around, the comedy legend will come back to reprise the role he's so personally connected to.