'Community': Troy and Abed's Funniest Moments Prove They're One of TV's Greatest Comedy Duos
Now that Community is on Netflix, fans are getting a chance to relive Troy Barnes (Donald Glover) and Abed Nadir's (Danny Pudi) infamous rap sessions and sidesplitting hijinks. To prove they're one of TV's greatest comedy duos, here are some of Troy and Abed's funniest moments.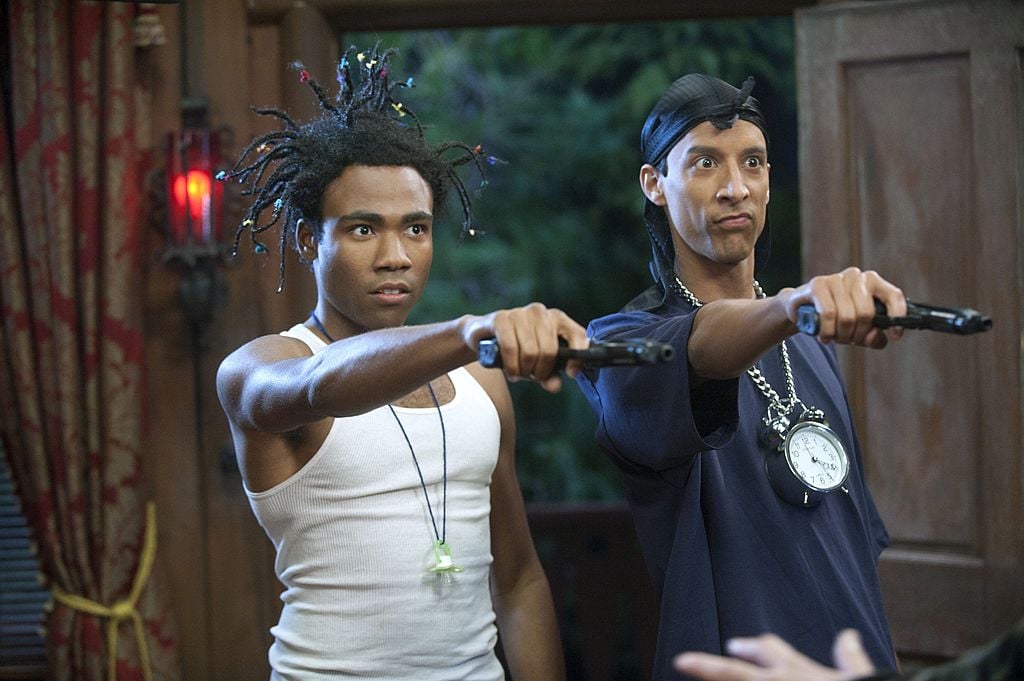 Troy and Abed's "La Biblioteca" Rap
Troy and Abed's study session Spanish rap is one of Community's funniest scenes. It appears at the end of Season 1, Episode 2, "Spanish 101."
As the duo sits in the study room pouring over their Spanish books, they begin to rap using the basic Spanish phrases and words they've learned.
"Troy and Abed In The Morning"
With scenes appearing throughout the first five seasons of Community, Troy and Abed's fake morning show is one of the duo's funniest running gags. In clips of "Troy and Abed in the Morning," they turn into typical morning show hosts and interview their fellow students.
But most of the time, Troy and Abed's guests are confused and have no idea why they're there. But true to their charming style, they always stay committed to the bit.
If Troy were a donut
In Season 1, Episode 7, "Introduction to Statistics" the study group celebrates Halloween. With Troy dressed up as Eddie Murphy and Abed dressed as Batman, the two friends discuss the important things in life in raspy Christian Bale-style Batman voices.
The big question: What would they do if they woke up one day as food? "That's one of my biggest fears. If I ever woke up as a donut," says Troy. "You would eat yourself?" asks Abed, to which Troy admits, "I wouldn't even question it."
5. Troy and Abed's "Christmas Infiltration" Rap
On Community, Season 3, Episode 10, "Religious Holiday Music," Abed convinces Troy (a Jehovah's witness) to participate in the Christmas show by pretending to like the holiday and destroying it from within. This leads to their hilarious rap song, "Christmas Infiltration."
In the music video-style clip, the duo raps about ambushing Santa, being on the spectrum, and pretending to like Christmas to save their friends.
"Anthropology Rap" with Betty White
Betty White guest stars as Professor June Bauer on the premiere episode of Season 2, "Anthropology 101." At the end of the episode, she sits in between Troy and Abed as they study.
When the two begin beatboxing and rapping about mammals and humans, the professor jumps in with adorable quips. Their rap turns into a rendition of Toto's "Africa," with White enthusiastically singing the hook.
Troy and Abed as Bert and Ernie on Season 1 of 'Community'
Most of Troy and Abed's funniest moments come during the end tags of Community episodes. In the final scene of "Physical Education," the pair dresses up as Sesame Street characters Bert and Ernie.
Using only his one puppet arm, Troy returns a book to Abed and realizes it's the same empty book he has. Then, after they finish shoving cookies into their mouths, Troy breaks character and realizes he's missing his cousin's funeral.
The running 'Kickpuncher' gag
Troy and Abed are huge fans of a movie called Kickpuncher. At the end of Season 1, Episode 15, "Romantic Expressionism," they cosplay as Kickpuncher characters with homemade costumes.
Abed turns their cosplay into a movie-style homage. Troy plays the hero, Kickpuncher, while Abed takes on the roles of the villain Punchkicker, his two goons, and the damsel in distress.
"Oh Christmas Troy" on the 'Community' Season 1 holiday episode
At the end of Season 1, Episode 12, "Cooperative Religion," Abed and Troy deck the halls by trimming Troy instead of a tree. While Abed hangs ornaments on Troy, he sings "Oh Christmas Troy."
Eventually, Jeff (Joel McHale) joins in to cover Troy in tinsel. And the three continue to sing their hilarious Christmas jingle.
Abed's Cartoon Tunnel
In Season 2, Episode 2, "Accounting for Lawyers," Abed pranks Troy with a cartoon tunnel on campus. As Troy walks by, Abed pretends that his cartoon self is talking to Troy and tricks him into thinking he made it through to the cartoon world.
Abed describes how wonderful the cartoon world is, and tells Troy that he can cross over if he just believes. Just as Troy sweetly closes his eyes and begins to head toward the tunnel, Abed stops him and tells him it's not real.
Troy and Abed's New Apartment
When Troy and Abed move in together in Season 3, Episode 4, "Remedial Chaos Theory," they invite their friends over for a dinner party. To mimic proper etiquette, they turn to an outdated book on how to be the perfect party hosts.
As a result, the new roommates dons blazers and ascots, show off their huge 'Raiders of the Lost Ark' prop, and overzealously try to convince their friends to play a round of Yahtzee.