'Community': Why Netflix Just Pulled the 'Advanced Dungeons and Dragons' Episode
After being off the air for five years, NBC's hit sitcom Community found a new home on Netflix. But the streamer, which carries all six seasons of the series, recently pulled one controversial episode from their catalog. Here's a breakdown of why Netflix is no longer streaming "Advanced Dungeons and Dragons."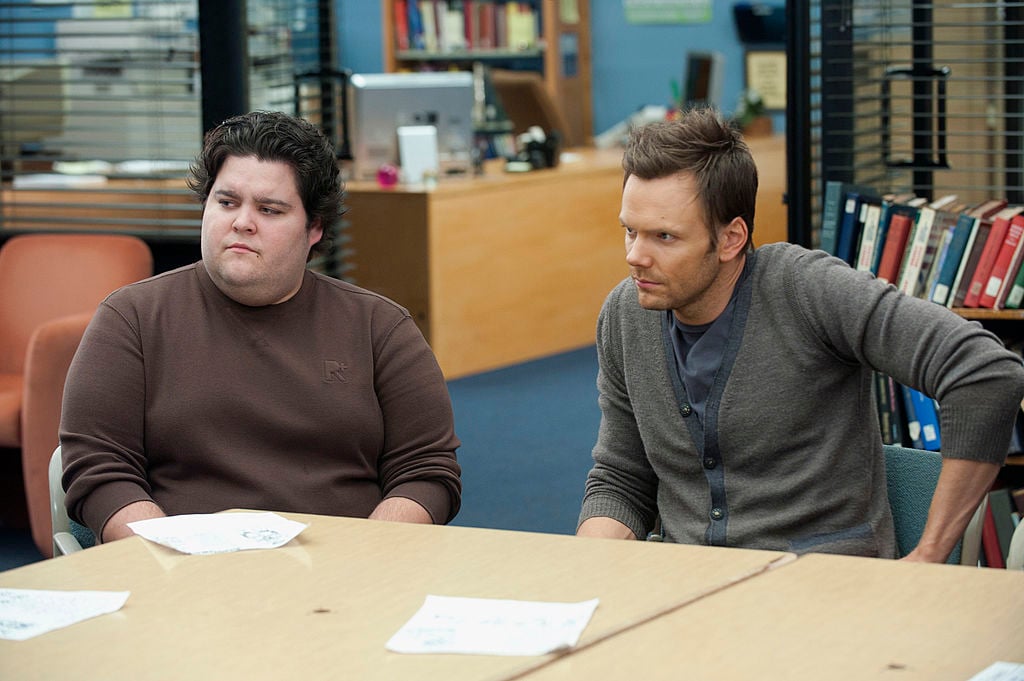 'Advanced Dungeons and Dragons' appears on Season 2 of 'Community'
As the fourteenth episode of Season 2, Advanced Dungeons and Dragons is centered around Neil (Charley Koontz), a fellow Greendale student who is teased about his weight. After being nicknamed "Fat Neil," Neil seems depressed and possibly suicidal, so Jeff Winger (Joel McHale) decides to cheer him up by playing his favorite game, Dungeons and Dragons. 
Jeff gets the entire study group to join in on the game. Each student takes on a different character, with Abed (Danny Pudi) leading the game as dungeon master.
Eventually, Pierce Hawthorne (Chevy Chase) forces himself into the game. And in the end, after he relentlessly tortures Neil and loses, the group learns that Jeff was only trying to cheer Neil up because he felt guilty for coining his nickname.
The episode is often regarded as one of the series' best
Written by comedy writer Andrew Guest and directed by Joe Russo, "Advanced Dungeons and Dragons" touched on subjects like bullying and suicide, and it also featured meaningful character growth. Among fans of Community, is often considered one of the show's best episodes.
"'Advanced Dungeons and Dragons' is the best-contained episode of anything I've ever watched," one fan wrote on Reddit. "The acting and characterization is wonderful, and it's totally sold by the cast. The narrative's funny, tight, and surprisingly emotional — I can't get over how well they did this – it's just incredibly talented writing."
Why the 'Community' episode was pulled by Netflix
Community found a new life on Netflix, with fans old and new revisiting the show and thrusting it back into the spotlight. But amidst the growing awareness of racial insensitivity, the streamer pulled "Advanced Dungeons and Dragons" because it features Ken Jeong's character, Chang, in blackface. 
While the group is playing their game, Chang shows up with covered in dark black paint, wearing a white wig, and elf ears. He declares himself as a dark elf called Brutalitops the Magician.
"So, we're just going to ignore that hate crime, huh?," Shirley (Yvette Nicole Brown) asks the group, to which Chang responds, "I'm a dark elf or a drow."
But some Community fans are arguing that Chang's get-up was not racially motivated. And they're pointing out that he dressed up as a dark elf, just as he implied. 
"@netflix removing the Advanced Dungeons and Dragons episode of Community does nothing to heal racial injustice," one fan wrote on Twitter. "Chang was dressed as a mythical creature from a fantasy world. Skin tone was not a social commentary or a representation of black culture. You did an oops here!"
"So Netflix pulled the Advanced Dungeons and Dragons episode of Community because of blackface," another fan tweeted. "But Chang wasn't in blackface. So no nuance or analysis here at all."
It's unclear if the episode is gone from Netflix for good. But the streamer may make an announcement in the coming days.