Connie Britton 'Can't Believe' She's Joining Dolly Parton at SXSW 2022: 'What a Dream'
Connie Britton will moderate a SXSW conversation between Dolly Parton and James Patterson about their new book, 'Run, Rose, Run,' and Parton's new album of the same name.
On Mar. 18, 2022, Dolly Parton and best-selling author James Patterson will have a conversation about their book, Run, Rose, Run, at South by Southwest in Austin, Texas. On social media, Nashville star Connie Britton announced she'll be moderating that chat — or maybe just "trying to keep it together" in Parton's presence.
And there's still even more good news for country fans. Parton's performance will livestream free as part of the "Dollyverse" experience.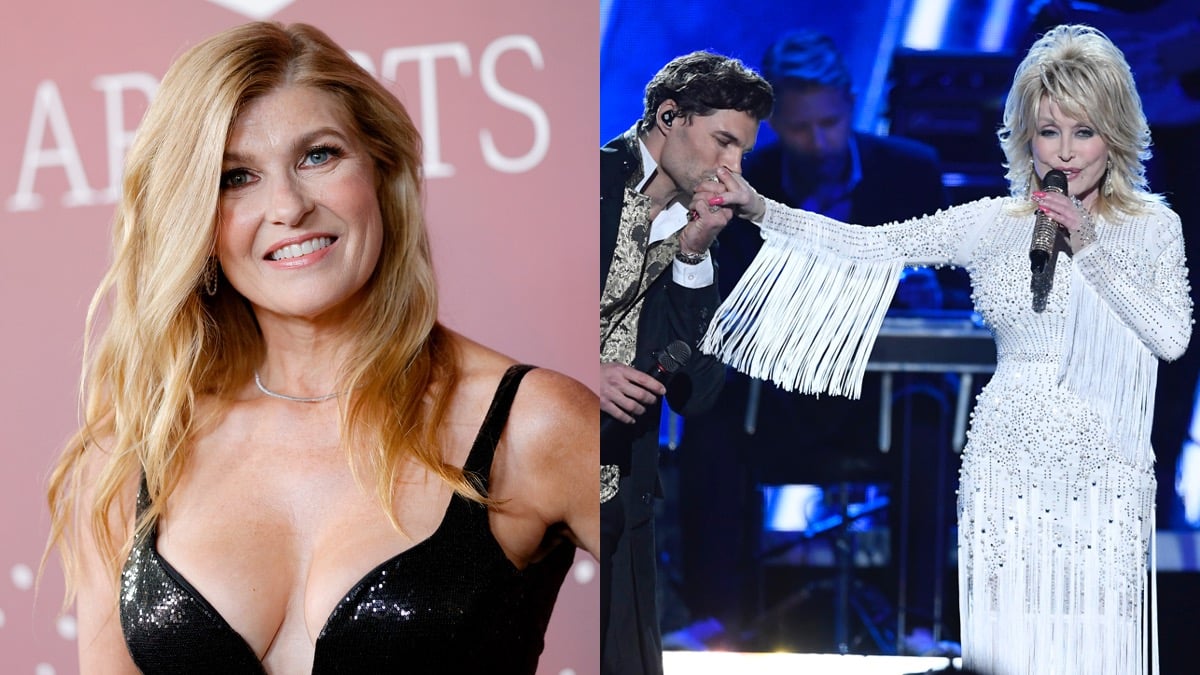 Connie Britton on moderating chat with Dolly Parton and James Patterson: 'What a dream!'
Britton, who is known and loved by fans for her standout roles on shows like The White Lotus, Friday Night Lights, and American Horror Story, shared her excitement about the SXSW event on Twitter.
"It's a #Dollyverse and we're just along for the ride!" Britton captioned her post. "I cannot believe I get to moderate a conversation at [SXSW] with [Dolly Parton] and [James Patterson] on March 18th!"
It almost goes without saying she's a big fan. She concluded her caption, "I mean what a dream! They'll be talking about their new book, Run Rose Run, and I'll just be trying to keep it together."
Dolly Parton and James Patterson 'clicked'
According to CBS News, Parton and Patterson teamed up for Run, Rose, Run, a novel about an aspiring country singer. Though they might seem to come from different worlds to some observers, they seem to get along well.
The friendship started in 2019 when Patterson pitched the idea of their collaboration to Parton. She knew him as "that guy that writes about serial killers" back then, but they "clicked."
While chatting with CBS, they agreed they wouldn't have taken on the project if they didn't "click" so well. "I don't make that many friends," Parton explained. "A lot of my old friends have gone on. And I've got some friends, you know, but trusting 'em after you get famous, you don't know who's a friend and who's not." 
For Patterson, though, she personally goes to the airport to get him when he comes to visit. She said, "I just ain't gonna send somebody after him if I can at all be there."
While he started out with the hope of adding her perspective to make the story more authentic and enticing, he ended up with much more than that. She recorded an album of the same name to accompany the novel and she'll be making her first appearance at SXSW to promote it all.
Dolly Parton's 'Dollyverse' experience will stream SXSW performance event for free
According to the "Dollyverse" website, the event will stream free as part of the experience. Parton and Patterson are "dropping NFTS of Dolly's new album, Run, Rose, Run, and streaming a free live performance on the blockchain at SXSW."
Fans can watch a trailer featuring Parton and Patterson on the website and log in on Mar. 18, 2022 to join in on the "unforgettable" moment.