Could Hulkling Be Coming to the MCU? Here's Why Fans Think So
Everyone loves a juicy rumor about the Marvel Cinematic Universe, but it's hard to tell which ones will come to fruition. With all the projects on the docket for Phases Four and Five and Marvel's deep, interconnected canon, it feels like anything is a possibility. Now, one of those possibilities seems to be a certain young Avenger.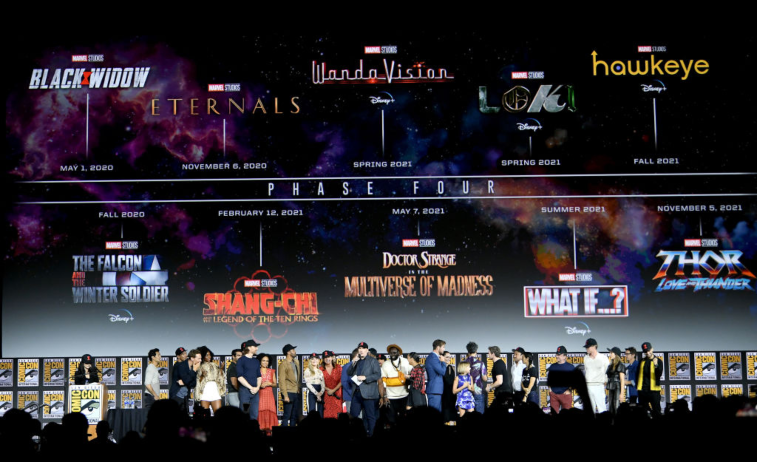 Rumors abound that Hulkling is heading to the MCU
It's not clear if there's any inkling of truth to this one, but word on the street is that Marvel is casting for Teddy Altman, a.k.a. Hulkling, for a new project.
Based on reports from Geeks WorldWide and The Illuminerdi, the Young Avenger could be joining WandaVision in the near future. Both outlets point out that Marvel is currently searching to fill roles for other characters in MCU such as Speed and Wiccan, and this next move makes perfect sense.
According to The Illuminerdi, Marvel is in need of a young adult or teen male age 16 to 23 for a character who is a "Skrull who requires help from S.W.O.R.D. in order to remain safely on Earth." Leaked set photos seemingly confirm that S.W.O.R.D. will be in WandaVision in some capacity.
The other reason these rumors make sense to Marvel fans is because of the upcoming release of the new Empyre comic in April. In it, Hulkling is the majestic star coming to squash the beef between his two people: the Kree and the Skrull. The timing of the comic's release lines up with an introduction into the MCU.
Who is Hulkling?
Hulkling is a young hero who was unknowingly raised by a Skrull, a member of the alien race that are enemies to the Kree. She pretended to be Teddy/Hulkling's human mother, and while growing up, he kept his powers a secret.
According to Hulkling's Marvel bio, his abilities include shape-shifting and super strength, and he was recruited early to become part of the Young Avengers alongside Wiccan, Patriot, Kate Biship, Iron Lad, and Stature. He also sparked a romantic relationship with Wiccan.
During his time with the Young Avengers, a battle was fought over him between the Kree and the Skrull, as both claimed him as their own. In the process, his Skrull mother was killed, but not before sharing the Skrull emperor sent her on a mission to protect him as a child. They finally came to agreement about how to split Teddy's time and obligations, but not without intervention.
The rumors have people thinking that Teddy will be placed in the care of Monica Rambeau in WandaVision, or that he could eventually pop up in a Marvel feature film.
What fans think about Hulkling joining live-action life
Fans are excited about the prospect of seeing Teddy show up with his boyfriend Wiccan (Billy, Wanda's son) in the Disney+ WandaVision series, but they'd also love to watch Hulkling's story tie in with Ms. Marvel or Captain Marvel 2. There's a chance to learn about Teddy's ancestry, as Mar-vell was his father in the comic books.
With Ms. Marvel, Teddy's Kree lineage could also come into play with Ms. Marvel's Inhuman connection, but will Marvel stick to the comics for Hulkling or create an arc based on the Captain Marvel movies? These are questions that fans have, but many will have to wait until Marvel answers them.