Could Khloé Kardashian and Tristan Thompson Survive an 'Open' Relationship?
Fans have been convinced for months now that Khloé Kardashian and Tristan Thompson are well on their way to a reconciliation — or have even managed to reunite and fly under the radar. With speculation that even the Kardashian-Jenner family is on board with the pair putting the past behind them and getting their relationship back on track, it's easy to see why the rumors are so popular. 
In order to give their love another chance, though, they would have to work through the tumultuous and painful cheating scandals that left them split in the first place. One potential way to do that would be by starting their new relationship with a different understanding of fidelity and faithfulness. Is it possible for the pair to enter an open relationship and start fresh?
Khloe Kardashian and Tristan Thompson had a troubled relationship
After meeting on a blind date in 2016, Kardashian and Thompson got serious quickly. Thompson, a player for the Cleveland Cavaliers, managed to lure Kardashian into spending a lot of time in Ohio to be closer to him. The pair stayed hot and heavy even when Thompson's ex-girlfriend gave birth to his child in late 2016. 
By the end of 2017, Kardashian announced that she herself was pregnant. Just days before Kardashian gave birth to their daughter, True, TMZ published scandalous footage of Thompson kissing another woman. The pair was able to work their way through that cheating scandal, but they were rocked by another one when Thompson was once again unfaithful.
This time, Thompson was caught kissing Kylie Jenner's best friend Jordyn Woods. Whether it was because Thompson had strayed for a second time or because of the proximity Woods had to the family, Kardashian was unable to forgive and forget once more. The pair called off their relationship in February 2019.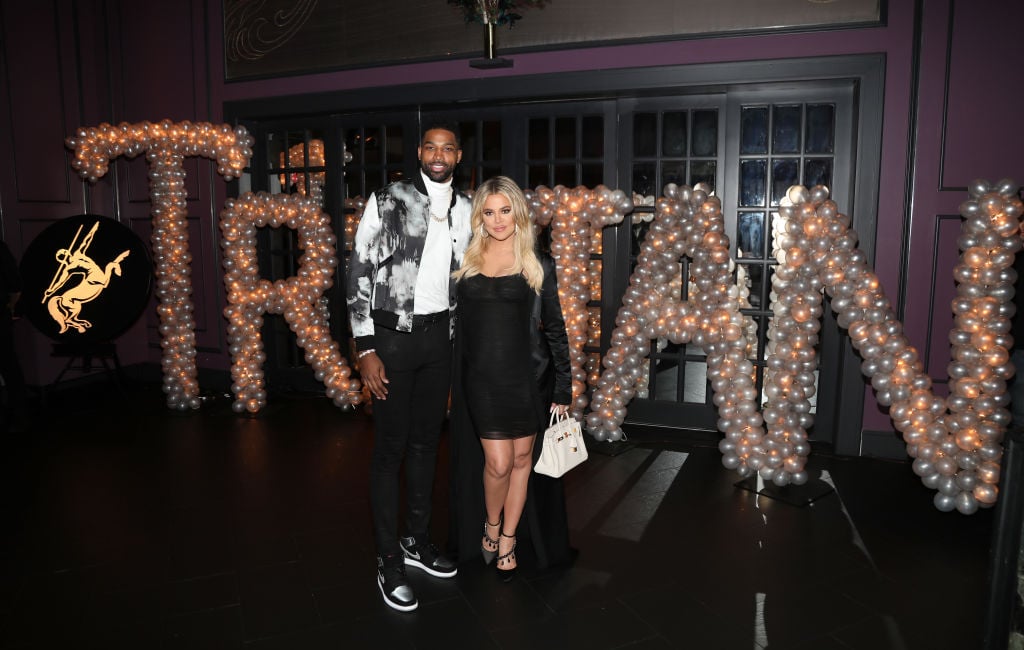 Tristan Thompson has been desperate to get Khloe Kardashian back
Ever since the pattern of cheating drove them apart, reports have focused on Thompson's efforts to get Kardashian back. He frequently posts public comments on Kardashian's Instagram pictures, and sources say that he also sends her gifts and makes it clear that he's interested in getting back together.
When a fan recently posted a sexy shirtless picture of Thompson and tagged Kardashian with the caption "You know what…I understand now girl," Kardashian just responded with a series of laughing emojis. All of this public interaction and playfulness has fans certain that the two really do want to get back together. 
In addition to their obvious chemistry with one another, they also have a child to think about. Their daughter is getting older and more able to understand the dynamics of their relationship, and Kardashian has already admitted that co-parenting is difficult. A reconciliation could give them the chance to parent with more direct support from one another. 
Is an open relationship the answer?
Since the relationship ended because of Thompson's repeated cheating, some fans are wondering what it would be like if the shoe was on the other foot. What if Kardashian had been unfaithful instead? On a Reddit thread, one fan suggested that Thompson would be fine with an open relationship: "I see him being fine with an open relationship and they both sleep around." Another commenter responded with, "Which tbh would be fine if they would both just agree to that. I've heard a lot of speculation that much of Hollywood opts for under the radar open relationships."
That last part, at least, has more than a little truth to it. Plenty of celebrity couples are in open relationships, and they seem to make it work. The key appears to be clear communication, shared boundaries, and honesty. Obviously, Thompson wasn't open and honest with Kardashian in the past, but maybe a relationship where the boundaries of their relationship are broader — and agreed upon — ahead of time would give them both the space they need to make it work.