Could Kim Kardashian See Through Her Met Gala Outfit? She Admits Not Being Able to See Kendall Jenner
Kim Kardashian West has worn some iconic looks over the years, that's for sure — but nothing beats her most recent. It was at the Met Gala that Kardashian West shocked everyone when she stepped out of her car in a faceless, all-black ensemble designed by Balenciaga, and fans were a bit confused.
Met Gala guests are supposed to dress in accordance with the theme, which this year was "American Independence" and many felt it wasn't really clear as to how the outfit actually related to the theme.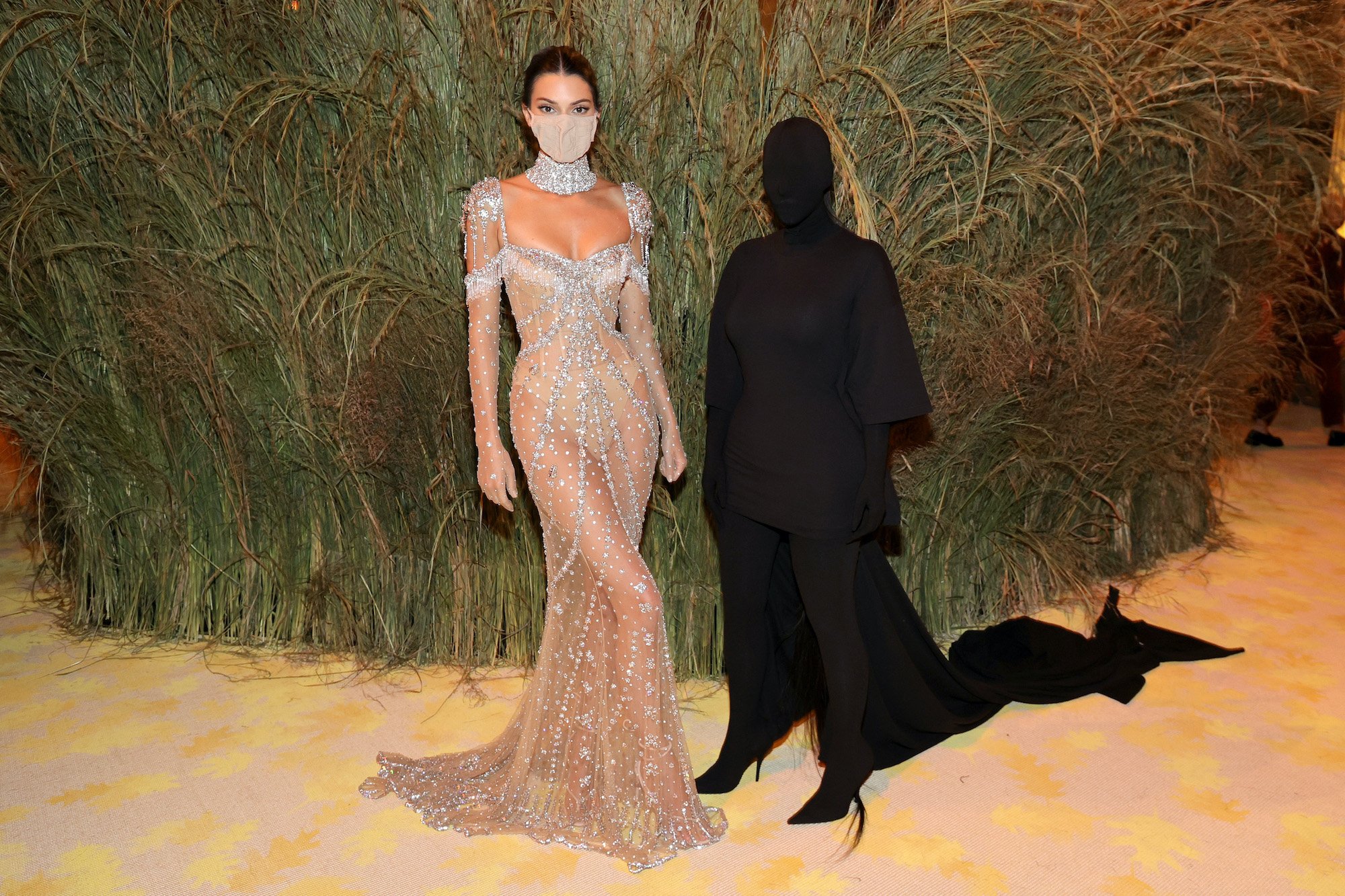 Not an inch of skin was visible, as the outfit covered the reality star literally from head to toe, including her entire face. It raised tons of questions, with one of the most important being: could Kim Kardashian West see through her Met Gala outfit?
All about the bizarre outfit
According to CNN, Kardashian West has been spotted in a few faceless looks in recent weeks, perhaps hinting at what she had in store for the big night. The outfit, which only allowed for her 75-inch ponytail to be seen, was custom designed by Demna Gvasalia, who joined Kardashian West at the event, also in a faceless look.
The outfit featured an opaque head covering that was connected to a form-fitting bodysuit and drapes of fabric trailing behind her, and the flashbulbs were going off like crazy. After sparking tons of comments and memes, Kardashian West finally spoke out about her choice of attire, saying "What's more American than a T-shirt head to toe?!"
Could Kim see through her Met Gala outfit?
The head covering obscured Kardashian West's entire face and didn't even have holes for her to see through. Despite the fact that she seemed to be walking fine, and never even tripped or stumbled, fans are still speculating as to whether she could see through the outfit.
Kardashian West was photographed with her younger sister, Kendall Jenner, who arrived at the Met Gala in a stunning sparkly gown. So, how did the outfit affect Kardashian West's vision? Insider reports that, in fact, she couldn't see, which became pretty obvious after a photo of her with Jenner went viral.
In the image, Kardashian West is standing in front of her slightly confused younger sibling with her arms outstretched, as if she wasn't sure who Jenner was. The SKIMS founder said that it was tough, and later posted on social media that "Kendall was calling my name and I couldn't see who it was, but I saw the outline of her sparkly dress."
Kim had a full face of makeup under the outfit
Kardashian West is almost never seen without her heavy makeup, and when photographs of her interesting Met Gala outfit first surfaced, one of the things that fans wondered about was whether or not she was wearing makeup underneath.
Although she was literally covered from head to toe, it doesn't mean that she took the easy way out. According to Allure, Kardashian West was wearing her usual full face of makeup, and her makeup artist actually had a sense of humor about the whole thing. After the Met Gala, Mario Dedivanovic posted that "Mario can do no wrong."
He captioned another photo with the phrase "Behind the mask," and shared images of an unmasked Kardashian West getting ready for that night's event. Despite the fact that she couldn't see, it looks like Kardashian West has no regrets!