'Counting On': A Duggar Insider Insists Jim Bob and Michelle Duggar Are Totally Different People When the Cameras Are Off
Jim Bob and Michelle Duggar's media brand appears to be in peril. Over the past six months, the family has attempted to weather reports of a federal investigation, a rogue son-in-law who is speaking out on social media, and rumors that the Duggar patriarch has disowned two of his daughters. While they've been churning out videos that paint them in a positive light, the hits just keep coming. Now, an insider has claimed the couple is not who they appear on TV.
Derick Dillard claims Jim Bob Duggar tries to control everyone in his family
Derick Dillard took to social media to try and dispel some rumors about himself and his wife, Jill Duggar, in December 2019. In doing so, he also spilled a ton of alleged Duggar family dirt. The father of two and law school student accused Jim Bob of hoarding earnings from the family's reality TV show. And he suggested Jim Bob was so controlling that he and his wife were not allowed to visit the family's home if Jim Bob wasn't present.
Derick also accused his father-in-law of preventing the Duggar boys and sons-in-law from taking jobs that aren't tied to the family. Derick claimed he wasn't allowed to take a dream job because of Jim Bob. And he alluded to the fact that it has happened to others in the family, too.
An insider claims Jim Bob has a bad temper
Jim Bob's alleged controlling nature isn't the only problem inside the family's Arbor Acres Road compound. An insider, who claims to have worked for the Duggar family, told The Hollywood Gossip that Jim Bob has a pretty bad temper.
The source alleges that Jim Bob can control his behavior while the cameras are rolling. But when the crew leaves he turns into a completely different person. The source, who was not identified by the publication, claims they have been on-hand for several of Jim Bob's temper tantrums.
The insider's recollection of what happens inside the Duggar family home seems to line up with previous reports about Jim Bob and Michelle. In 2015 it was reported that Jim Bob had caught one of the Duggar boys behaving in a manner that doesn't fall in line with the Duggar family's beliefs. And his screaming over the incident sent camera crews running.
It has also been suggested that Jim Bob rules his home with an iron fist and will happily marry his children off if they don't appear to be doing as they are told. That is reportedly how Josiah Duggar ended up married to Lauren Swanson.
Michelle Duggar isn't much better than her husband, the source claims
The same source had a few things to say about Michelle, too. According to their claims, Michelle may appear sweet on television. But she can be a bit of a tyrant when the camera crew leaves for the day.
The source alleged that Michelle has been known to scream at her children. They also told The Hollywood Gossip that Michelle has chased after her children with spoons and spatulas when they didn't follow the family's strict rules.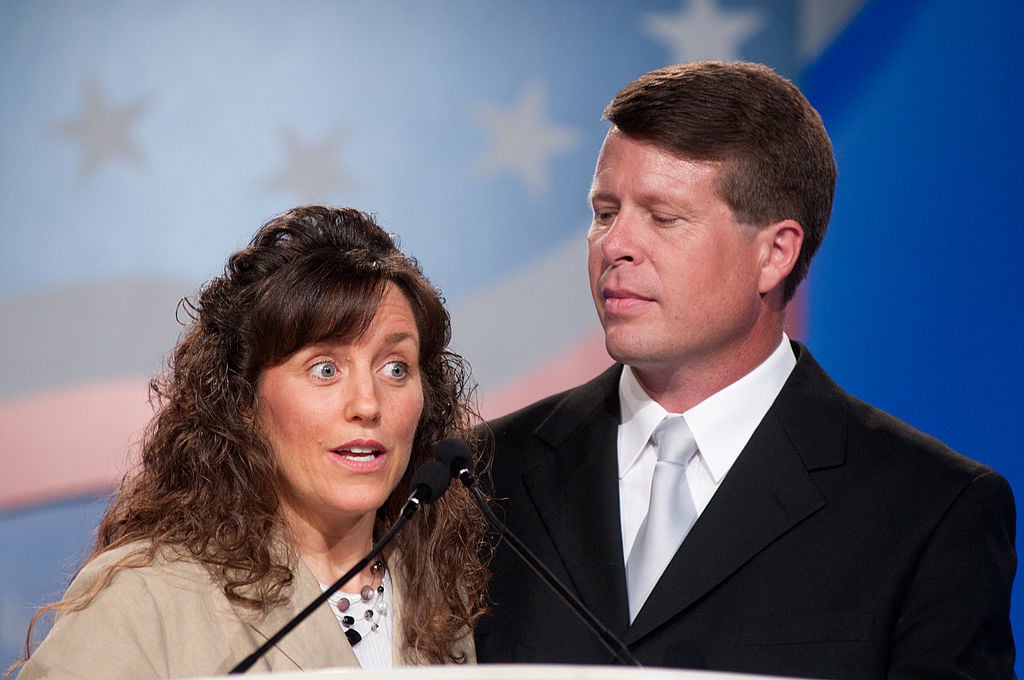 The source's claims once again fall in line with other reports about Michelle. Several years ago, Derick went live on Facebook while at the family's Northwest Arkansas home. And he seemed to catch Michelle berating one of her younger daughters. Michelle has also been lambasted by family critics for passing off her parenting duties to older children and failing to connect with the family's 19 kids.