'Counting On': Anna Duggar Deposed In One of Josh Duggar's Many Ongoing Lawsuits
Counting On star Anna Duggar cannot catch a break. After sticking by Josh Duggar's side throughout all of his many scandals, Anna was just deposed in one of her husband's ongoing lawsuits. The trial for the lawsuit is scheduled to begin in a few weeks and poor Anna has found herself right in the middle of a huge mess.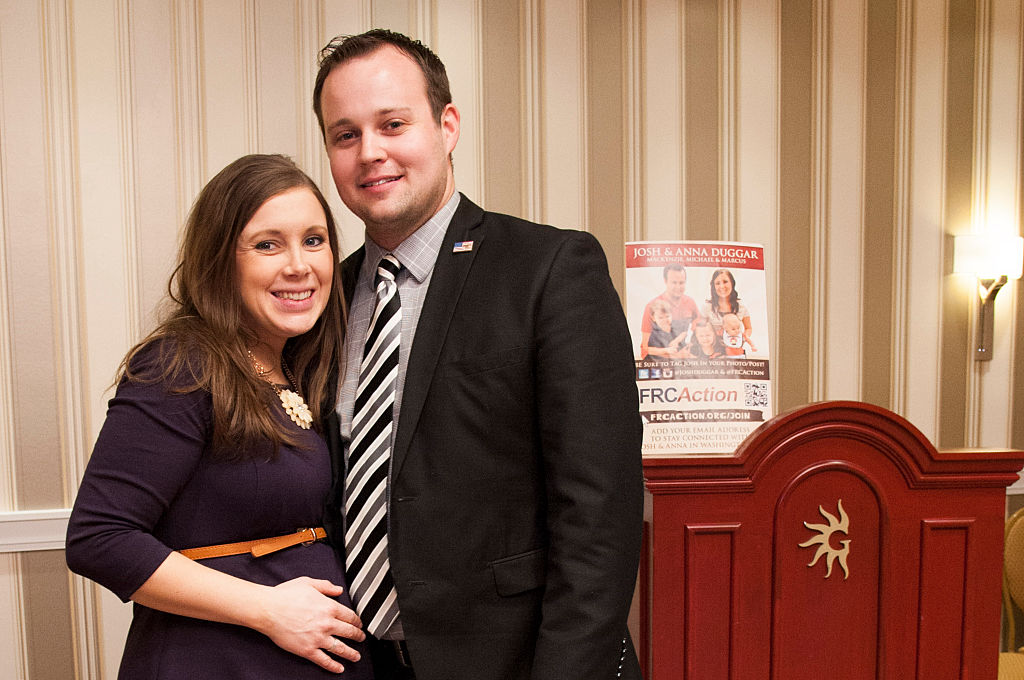 Inside Josh's lawsuits
Last year, Josh got in some legal troubles over a piece of land he purchased in Arkansas a few years ago. The disgraced reality star — the oldest son of the Counting On clan — bought a five-acre parcel for only $1,000, something that probably should have raised suspicions.
While Josh claimed ownership of the property, an individual named Carl Echols came forward and said he bought the land from his cousin in 2006 for $17,500.
Echols revealed that he has been paying property tax on the land for the past decade. Although Josh has the title in his name, Echols is suing him and his cousin for breach of contract and fraud.
The news of the lawsuit is one of many scandals Josh is dealing with at the moment. And considering his shady past, it did not come as a huge surprise to Counting On fans.
What 'Counting On' fans need to know about that Homeland Security raid?
Apart from the real estate lawsuit, Josh sparked another scandal when his car dealership was raided by Homeland Security last year. We still have no idea what the agents wanted with Josh's business, but the dealership is under federal investigation.
Given everything Josh has done over the years, it is difficult to keep track of his scandals. One of his biggest controversies, of course, came in 2015 when Counting On fans learned that Josh had molested five underage girls when he was a teenager.
Two of Josh's victims were his younger sisters and the shocking news led to the cancelation of Jim Bob and Michelle Duggar's reality show, 19 Kids & Counting. A few months after the molestation scandal made headlines, Josh was caught up in the Ashley Madison breach. He later admitted to using the website to cheat on his wife and confessed that he is also addicted to porn.
Despite all of his mistakes, Anna has remained at Josh's side, though it hasn't always been easy. According to The Hollywood Gossip, Anna opened up about Josh's scandals in an interview in 2015 and admitted that things have been rough.
"It was definitely a hard thing and it is such a betrayal for a spouse to go through what we're rocking through," Anna shared. "It was hard to realize it was such a public thing… That loyalty was broken. How could this happen in our marriage? Josh was my first love. He's my one and only. My only hope was to cling to my faith."
Anna Duggar gets deposed
Sadly, Anna has not been rewarded for sticking by Josh's side. In his most recent lawsuit, Anna was deposed by lawyers, which means she was forced to testify about everything she knows in connection to his real estate dealings.
The official court records confirm that Anna was deposed, but the files do not include a transcript of her testimony. Hopefully, Counting On fans will learn more about what she said once the trial gets underway.
Josh was recently dropped from the lawsuit, but his company, ALB Investments, LLC, is still listed as a defendant.
The trial is scheduled to begin in April, though that might change in light of the coronavirus pandemic. Once the trial starts, we should know whether or not Anna will testify as a witness.
Will 'Counting On' fans forgive Josh Duggar?
Despite all of his scandals, Jim Bob has gone to great lengths to convince Counting On fans that Josh should be forgiven. Although Jim Bob is mounting a campaign to turn around Josh's public image, fans are not on board with the idea.
Taking to Reddit, fans have noted that the only way they would forgive Josh for his actions is if he faced actually punishments for his crimes.
When Josh was caught molesting his sisters, the Duggars did their best to bury the scandal. Josh avoided legal consequences and attended a church camp to help him deal with his urges.
For most fans, this is not enough. Unless that changes, Counting On fans probably will not be warming up to Josh anytime soon, especially in light of his most recent scandals.
TLC has not announced when the new season of Counting On will premiere.