'Counting On' Fans Accuse Jinger Duggar of Making a Racist Gesture In This Photo
Jinger Duggar and Jeremy Vuolo love posting to Instagram. The two have carved out a lifestyle for themselves in their new home of Los Angeles, and they seem to enjoy showing off their exciting life on social media. .
Vuolo recently posted a photo of him alongside his wife, and fans accused Duggar of making a racist gesture in the picture.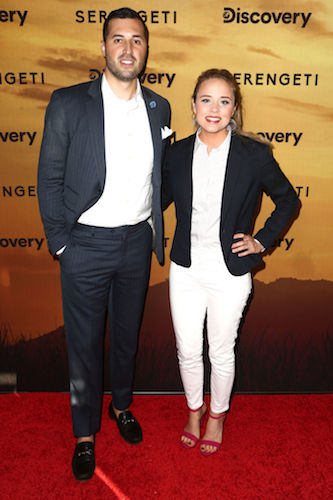 Duggar and Vuolo love trying new restaurants
Ever since the two were married, they've loved going out to eat. Duggar and Vuolo often post photos together trying new restaurants, and the food was one of their favorite things about living in Laredo, Texas. When the two moved to Los Angeles, they had a whole new world of food to explore.
Duggar and Vuolo seem to try a new place to eat every day. It appears they love Asian fusion, specifically, because many of their photos feature food alongside chopsticks.
The two often post photos enjoying life together
Now that they're the only family members living in California, they spend most of their time with each other. Of course, they love visitors, but day-to-day, it's just the two of them. Their daughter, Felicity, often goes on their adventures with them. Duggar and Vuolo have been making new friends in their new city, and though they are still very tied to religion, their social media accounts show them enjoying other things in life, too.
Duggar has taken on a more modern lifestyle with her husband; she wears pants (sometimes shorts) and even dyes her hair.
Fans thought Duggar was making a racist gesture in a recent post
Duggar and Vuolo recently spent a day out together and documented the outing on Instagram. Vuolo posted a photo alongside his wife, where she appeared to be imitating the way he was sitting in his chair. "I think I heard somewhere that imitation is the sincerest form of flattery. It is, isn't it?" the caption read.
Though Duggar was attempting to imitate her husband, the two were at an Asian restaurant, and her pose was mistaken by some for a racist gesture. "Literally looks like she's in an Asian restaurant pulling her eyes back," one user posted to Reddit. "She better be making fun of him, because mocking a different race will not win her any brownie points," another person wrote. "Someone should have caught that!" one user wrote about Duggar's gesture.
People suggest Duggar and Vuolo aren't as modern as they seem
Though Duggar and Vuolo seem to be the most modern couple in the family, fans suggest that they aren't modern at all — besides the way they dress, that is. The two still have very conservative beliefs that haven't shifted much despite the modern times we are living in. Vuolo has preached about his disbelief in gay marriage, and Duggar comes from a family where women shouldn't work (Duggar is also a stay at home mom). Though the two seem to have adapted to society better than Duggar's family, it could be a stretch to call them modern Americans.