'Counting On' Fans Believe Derick Dillard Originally Wanted to Court Jana Duggar, Not Jill
Derick Dillard's ongoing feud with Jim Bob Duggar has raised many questions about the Counting On family. For several months, Jill Duggar's husband has launched a slew of accusations against Jim Bob, including the idea that he takes all the money from the show. While there is no telling what Derick will say next, Counting On fans have turned the tables and believe he originally wanted to court Jill's sister, Jana Duggar.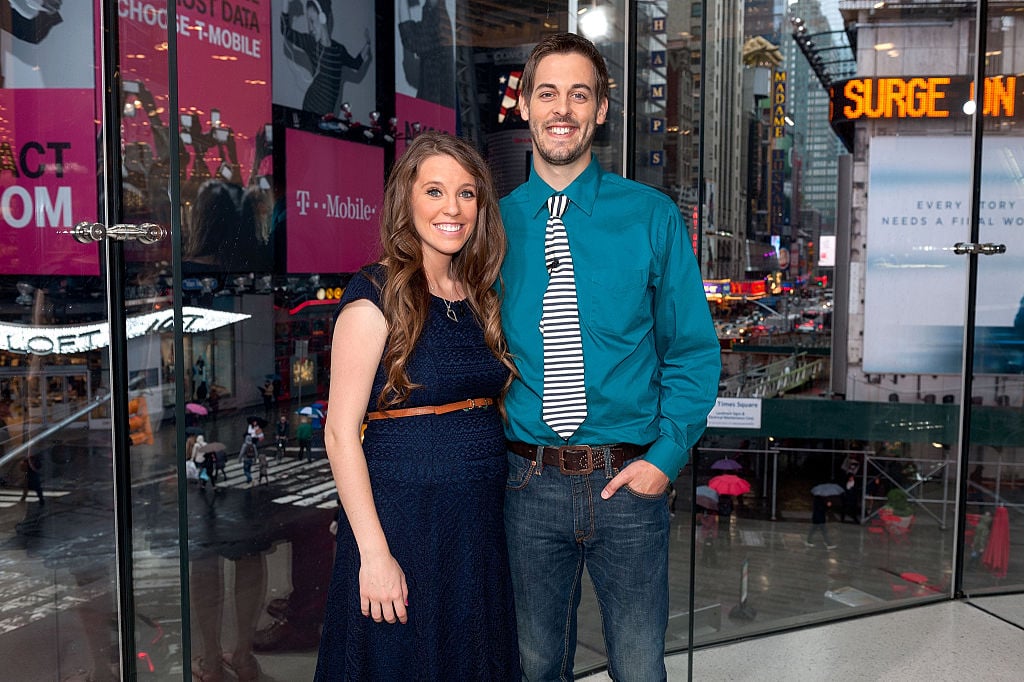 Fans theorize about Derick's motives for marrying Jill
Counting On fans have developed an interesting theory about Derick's marriage to Jill. As the theory goes, fans believe that Derick only agreed to tie the knot with Jill because he thought the Duggars would make him wealthy.
As evidence for the theory, fans point out that Derick quit his job as an accountant for Wal-Mart once he and Jill exchanged vows. Viewers argue that the only reason Derick would have ended his promising career is that he thought being a reality TV star was more lucrative.
Derick's plan did not work out. After TLC fired him for making controversial remarks on social media, Derick has continued to alienate himself and Jill from the rest of the family.
Although he is working on finishing a law degree, Derick has been delivering food with GrubHub to make ends meet. He is also writing a tell-all about his time on Counting On, which could make him a good chunk of money.
Did Derick Dillard originally want to court Jana Duggar?
With Derick's life going in a different direction, some Counting On fans took the theory a step further by arguing that Jill was not the first Duggar Derick tried courting.
According to The Hollywood Gossip, a fan theory on Reddit speculated that Derick originally wanted to court Jana but was denied for unknown reasons.
"Derick tried to bullsh-t a bullsh-tter [Jim Bob] and is salty. He didn't get anything he wanted out of the deal," the fan wrote. "He didn't get Jana. He didn't get fame. He didn't get paid."
If the theory is true, the big mystery is why Jana turned Derick down. Fans are pretty divided on what really happened, but some believe that Jim Bob simply told him that Jill would be a better fit.
The Duggars, of course, have never addressed the rumors surrounding Derick trying to court Jana. Jill was one of Jim Bob's first daughters to get married while Jana has yet to tie the knot.
Jill Duggar breaks away from Jim Bob's control
While the rumors about Derick continue to heat up, Jill has been slowly breaking free from Jim Bob's control. And in a recent interview, Derick opened up about their decision to leave Counting On back in 2017.
According to The Sun, Derick revealed that they quit the show because they no longer wanted to be under Jim Bob's thumb.
"We are now trying to avoid toxic relationships for the health and recovery of our family," he shared, adding that they are finally "regaining control" of their lives.
Derick claims that Jim Bob signed a "hidden contract" with TLC that prohibits them from getting certain jobs in the event they leave the show. Derick did not say what kind of career he and Jill were seeking, but he did say that the contract derailed their plans.
As far as Jill goes, she left Counting On shortly after her husband. She enjoyed a brief cameo last season but has no plans on expanding her role anytime soon.
Inside Derick Dillard's accusations against Jim Bob
Derick has made so many claims against Jim Bob that they can be difficult to keep tabs on. This includes the idea that he and Jill were never paid for their time on Counting On.
Jill's husband says that he was under the impression that everyone volunteered for the show. He then said that Jim Bob basically orchestrates all of the contracts and then takes the money for himself.
"For a long time, Jill and I were under the impression that the family didn't make any money from the show, but, rather, it was presented to us kids as something that was done as a ministry that TLC periodically subsidized in the form [of] reimbursements for things like gas, restaurants, travel, etc. … But not any actual pay on top of that," he wrote on social media.
Jim Bob has not responded to Derick Dillard's claims.
New episodes of Counting On are expected to return sometime in 2020.