'Counting On' Fans Claim Josh Duggar Controls Anna Duggar
Last week former 19 Kids & Counting stars Josh and Anna Duggar announced they were expecting baby number six. This is the second child for the couple since his 2015 molestation and cheating scandals, and many Counting On fans continue to question why Anna stayed in the marriage once it was revealed that her husband molested five young girls when he was a minor, not to mention the fact that he cheated on her during their marriage. Is it possible Josh is controlling his wife's every move?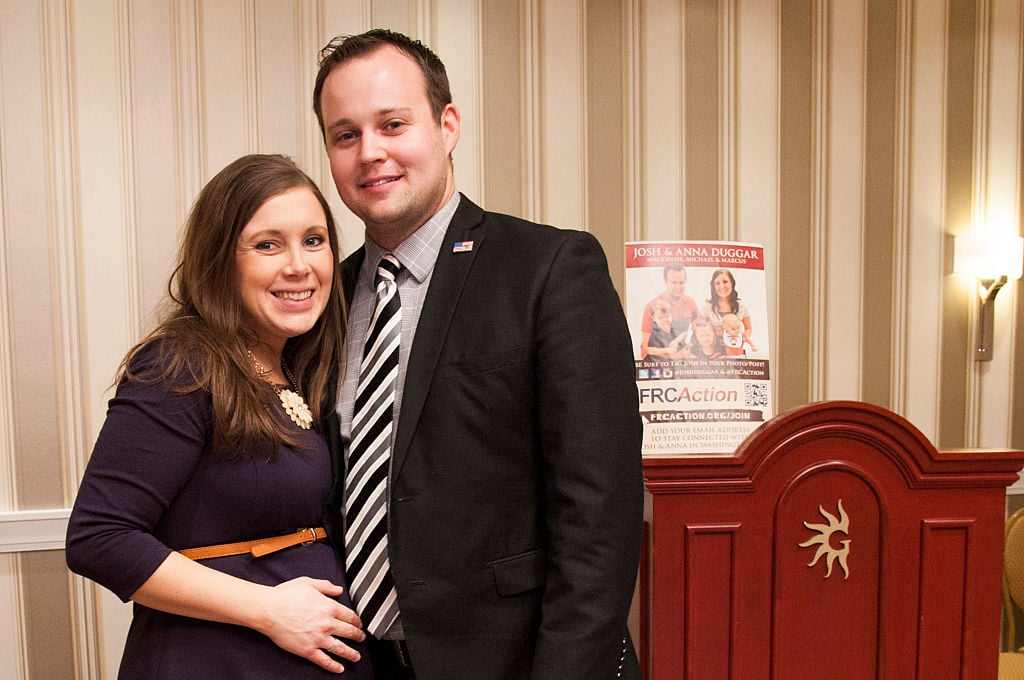 Josh and Anna Duggar have been married for a decade
As the oldest child of Jim Bob and Michelle Duggar, Josh was the first of his siblings to tie the knot when he met and married Anna in 2008. As fans know, the Duggars are a fundamentalist Christian family who has extremely conservative beliefs that are difficult for many to understand.
The Duggar family rejects secular society, and their beliefs align with a movement known as Quiverfull, which is a religious ideology that promotes having as many children as possible to spread the word of God.
Quiverfull also follows strict gender roles. Women don't usually work outside of the home, wear pants, cut their hair, or question their husband's authority. The expectation is that the women are to become wives and mothers, and divorce is never an option.
Duggar courting rules
The Duggars also reject traditional dating, and instead, the children enter into courtships, which is dating with the intent of marriage. Courting rules include no physical contact, no time alone, and monitored communication. All of the married Duggar kids supposedly waited until their wedding day to get their first kiss.
This usually means that the kids marry extremely young – in their late teens or early twenties – and it appears that they marry the first person to come along.
Josh and Anna Duggar married when they were both just 20 years old, and a little more than ten years later the couple has five children – Mackynzie, 9, Michael, 7, Marcus, 5, Meredith, 3, and 19-month old Mason.
Josh was in involved in two scandals
In 2015, it was revealed that Josh had molested five young girls when he was a minor. This led to TLC canceling 19 Kids & Counting, and he lost his job in Washington DC as a lobbyist for the Family Research Council.
Not long after, when the Ashley Madison scandal broke, it was revealed that Josh had two accounts on the website, and he admitted to cheating on his wife and having a porn addiction.
These scandals turned Josh's life upside down. Not only did he lose his high-powered lobbying job and ruin any chances of a career in politics, but he also had to move his family back to Arkansas and go back to life as a used car salesman. Josh also participated in a faith-based treatment program for sex addiction.
After TLC canceled 19 Kids & Counting, the network eventually launched a spinoff, Counting On, that featured the married Duggar kids. However, Josh and Anna Duggar are not part of the show. TLC has even gone to great lengths to make sure he doesn't appear on-camera and have edited him out of major family events.
'Counting On' fans are concerned for Anna Duggar
After the shocking scandals, fans started wondering about Josh and Anna's marriage, and many assumed that she would file for divorce. Instead, the couple announced their fifth pregnancy in 2017, and in September of that year, they welcomed baby Mason.
According to The Hollywood Gossip, even though Anna had every reason to leave Josh and get a divorce, she has always been "steadfastly loyal to her disgraced husband." Insiders say that Josh still makes the rules in the relationship because of their religious beliefs, and he controls everything from her social media posts to what she wears.
Josh Duggar's strict rules
The father-of-five is reportedly a dictator in his home and has laid down some pretty serious rules for his wife to follow. BabyGaga reports that Josh controls the money, has access to Anna's social media passwords, and doesn't allow her to wear pants.
His other rules include: always pleasing Josh's sexual needs, no talking to men (unless they are family members), she can't be friends with unwed mothers, and divorce is forbidden.
All of this may seem shocking to fans, but it's the world the Duggars live in. And, it's the only thing Anna has ever known. Even though fans continue to beg her to get out of the marriage, Anna continues to stand by her Josh Duggar's side. And, that isn't likely to change anytime soon.