'Counting On' Fans Are Convinced Josiah Duggar Doesn't Work: 'How Nice Life Must Be'
The Duggar family's finances have always been a point of interest for some followers. With 19 children, it must be financially difficult to give every child a stable upbringing in terms of meals and clothes. But now that most of the kids have grown up and moved out, things are still unclear about the family's financial situation. And some of the show's followers are convinced Josiah Duggar doesn't even work.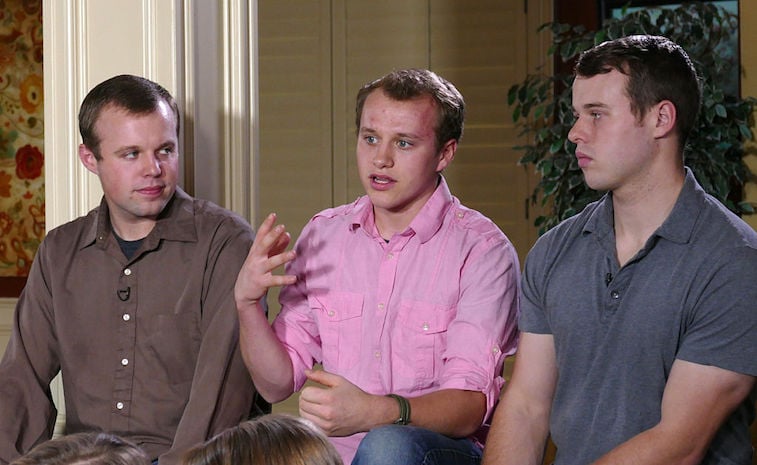 There have been reports that Jim Bob controls the family's money
Ever since Derick Dillard and Jill Duggar left Counting On back in 2017, Dillard has been uncovering some interesting details about his in-laws' financial situation — and claims that Jim Bob Duggar distributes all of the money among his family members. Jim Bob works in commercial real estate, and he likely does pretty well, considering the family has a massive home on a lot of land. Plus, TLC likely pays the family around $40,000 per episode. Both of these things result in a pretty high annual income, but some think Jim Bob is the one who ultimately controls all the money — and passes it along to his children.
Fans think it's bizarre that the Duggars seem to hold odd jobs
The Duggar kids were all homeschooled by Michelle Duggar. When the older Duggar daughters hit a certain age, they then started to help teach their younger siblings. Michelle opted to homeschool her children for religious purposes, and none of the kids ended up earning a college degree.
Rather than attend a university, the kids were reportedly set up in various jobs by Jim Bob, which is what they've been doing since. But some fans aren't sure that those jobs are enough to provide a lifestyle for families who plan to have plenty of kids.
Some are convinced Josiah Duggar doesn't actually work
From what fans know, many of the brothers work at used car dealerships together. But the extent of their jobs is unknown, and it's unclear how much money they make. And some fans are convinced that Josiah Duggar, who is married to Lauren Swanson, doesn't work at all. Reddit users took to the website to discuss whether Josiah Duggar actually worked based on photos the couple posts to Instagram.
"[Josiah is] always on social media during the day just hanging out. Another non-working Duggar couple. How nice life must be," one Reddit user wrote. "I think he was working at Josh's dealership… But that got shutdown so who knows," someone else wrote. To clarify, Josh Duggar was allegedly running a car lot without a permit, though that has only been reported by a handful of media outlets and isn't confirmed. Regardless, fans think maybe that's why Josiah Duggar has been out of work.
The Duggar family's net worth is unknown
The Duggar family's net worth is tricky, since it's unclear how exactly they all live the lives they do. Yes, Jim Bob makes money from his real estate business, but there's nothing to reveal how much money the husbands make from their car dealerships and other jobs. Plus, it's unclear exactly how much money TLC pays the family per episode, which plays a large role in their net worth. And though Josiah Duggar might spend a lot of time at home, it's important to note that it hasn't been confirmed that he doesn't have a job.