'Counting On' Fans Slam Josh and Anna Duggar Over Baby Maryella
Counting On fans are not happy with Josh and Anna Duggar. The former 19 Kids and Counting stars welcomed their sixth kiddo this past November, a healthy daughter they named Maryella. Viewers were initially surprised that Josh and Anna were having another child, but a recent post on social media left fans questioning the couple's parenting decisions.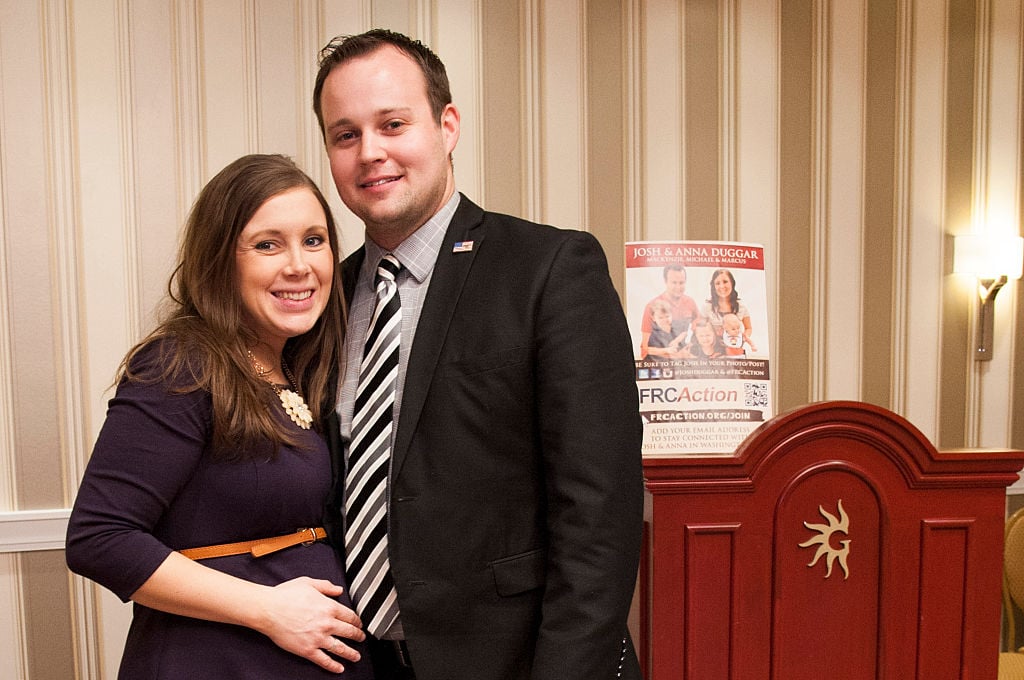 Josh and Anna Duggar expand their family once again
This past November, Josh and Anna had their sixth child together. The pregnancy came as a huge shock to Counting On fans, and not just because Anna is still being faithful to a child molester and known cheater.
Members of the Duggar family are taught at an early age the importance of having children. While Jim Bob and Michelle Duggar are advocates of large families, the male members of the family do not have a major role in raising their children.
Instead, the task of child-rearing is left to the mothers. Aside from the obvious issues with this setup, problems arise when the mom has her sixth child.
Keeping track of six children is an impossible duty. To help mitigate this issue, the Duggars rely on older children to pick up the slack. This tactic has been well documented on Counting On, and it appears as though Josh and Anna are continuing that tradition.
Anna sparks backlash with her latest post
Taking to social media, Anna recently created a lot of backlash by sharing a photo of her oldest child, Mackynzie, holding Maryella. Although fans initially reacted positively to the pic, things quickly turned south.
"Oh god!!! Starting them young!!! Take care of your own baby!!!" one Counting On fan wrote.
Other followers came to Anna Duggar's defense and opened up about how they loved babysitting their younger siblings when they were children.
That argument holds true in most situations, but the Duggars are a bit different. In reality, Mackynzie probably doesn't have much of a choice when it comes to watching over her sister.
That said, one photo is not enough to determine what is really going on behind the scenes. In fact, Mackynzie might love babysitting the newest member of the family. If she does, she is probably a huge help to Anna.
Are Josh and Anna living in a warehouse?
Aside from Josh and Anna's questionable parenting style, there are some reports that claim the two are living in a warehouse on his parent's property.
According to The Blast, the two have been spotted outside a large building on Jim Bob and Michelle's property on a number of different occasions. Josh and Anna Duggar previously lived in a house they bought for $55,000, which begs the question of what happened to their old home?
The Duggars have not commented on the reports, so it is difficult to say what is really going on. It seems pretty evident that the pair sold their old home and built a house on Jim Bob's property.
Beyond that, we cannot say for sure what their goals are. They are hardly the first Duggars to live on the family's property and it would not be that much of a surprise if they decided to stay for the long haul.
Josh is Jim Bob and Michelle's oldest son. His child molestation scandal led to the cancellation of 19 Kids and Counting in 2015. His marriage almost fell apart that same year after it was revealed that he was cheating on Anna by using the website, Ashley Madison.
Anna Duggar loses her own child
While we wait to learn more, Anna has also come under fire for reportedly losing track of her daughter during a recent visit to Branson's Silver Dollar City Theme Park.
A source says that Anna and Josh were letting their children run around the park unattended. At one point, Anna looked like she was frantically searching for one of her missing children.
"Josh and Anna were sitting on the asphalt within the park while their kids ran around from ride to ride," the source stated. "It was so weird that they were a bit far from their kids, but all of a sudden Anna was looking really frantic."
Fortunately, Jim Bob was there to bail Anna out. The source added that Jim Bob discovered the lost child on another ride in the park. Anna was understandably relieved when she heard the news.
This is not the only source of contention Josh and Anna Duggar have faced in recent months. The two also made headlines after officers with Homeland Security allegedly raided Josh's business.
Details of the raid remain murky, though the Duggars have denied that the search happened at all.