'Counting On' Fans Think Some Duggar Couples Kissed Before Marriage
The Duggar family is one of America's most unique families for a variety of reasons. The extremely religious family consists of 21 immediate members: Jim Bob and Michelle Duggar, and their 19 children. The children were raised to follow extremely strict rules, including various rules about courting before marriage — and one of those rules is that no physical touch is allowed. But some who follow Counting On think that a few couples kissed before their wedding.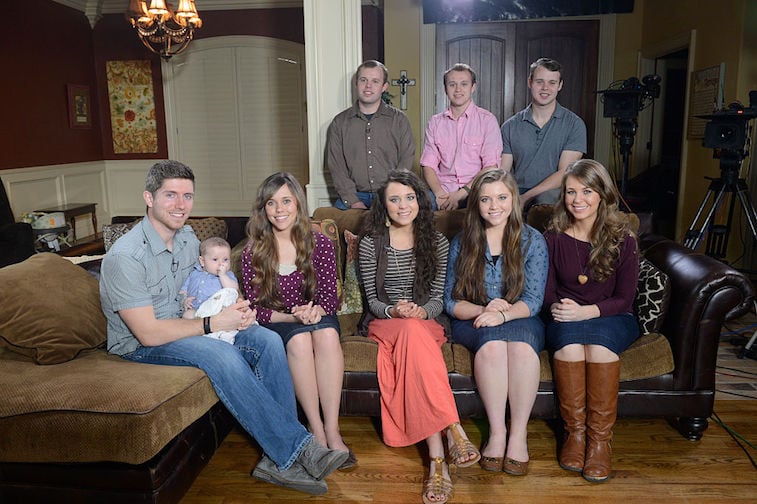 Michelle and Jim Bob's kids had extremely strict rules growing up
The Duggar household was unlike most households in the United States. The family was very religious, and for that reason, the children had to follow plenty of rules. None of the kids attended public school; all were homeschooled and taught by Michelle so that their curriculum could incorporate more religion. The children weren't allowed to listen to modern music, since lyrics often sent messages of promiscuous behavior. They also couldn't dance, since that could send the wrong message, too. All of the daughters were only allowed to wear loose skirts or dresses, since pants would show off their curves and entice men. And there were plenty of rules when it came to dating, too.
The children were not allowed to touch during courtships
The biggest Duggar dating rule is that the children didn't "date" at all. Rather, they entered into courtships, which are essentially partnerships with the intention of getting married. During those courtships, the children were hardly allowed to have any physical touch. They could only give side hugs; hugs from the front were too tempting. They couldn't hold hands, and all dates had to be chaperoned, since alone time could lead to temptation. Some Counting On fans have also had theories in the past that Jim Bob had a strong hand in deciding who his children should marry.
Fans think several couples actually kissed before marriage
Though it is a major Duggar no-no to have any interaction before marriage, some fans have theories that there were a few couples who definitely didn't wait to tie the knot before sharing their first kiss. "Jeremy and Jinger probably [kissed before marriage]. There are times during their courtship where it looks like they're going in for a kiss naturally and then stop themselves suddenly," one user wrote on Reddit. Jeremy Vuolo and Jinger Duggar have become known as the most rebellious Duggar couple.
"John David & [Abbie Burnett]," another user added. This would make sense, since John David and Abbie were much older by the time they got married. It's unclear if John was Abbie's first kiss. Other fans suggested that Joy and Austin Forsyth might have also shared a kiss before marriage — there have been rumors that Joy was pregnant before her wedding day, too.
The children are free to do whatever they want once they wed
Though they must abide by very strict rules before marriage, once they wed, they are free to do whatever they want. The Duggars can form their own household rules upon marrying, which explains why Jinger and Jeremy live a much more modern life. There have also been photos of Abbie wearing pants, which means that John David might not be following all the rules his parents wanted him to, either. But Michelle and Jim Bob Duggar have made it clear that the children can raise their own families however they want.