'Counting On' Fans think Jinger Duggar's Eyes Say She's Pregnant
Counting On stars Jinger Duggar and Jeremy Vuolo have surprised fans with the different approach they've taken as a family. While most members of the Duggar family have kids one right after another, Duggar and Vuolo have only welcomed one daughter in more than three years of marriage. Now, fans are constantly on the lookout for any signs that Duggar might be pregnant. And they're certain that her eyes say she's expecting.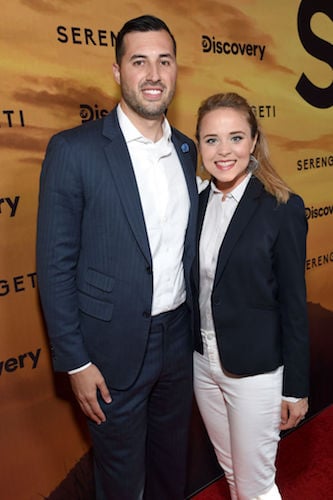 Duggar and Vuolo love showing off their daughter, Felicity, on social media
Ever since Duggar and Vuolo wed, they've taken a strong interest in social media. The two are always posting photos on their accounts, and now that they have a daughter, they love showing off their little family. Duggar and Vuolo each often post photos with Felicity, and ever since they moved to California, they've been giving her plenty of opportunities to see the sights.
It appears that these two are raising their daughter less strictly than Duggar was raised. Felicity watches television and loves "Baby Shark," which is something no other little kids in her family have been able to play with.
Fans have been eyeing a pregnancy for months now
Over the past few months, fans have been getting antsy about when Duggar might announce another pregnancy. Of course, it's entirely up to Duggar and Vuolo when or if they'll be ready to expand their family, but still, fans can't help but wonder.
Around Thanksgiving, fans were certain that Duggar was pregnant after a photo she posted with her family made it seem like she had a slight baby bump. However, months later, she still hasn't announced, making it clear that she was not pregnant at the time.
Some are convinced Duggar eyes say she's pregnant
Duggar recently posted a photo with her husband, where she discussed how and why the two were staying at home to prevent the spread of coronavirus. And fans took to Reddit to share that they think she is pregnant. "That is the face of… a pregnancy… I'm having a horrible pregnancy and my eyes have bright red circles around them just like that," one user wrote on Reddit, referring to Duggar's face in the photo. "My exact thought. You can always tell in the eyes," someone replied. Others suggested that Duggar's baggy sweatshirt might be hiding a baby bump.
Fans have suggested Duggar doesn't love being a mom 
Though Duggar seems to post adorable photos of her family, some have become concerned that she isn't happy with her life. Fans took to Reddit to suggest that she looks unhappy and distant in most of her Instagram photos and that she could be facing some challenges with her mental health now that she's a mom.
Fans put Duggar "at the bottom" of the list when ranking the Duggars' attentiveness toward their kids. However, other fans disagree, often commenting on Duggar's posts with encouraging words about how great of a mother she seems to be. It's important to note that there is nothing to confirm that Duggar is having any issues with motherhood.