'Counting On': Hate Him or Not, Derick Dillard Might Be the Only Member of the Duggar Family Telling the Truth
Derick Dillard doesn't have the best reputation amongst Counting On fans, but there may be some truth to his claims about Jim Bob Duggar. Derick has revealed some pretty shocking things about his father-in-law in recent weeks, including the claim that he and his wife, Jill Duggar, are banned from the family's compound. Counting On fans are pretty split on the allegations, but there may be some truth to what Derick has been saying all along.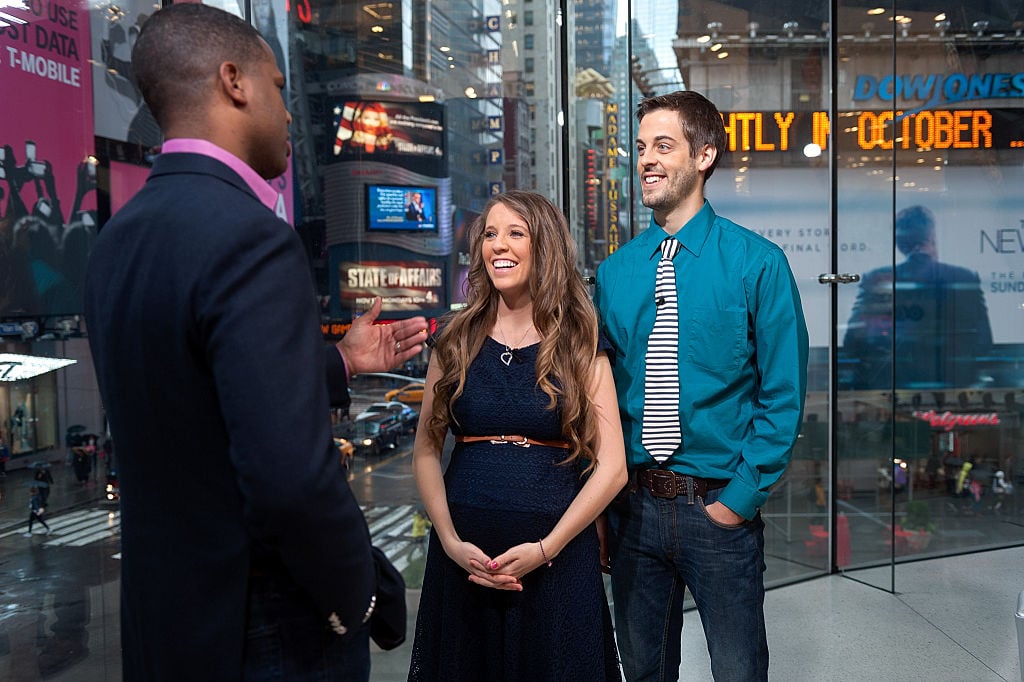 Derick Dillard triggers a feud
Derick and Jim Bob have fought feud rumors for most of last year, but the drama really heated up over Christmas. Taking to social media, Derick Dillard and Jill Duggar confirmed that they did not spend the holidays with her side of the family this year.
Instead, they stayed home and enjoyed Christmas with a few of their "international friends."
Some curious fans asked the couple if they ever visit Jim Bob anymore, to which Derick coyly responded by saying they are "not on 19 Kids and Counting." This was a reference to Jim Bob and Michelle's original show, which was canceled after Josh Duggar's molestation scandal.
Derick eventually acknowledged that he technically meant Counting On, though he argued that the family's spin-off is more of a re-branding than anything else. Although the spin-off's origins focused on Jim Bob and Michelle's children, we have to admit Derick has a point.
And that isn't the only controversial thing Derick told fans.
Derick Dillard speaks his truth
Derick also talked about some larger issues related to how Jim Bob runs things. In what might be his most controversial claim yet, Derick told fans that he and Jill are not allowed in the Duggar compound unless they get special permission from Jim Bob.
"We're not allowed in the house when [Jim Bob] isn't there. Jill even has to ask [Jim Bob's] permission to go over to the house to help her sister when she was in labor because her sister wanted help, but Jill couldn't provide assistance until we got it cleared from JB," Derick shared.
We have no idea why Derick Dillard and Jill Duggar are not allowed to drop in whenever they please, but it might have something to do with how Jim Bob runs the family.
According to The Hollywood Gossip, Derick also revealed that Jim Bob is the only person who has a contract with TLC. He also hinted that Jim Bob is the one who does all of the negotiating with the network and that he leaves everyone else in the dark.
Derick Dillard went on to say that he and Jill were told that they needed to comply with whatever Jim Bob said or else they would be sued. This was presumably back when he and Jill were still on the show. Now that they are no longer a part of the Counting On family, Derick assured fans that they have wised up.
Did Jim Bob take over 'Counting On'?
With Jim Bob controlling the contracts, Derick Dillard argued that he has essentially taken over Counting On. In the early days of the series, Jim Bob had little involvement.
In fact, the spin-off was originally called Jill & Jessa: Counting On. But now that 19 Kids & Counting is no longer a thing, Jim Bob and Michelle have slowly worked their way back into the limelight.
"Yes, [JB and Michelle did] because it's their show," Derick revealed. "We've only made guest appearances over the years for [a] wedding, birth, etc. We've never had any contact with TLC, hence not knowing there was a contract. Nobody from TLC has even mentioned to us what they would prefer that we say or not say."
Derick Dillard added that he and Jill are more "aware" of what is happening behind the scenes, which is why he has been speaking up. He also teased that he will be revealing more in the weeks and months to come – which could get very interesting.
Derick has left the series back in the fall of 2017 following his controversial remarks about the LGBTQ community on Twitter. He has since maintained that he left the show on his own account.
Why are the other Duggars staying silent?
While Derick Dillard has been speaking out, it is curious that none of the other Duggar children have said anything about the allegations. But there might be a good reason why they have remained silent.
Derick revealed that, when he and Jill were on the show, there was immense pressure to stay in line and not speak out against Jim Bob or TLC. If that is true, then the other Duggars may be biting their tongues to avoid potential lawsuits.
"If it's the same way it was for us, the others may be pressured into submission with threats of lawsuits, too deep into it/dependent or something else like that to speak up," Derick stated.
It should be noted that there is no way to tell if Derick Dillard is being truthful or not. But it will be interesting to see how Jim Bob and TLC respond to his comments.