'Counting On': Jed Duggar and Katey Nakatsu Are Pregnant — When Is Her Due Date?
Jim Bob and Michelle Duggar's family first rose to fame on their 2004 TLC special 14 Kids and Pregnant Again. The Duggars were eventually picked up for a full series on TLC, starring on the network from 2008 to 2020. However, the family's show Counting On was officially canceled in 2021 after the oldest son, Josh Duggar, was arrested on federal charges. While the Duggars will no longer be featured on TLC, longtime fans still love to keep up with the famous family. Jed Duggar and his wife Katey Nakatsu are the most recent Duggar couple to announce that they are expecting. Read on to learn more about Jed and Katey, their low-key courtship, and when Katey Nakatsu's due date will be.
Jed and Katey ditched the Duggar family fanfare when announcing their engagement/marriage
Being the stars of a reality show, the courtships, engagements, and weddings of the Duggar kids have generally been put on full display for the public to see. However, Jed Duggar, twin to Jeremiah and 10th of Jim Bob and Michelle's 19 kids, decided to ditch the Duggar family fanfare when it came to his relationship. 
After a nearly non-existent public courtship or engagement, internet sleuths discovered an online wedding registry for Jed and Katey Nakatsu. Just weeks later, Jed announced on his Instagram that he had gotten married to his 22-year-old bride on April 3, 2021. Of course, many Counting On fans were shocked by the news as every other Duggar wedding had been highly publicized, including the wedding of Justin Duggar and Claire Spivey, which had occurred just five weeks prior.   
Jed Duggar and Katey Nakatsu are expecting — when is her due date?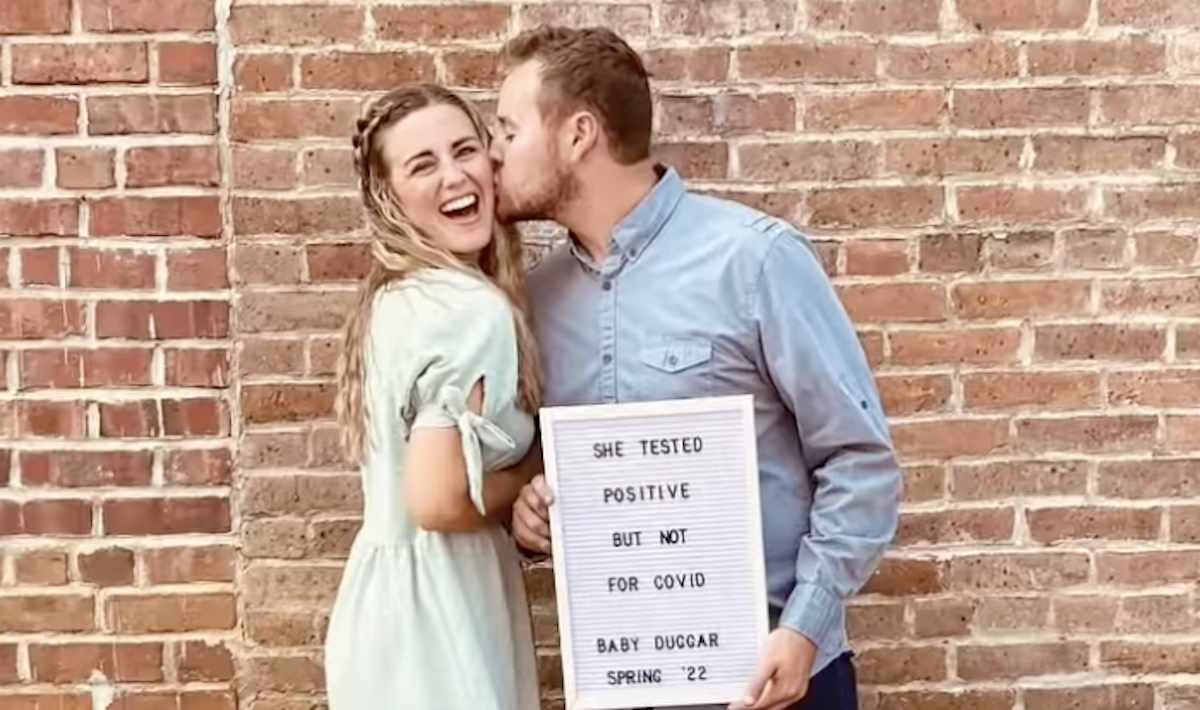 While Jed and Katey decided to ditch the Duggar family fanfare when it came to their courtship and wedding, the young couple is still sticking to some Duggar family traditions. According to The Sun, just four months after tying the knot in April 2021, the couple announced to their 176,000-plus Instagram followers that they were expecting their first child.
In their Instagram announcement photos, the happy couple can be seen holding a sign that reads, "And then there were three, Baby Duggar Spring '22." This means that Jim Bob and Michelle Duggar's 23rd grandchild is set to join the large family sometime in the first half of the new year.
While most fans were happy to hear of the new addition, Jed and Katey did catch some heat from fans that did not appreciate the caption that accompanied their photos which read, "She tested positive, but not for Covid." Critics found the comment to be insensitive due to the serious nature of the COVID-19 pandemic.
The couple hasn't yet announced when Katey's due date is. However, she got a positive pregnancy test on Sept. 1, according to the couple's YouTube video pregnancy reveal, and she said she had been having pregnancy symptoms for a couple of weeks prior. Let's just say, for example, she's currently eight weeks pregnant — that would put her due date in mid-May 2022.
However, until Jed or Katey shares more about how far along the pregnancy is, it looks like fans will have to be satisfied with the "Spring '22" range.
They shared their pregnancy announcement on YouTube, too
Despite any backlash the couple has received, Jed and Katey are still thrilled to be expecting their first child early next year. The couple has shared even more about their pregnancy on their YouTube channel called Jed & Katey Duggar. In one of their most recent videos, Jed & Katey shared that they picked up a pregnancy test at their local Walmart, took the test in the store, and found out they were pregnant in the Walmart parking lot. 
With Counting On being canceled, it seems like YouTube and Instagram are the best places to keep up with the Duggar family. Jed's sisters Jill, Jessa, and Joy-Anna also have family YouTube channels where fans can see what the Duggar kids are up to these days.
As of right now, Katey is the second Duggar daughter-in-law to be expecting soon. Josh's wife, Anna, is set to give birth to their seventh child this fall, around the same time as Josh's court date. While there are a lot of uncertainties surrounding the Duggar family right now, hopefully, both Anna and Katey will finish out their pregnancies without complications and enjoy easy births.