'Counting On' Jill Duggar Continues to Prove That She's Closer to Cousin Amy Than To Her Parents
It feels like it's been years since Jill Duggar has been on good terms with her family — and that's because it has been. Duggar first had a falling out with her parents back in 2017 after her husband, Derick Dillard, reportedly didn't like the way Jim Bob Duggar controlled the family.
These days, Jim Bob and Michelle seem to be making an effort to curb the rumors of a feud but it's clear that Jill Duggar's cousin, Amy, is the only one who has remained at her side through it all.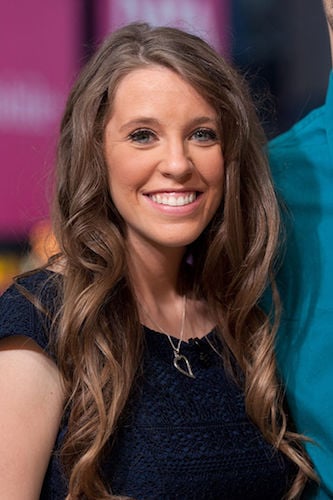 Jill Duggar and Derick Dillard left 'Counting On' in 2017
Things haven't been right between the Dillards and Jim Bob ever since they chose to leave the TLC show back in 2017. For a while, fans thought they were fired because of harsh comments Dillard made on Twitter, but it's now more understood that Dillard and his family quit the show after they became irritated with the way Jim Bob handled the family's money.
Dillard has since spoken out quite a big about the Duggars and explained that Jim Bob controls everything and gives his kids hardly any freedom.
Duggar has been at odds with her family for a while
Ever since Duggar and her husband left the show, the problems have only seemed to get worse between the couple and her parents. Though Duggar still remains close with her sisters, her husband recently revealed that they're not allowed over her parents' house without first getting permission.
When Duggar's sister, Jessa, was in labor, Duggar went to her parents' house to help with the process. But Duggar's husband later claimed that Duggar wasn't allowed over until she explicitly received permission. Fans have become intrigued by the inner workings of the Duggar family, and some suspect that Jim Bob consistently lies to his wife and kids. 
Duggar and Amy have consistently proved they are the closest
Throughout whole feud, Duggar has always had one person on her side: Her cousin, Amy Duggar. Amy has made a few appearances on the show, but since she was raised so differently, she was only allowed to hang out with the kids when a parent was there to chaperone (we assume Michelle and Jim Bob were concerned that Amy would try and talk down the family's beliefs).
Amy consistently showed Duggar love, even while Duggar's own family members did not. She always comments on Duggar's photos, making it clear that she's on her side. And through the whole quarantine, Duggar and Dillard have still paid visits to their favorite cousin. Amy recently posted a photo of Duggar and Dillard in her driveway — it doesn't appear that the Dillards have visited her parents at all.
Duggar's parents seem to be trying to avoid the feud rumors
Derick Dillard celebrated his birthday on March 9, and for the first time in a long time, Duggar's parents recognized it on social media. They posted a photo of the Dillard family and said that they were "so thankful" for him being such a "loving husband" and "wonderful daddy."
Fans were glad to see that Duggar's parents could put the past behind them, and it might mean that the two couples are working hard to make amends.