'Counting On': Jill and Jessa Duggar's Past Wedding Invitations Have Fans Cringing
Jill and Jessa Duggar were Michelle and Jim Bob Duggar's first daughters to be married. The two sisters tied the knot with their respective husbands, Derick Dillard and Ben Seewald, back in 2014. Shortly after, they became the focus of TLC's Counting On because of Josh Duggar's leaked sexual abuse scandal in 2015.
Counting On fans recently dug up the couple's wedding invitations, and from the font to the photos to Jim Bob's name, it's hard to believe how cringe-worthy they are.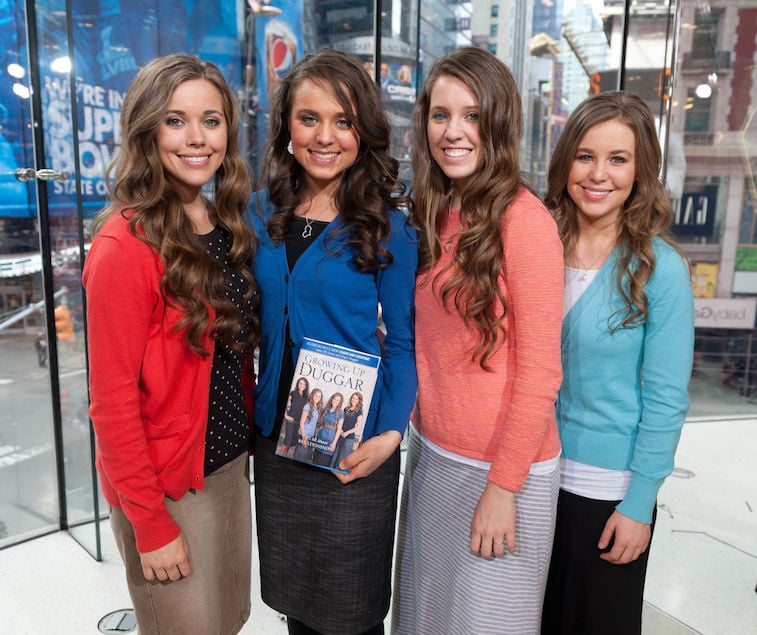 Jessa and Jill were once the focus of 'Counting On'
After 19 Kids and Counting was canceled back in 2015, TLC wanted to continue the show in a new way that cut out Josh Duggar. They spun the show into Counting On, a name that reflected the family trying to move past everything that had happened. The show primarily focused on Jill and Jessa and their new lives as married women starting families.
Jill and Jessa: Counting On was the network's way of keeping the show around, but TLC shortened the name to just Counting On after more of the kids started to get older. Plus, Jill Duggar left the show in 2017, so the first part of the title no longer had meaning. 
The two had massive weddings the same year
Jill and Jessa both got engaged in 2014, so it was a big year for the Duggar family. At the time, Josh Duggar's scandals were still swept under the rug, so both daughters' weddings premiered on 19 Kids and Counting. The wedding prep was highlighted, with the network filming everything from the engagement to each woman choosing her wedding dress. And, of course, the weddings themselves were showcased as well.
Jessa and Jill then went on to have very similar family timelines, too. Both daughters each welcomed two boys within their first three years of marriage.
Fans recently found the sisters' wedding invitations — and they are cringe-worthy
A Reddit thread recently revealed what each daughter's wedding invitation looked like, and we can't lie — they were pretty cringe-worthy. One Reddit user posted photos of the invites, and the basic font, plus Jim Bob referring to himself as Jim Bob on the invitation ("Mr. and Mrs. Jim Bob Duggar"), made for a rough look.
"The font on these invites hurt my eyes," one user wrote. "'Mrs. Jim Bob Duggar' sure has a nice ring to it," another person joked. Fans also noticed that Jill's wedding invitation had no time on it and that Michelle Duggar's name wasn't mentioned on either invitation despite that both mothers of the grooms were.
The Duggars' weddings are not like most weddings
The Duggars don't have the elegant weddings that most people do. Most weddings have had anywhere from 800-1,000 guests, and the receptions are usually in very basic, church-run halls rather than true banquet halls. The food is limited as well; not the dinner menu or cocktail hour that most people would expect. The Duggars don't drink alcohol, so all weddings are dry, too. But to each their own, right?