'Counting On': Jinger Duggar and Jeremy Vuolo Just Made a Major Announcement About Their New Brand
Jinger Duggar and Jeremy Vuolo have showed no signs of slowing down. The couple just welcomed their second child, Evangeline Jo, on Nov. 22, and a little more than a week later, the two were ready to launch their newest business venture: Hope & Stead.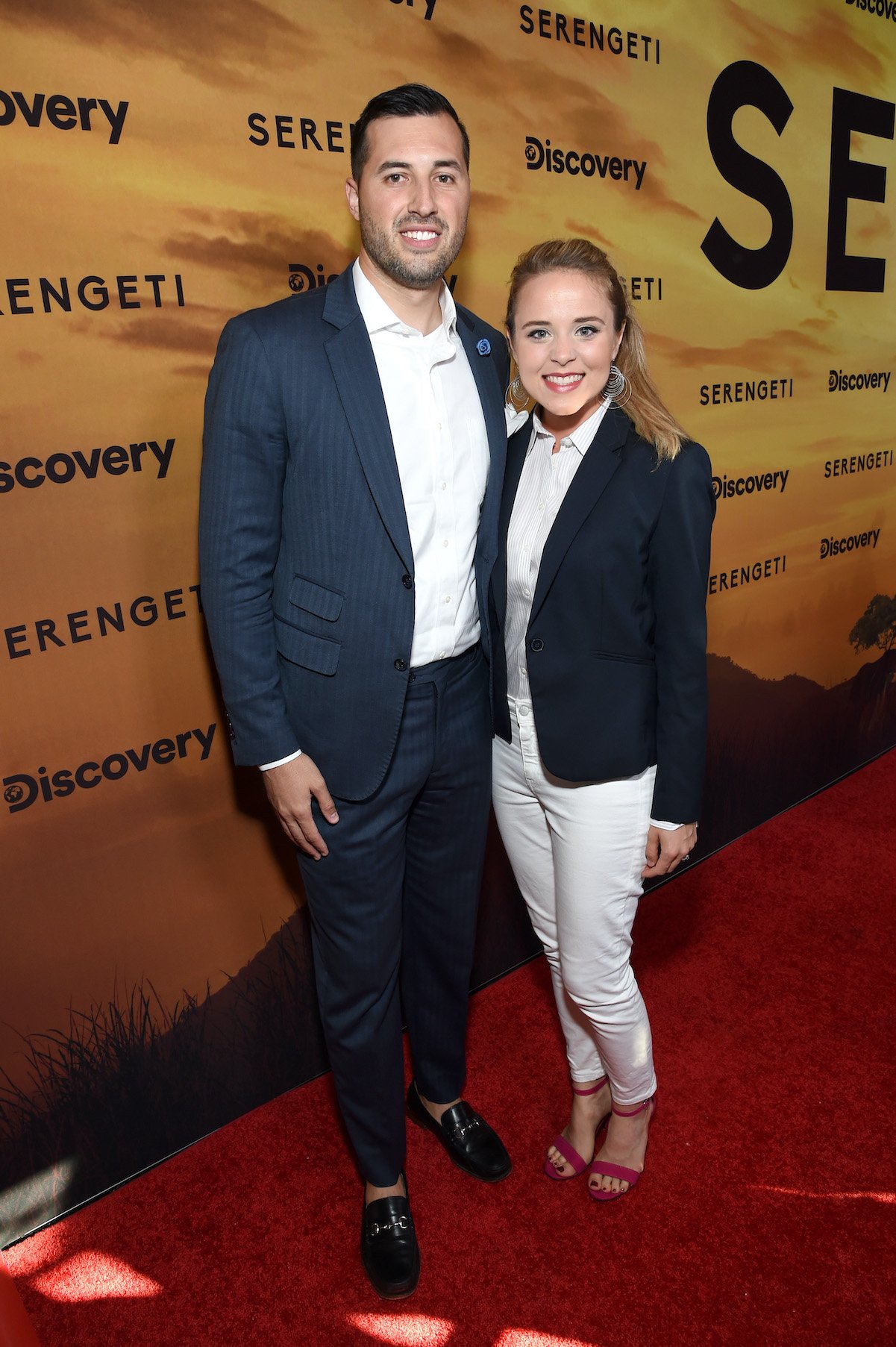 Jinger Duggar and Jeremy Vuolo have kept themselves busy
Duggar and Vuolo moved out to California last year, and since arriving, they've been diving into their own exciting life separate from Duggar's family. The two launched their podcast, Hope We Hold, earlier this year, and in May, Duggar and Vuolo announced that Duggar was pregnant with the couple's second child.
The two welcomed their daughter, Evangeline Jo Vuolo, on Nov. 22 they posted their first family photo this past Thanksgiving and are acclimating to life as parents of two. However, that hasn't stopped the couple from growing the business side of their lives, too. Duggar and Vuolo announced earlier this week that they were preparing to launch a new project.
RELATED: Jinger Duggar Shares Photo of Her New Baby, and 'Counting On' Viewers Think She and Younger Sister Joy-Anna Duggar Look Like Twins
Related post url: 
The couple just announced their new line of accessories called 'Hope & Stead'
Duggar and Vuolo have kept themselves busy during quarantine. The couple launched their "Hope We Hold" podcast in the spring, which has since amassed more than 40,000 Instagram followers. Now, the two have launched their newest endeavor, Hope & Stead. The brand currently only consists of hats and candles, but the two will likely expand the business based on the response from customers.
Duggar and Vuolo announced Hope & Stead on Dec. 1. "It's our goal to promote the message and lifestyle of Hope through creating designs that point to our ultimate hope — Christ," Duggar's Instagram caption read. She and Vuolo have both been photographed modeling their hats, and the Instagram account had reached nearly 30,000 followers within two hours of the announcement.
The two gained momentum for the brand by hosting a giveaway in which people would guess what they thought the new business would be. The couple offered a five-item "mystery" giveaway to the one person who guessed correctly, though as of press time, they had not revealed what the five items are.
Duggar and Vuolo have wanted to make money beyond Duggar's family name
Since Duggar and Vuolo wed, they have been doing things a bit differently from the rest of the family. Traditionally, the Duggar children have remained in close proximity to their families, often taking jobs and homes from Jim Bob Duggar. However, Duggar and Vuolo moved into Vuolo's home in Laredo, Texas, after they wed, and they have since moved to Los Angeles. Neither home was purchased or paid for by Jim Bob Duggar, as far as we know.
The two have also decided to make money outside of the family. Vuolo is currently pursuing his graduate degree from The Master's Seminary, and the couple's podcast and new accessories line earn them money as well. Plus, Duggar has received a number of influencer deals due to her 1.4 million Instagram followers. It's possible that these two are looking to build a much bigger name for themselves than "Duggar."