'Counting On': Jinger Duggar and Jeremy Vuolo Just Made an 'Exciting' Major Announcement
Counting On stars Jinger Duggar and Jeremy Vuolo have done their best to become more than just reality stars through the years. The two live in California, and they've taken their social media profiles seriously, plus redesigned their website, seemingly in an attempt to distance themselves from the reality show and create a brand of their own. And now, the couple just made a major announcement to fans.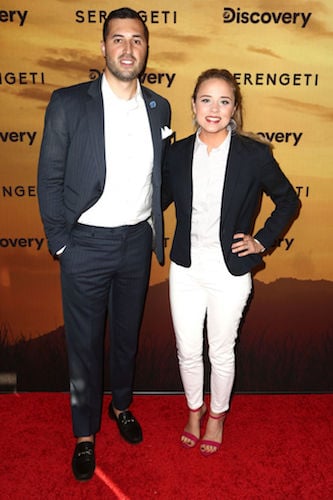 Jinger Duggar and Jeremy Vuolo have started to establish a brand of their own
When Duggar and Vuolo were married, they immediately began doing things differently than Duggar's family. Duggar began wearing pants and even dyed her hair, and it was clear that they were going to branch out from her upbringing. Last year, the two moved to California, and since then, they've seemed to create a new brand for themselves.
Duggar and Vuolo remodeled their website to focus more on them as a couple and less on their religious background. They've also only had one daughter in nearly four years of marriage, though baby no. 2 should arrive in November. Still, it's far from the way the rest of Duggar's family has reproduced. Duggar and Vuolo have changed up their social media quite a bit, too.
The couple's social media has become very much about their family
Duggar used to love posting photos of food and fun in Texas and California. Now, though, her photos almost exclusively relate to her husband and daughter. It seems she's rebranding to become the face of a picture-perfect family. Vuolo has done the same; he is a pastor and keeps religion a big part of his Instagram, but he almost only posts photos of his wife and daughter.
Gone are the photos of oversized pizza slices and Los Angeles scenery. Duggar and Vuolo are creating a brand out of their little family, and when the two first said they had an announcement, fans in the comments were certain it had something to do with marriage or family.
The two just announced they're starting a podcast
Jinger Duggar and Jeremy Vuolo took to Instagram Live on June 5 to tell fans about a brand new initiative for bringing their followers even more into their lives: They're starting a podcast. The podcast, called The Hope We Hold, will focus on the couple's daily lives and how they use the Bible to help guide them. Duggar said she's hoping it will allow fans to ask more questions and connect better with the two. The episodes will premiere weekly.
Fans aren't surprised that they're doing something more with the Duggar name
The rebranding of Duggar and Vuolo's social media hinted that they might be trying to make something more of their name and go beyond reality stars. Of course, Counting On has served as a great jumping off point for them, and they likely won't leave the show. Based on the responses on the Instagram Live chat, fans seemed excited to hear about the podcast launch, and it doesn't come as a surprise to many that the two are doing something beyond the Duggar name.