'Counting On': Jinger Duggar Just Revealed That her Favorite Show is 'Madam Secretary' — and Fans Are Shocked
Jinger Duggar has proved time and time again that she is far different from her siblings these days. Duggar married Jeremy Vuolo back in 2016, and since then, she's branched out quite a bit from her extremely conservative upbringing.
Duggar recently posted a quick survey on her Instagram story detailing a few of her favorite things, and she revealed that her favorite show was CBS' Madam Secretary. But some Counting On fans were completely shocked by the revelation.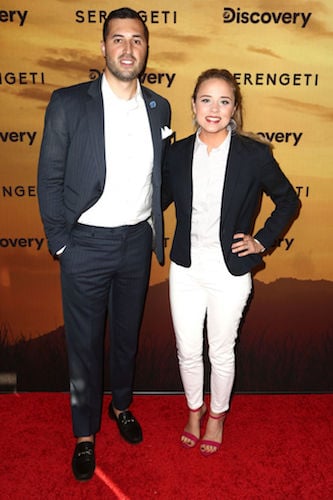 Jinger Duggar is much more mainstream than most of her siblings
When Duggar and Vuolo wed, they almost immediately moved to Vuolo's home in Laredo Texas, where he worked as a pastor. The two stayed there for nearly two years before uprooting their lives and planting new roots in Los Angeles, California. Since then, they've taken in everything L.A. has to offer.
L.A. is a very liberal town, but fans were confident that if anyone in the Duggar family could fit in there, it was those two. Since marrying Vuolo, Duggar has started wearing pants, dying her hair, and branching out from her religion to find new hobbies. She listens to some mainstream music and watches television, too, which she wasn't allowed to do growing up.   
Duggar and Vuolo have still remained very conservative
Despite moving to a more liberal area and becoming more mainstream, Duggar and Vuolo would hardly be considered "liberal" people. Vuolo still preaches against gay marriage, and Duggar still seems closely tied to her parents' conservative roots. The Duggar family outwardly opposes homosexuality and abortion.
Vuolo's siblings are more liberal than he is; his brother is a filmmaker who directed a film about an immigrant struggling with coming out as transgender. Interestingly, Duggar once commented on her brother's Instagram post about the film, writing "Wow. So amazing, bro," seemingly in support of what he was expressing in the movie.
Fans were shocked to learn that Duggar's favorite show was 'Madam Secretary'
Duggar recently filled out a quick survey that's been trending on Instagram, which asks people easy questions, such as their favorite color and favorite show. Duggar, who grew up without television, wrote that her favorite show is Madam Secretary — she published the survey to her Instagram story on March 24. But the show's liberal and political undertones had some fans surprised — and users took to Reddit to express that.
"Madam Secretary [definitely] has a liberal slant to it. I'm shook," one user wrote. "Is she trying to tell us she's secretly become a socialist," one person commented. "I hope she's having fun exploring pop culture, now that she's "allowed" to. Maybe a few of the shows she watches will broaden her horizons ever so slightly," another user added.
Some think Duggar might be more accepting than she seems  
A while back, fans discussed whether Duggar might be hiding how liberal she is from her parents. The Instagram comment, plus Duggar trying her hardest to remain "mainstream" on social media, had some thinking she might be putting up a front whenever she goes and visits her parents.
Others, however, thought she might actually be even more conservative than she seems and could be trying to hide it for the sake of her reputation out in L.A. It's clear that Duggar has broadened her horizons since she moved out, though it still remains unclear exactly what her views are on certain issues.