'Counting On': Jinger Duggar Reveals That She Now Listens to Modern Music
'Counting On' star Jinger Duggar posted a Spotify playlist that featured some modern artists.
Jinger Duggar and Jeremy Vuolo have been living a very different life than the one Duggar lived while she was under her parents' roof. The two have settled into their new California home, and they seem to be soaking up every minute of it. Duggar has quickly been labeled the most modern member of her family, too — and she just revealed that she listens to some modern artists.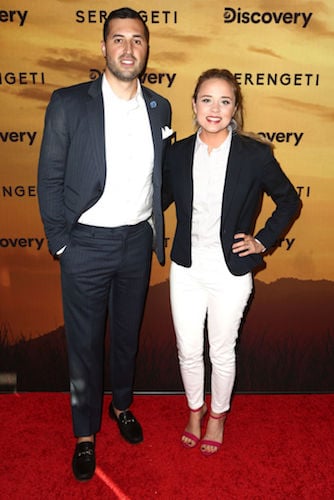 Vuolo has changed Duggar's life quite a bit
When Duggar was growing up, she had to obey many rules. She was not allowed to wear pants, she could not date, she could not attend college, and everything she did had to benefit her relationship with God in some way. Duggar met and married Vuolo back in 2016, and from there, her life has changed greatly.
Vuolo and Duggar are now seen as the most modern Duggar couple. Duggar wears pants, has made friends outside of the church, and enjoys activities that aren't religious, such as attending sporting events and visiting other California attractions.
The two seem to love carving their own path
Vuolo and Duggar seem very excited about their new California lifestyle. They are constantly getting out and exploring new neighborhoods and restaurants, and they've had no problem being so far away from their families. The couple has been enjoying their time with their daughter, Felicity (though some think Duggar is pregnant with baby no. 2), and Duggar now wears pants and shorts — a far cry from the denim skirts she once wore every day. The two have even made friends with country music artists Gabby Barrett and Cade Foehner, who were both contestants on American Idol.
Duggar recently shared her Spotify playlist, which featured some modern artists
Duggar loves sharing her life on social media. She's constantly posting photos and stories of her little family's adventures, and she's become quite the baker, often showcasing her baked goods on social media as well. But Duggar recently posted a video to her timeline asking followers to check out her new Spotify playlist if they're looking for some motivation for the new year. While some of the songs did have a religious focus, we couldn't help but notice there were some modern tunes on there, too, including "The Good Ones" by Gabby Barrett, and songs by artists such as Ed Sheeran and Regina Spektor.
Some fear that Duggar is having a hard time with her new life  
Though Duggar, on the surface, appears to love life, some fans have had their concerns about her happiness. She seems thrilled to be married to Vuolo, but some think that the transition from the Duggars to her married life hasn't been easy. Duggar was raised very out of touch with modern society, and her husband was not. Now that she's been thrust into such a modern life, some think she's struggling to hold her own. "I'm sure internally [Duggar is] struggling a lot. Being deprogrammed from a cult is a long and painful process," one person posted to Reddit.
Others agreed, suggesting that Duggar's upbringing had cult-like tendencies that kept her trapped in a bubble. Now that she's freed of the bubble, she's trying to find her way, but it's never an easy process.