'Counting On': Josiah Duggar's Recent Instagram Caption Has Critics Questioning the Duggars' Education
Michelle and Jim Bob Duggar did not allow their children to attend public or private school. Instead, Michelle taught the children herself at home, and they followed a religiously-heavy curriculum. But now that the kids are older, critics can't help but notice that they don't seem as educated as they should be. And Josiah Duggar's recent Instagram caption is raising eyebrows.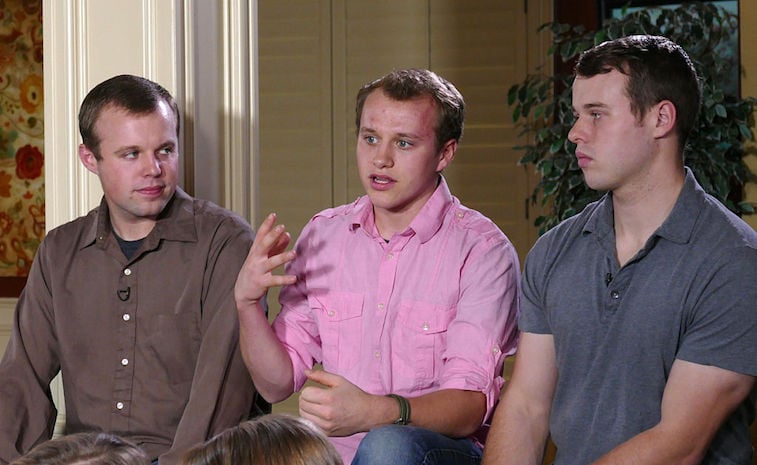 Michelle Duggar follows a very religious homeschool curriculum
The Duggar children are educated through ACE, which is the Accelerated Christian Education program. The program essentially provides kids with education while also teaching them about God. It gave Michelle and Jim Bob the ability to intertwine religion with their kids' basic studies to make sure they became as dedicated to Christianity as possible.
Michelle started homeschooling her oldest son, Josh Duggar, when he was four. And as her daughters grew older, they started helping their mother teach their younger siblings. These days, Jana Duggar still helps Michelle teach the younger kids.
Some have questioned the Duggars' education in the past
Though there are plenty of homeschooled children in the United States, there have been questions about whether it truly benefits the child. Of course, Michelle and Jim Bob knew that public school wouldn't give their kids any religious education (and sending 19 children to private Christian schools probably wasn't financially feasible). But some critics have questioned the kids' homeschooling education through the years. When the kids were once filmed reading letters from one another aloud, critics thought their reading skills were not up to par.
Since the older girls were teaching their younger siblings, it seemed to become a cycle of someone with subpar education teaching someone else. And none of the kids ever received college degrees.
Critics noticed that Josiah Duggar's Instagram caption didn't make sense
Josiah Duggar recently wrote an Instagram post about his wife in honor of proposing to her exactly two years ago. And while the post was heartfelt, critics once again couldn't help but notice the lack of education in Josiah's words. Part of the caption read, "I can't believe it's been two years ago today that I asked Lauren to marry me…" but it didn't take long for a Reddit thread to start about Josiah's grammar in the post.
"'I can't believe it's been two years ago' I really try not to be critical of how people write but God that's a mess," one user commented. "Wow didnt even notice it said that, i just read it as I cant believe its been 2 years," another user responded (ironically, that comment was grammatically incorrect). "Good ole Duggar academy," someone else wrote.
Jill Duggar just broke protocol and enrolled her son in kindergarten
Jill Duggar, the second-oldest Duggar daughter, just took matters into her own hands and broke a major family tradition. She just enrolled her older son in kindergarten, which means she won't be following in her mother's footsteps and homeschooling her children.
Jill's brother, Josh Duggar, homeschools all of his kids (well, his wife, Anna, does). Jill's kids are the only other ones old enough to be in school, so it's unknown right now whether any other family members will follow down Jill's new path. Some think Jinger Duggar might end up putting Felicity in school, but we're curious to see what Jessa Duggar chooses to do with her oldest child, Spurgeon. Time will tell if the Duggars break their parents' longstanding views on education.