'Counting On': Josiah Duggar's Alleged 'Disobedience' Was a Major Source of Frustration for Jim Bob Duggar, Claims a Source
Josiah Duggar is married with a child now, but a family insider claims he may have once been Jim Bob Duggar's most disobedient child.
With 19 children, Jim Bob and Michelle Duggar, have garnered a pretty expansive following. Two reality TV shows and two scandals, however, have left them with just as many critics as fans, and people in their own social circles seem more willing to talk about the family than ever before. As Derick Dillard continues to spill family tea on social media, former employees and family friends seem to be coming forward, too. One anonymous source who spoke to The Hollywood Gossip, claims that Josiah Duggar has been Jim Bob Duggar's most difficult child to rear. The statement shocked family critics who have spent years discussing Joshua Duggar's inappropriate behavior.
An insider claims Josiah Duggar, not Joshua Duggar, frustrated Jim Bob Duggar
The Hollywood Gossip spoke with a reported insider who claims Josiah was the most rebellious of the Duggar kids. The informant, who claims to have worked for the Duggar family during Josiah's teen years, reports that the Duggar boy consistently flounced the family rules and was outwardly defiant, something that Jim Bob apparently has not had much experience dealing with.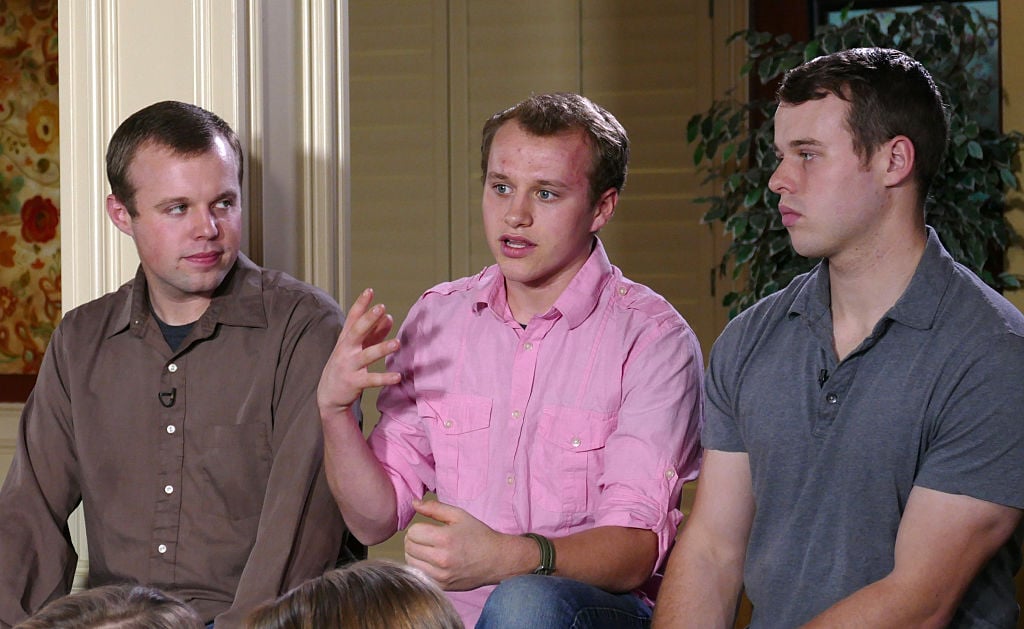 The alleged insider pointed to an illicit Facebook account as proof that Josiah was disobedient as a teen. Rumors have swirled for years that Josiah utilized social media without his parents' consent. That alleged profile, which no longer exists, employed a pseudonym, according to rumors. Allegedly, it was discovered when Josiah posted a photo that made him easily identifiable. A different insider once claimed the page was "secular" in nature.
The social media account was reportedly the indiscretion that led to Josiah attending a military-style program. It is also believed to be the reason Josiah announced a courtship to Marjorie Jackson in 2015, and then later married Lauren Swanson in 2018. The insider described Josiah's courtships as "transactional."
While the informant's account can not be verified, it appears to line up with several rumors about Josiah and the way Duggar family marriages come to be. A former church member connected with Radar Online in 2019. That anonymous insider claimed Joshua's marriage to Anna Duggar was arranged after he was caught touching several of his sisters and a family friend.
Family critics believe Josiah was sent away for "re-education"
During his teen years, Josiah, who once appeared on the family's reality TV show regularly, seemed to go missing. He showed up with his family sparingly during 2013 and 2014, leading some family followers to surmise he had been sent away. According to In Touch, Josiah had been sent to a program known as ALERT. The program, offered through the Institute of Basic Life Principles, is a military-style program that claims to help young men build character.
Several of Josiah's brothers also attended the program, but family followers on Free Jinger note that Josiah appears to have spent far more time at the residential program than his brothers. One fan noted that Joseph Duggar, who is believed to have attended the program willingly, returned home after nine weeks. Josiah, on the other hand, appears to have spent more than a year at ALERT.
Are Josiah Duggar and Lauren Swanson headed for divorce?
Long before the insider came forward to speak with The Hollywood Gossip, family critics have been skeptical of Lauren and Josiah's connection. Many believe the couple engages in toxic behaviors and may be headed for divorce. Less critical family followers simply think the two don't really have all that much in common.
According to the anonymous source, Josiah agreed to the marriage only to remain on Jim Bob's payroll. Derick Dillard has long suggested that Jim Bob holds the purse strings and dulls out cash to his adult children as a way to maintain control over them. Only children who follow his strict rules are given allowances, according to Derick's account. If the money disappears, it's possible Jim Bob's influence over his adult children may disappear, too. A looming federal investigation, the potential of a tell-all book, and a reality TV show on the brink of cancelation may make that scenario a reality soon.