Counting On: Marjorie Jackson May Have Shaded Her Ex-boyfriend, Josiah Duggar, in Her Book
The Duggar family secrets are being spilled all over the internet lately. First Derick Dillard took to social media to call out Jim Bob Duggar, then family insiders came out in droves to discuss the family's strict handling of rebellious behavior. While the juicy new details threaten to topple Jim Bob's media empire, it's possible secrets were being spilled, albeit subtly, years ago. Marjorie Jackson, who entered into a courtship with Josiah Duggar in 2015, may have shaded her ex in her 2017 book, and people were to focused on Joshua Duggar to notice.
Majorie Jackson and Josiah Duggar broke up, and then she wrote a book
In August 2015, Josiah and Marjorie ended their four-month-long relationship. To most of mainstream society, the end of a teenage romance is no big deal. The duo, who were just 18 and 17 at the time, however, was not a part of mainstream society. In the Duggar family's ultra-conservative social circles, courtship means a couple is practically married, and such courtships rarely end in a breakup. To date, Marjorie and Josiah's courtship is the only Duggar romance to end in a breakup, that we know of.
It was widely assumed that the end of the relationship was a direct result of the Duggar family scandals. During the couple's courtship, it was announced that Josh Duggar had molested several of his siblings. It was later revealed that he was also cheating on his wife. Many family critics believe that Marjorie, and her family, decided joining a family with so many kept secrets wasn't the best idea.
Since then, Marjorie has gone on to graduate college, pen a book, and start her own business. Years away from the relationship, she appears to be living her best life, but within the pages of her book, she once subtly shaded the Duggar family. For years, family critics assumed her statements about lies and secrets were directed at her almost-brother-in-law, Josh. Now, as more family insiders come forward to spill family tea, it looks like Marjorie may have been talking about her ex-boyfriend.
Everyone thought Marjorie was shading Josh Duggar, but new information indicates she was referencing Josiah
In 2017, nearly two years after her courtship ended, Marjorie released her book, Devoted: A Girl's 31-Day Guide to Good Living With a Great God. The guide touched on everything from personal convictions to relationships. Still, most people already familiar with Marjorie, thanks to her connection to the Duggars, were most interested in the relationship gossip.
The Hollywood Gossip reported, back in 2017, that several points in the book seemed to shade Josh specifically. In the publication, Marjorie took extra time to suggest what people do out in "cyberspace" still follows them into their real lives. She wrote, "Those words we text, e-mail, write and post on social media…God sees it all."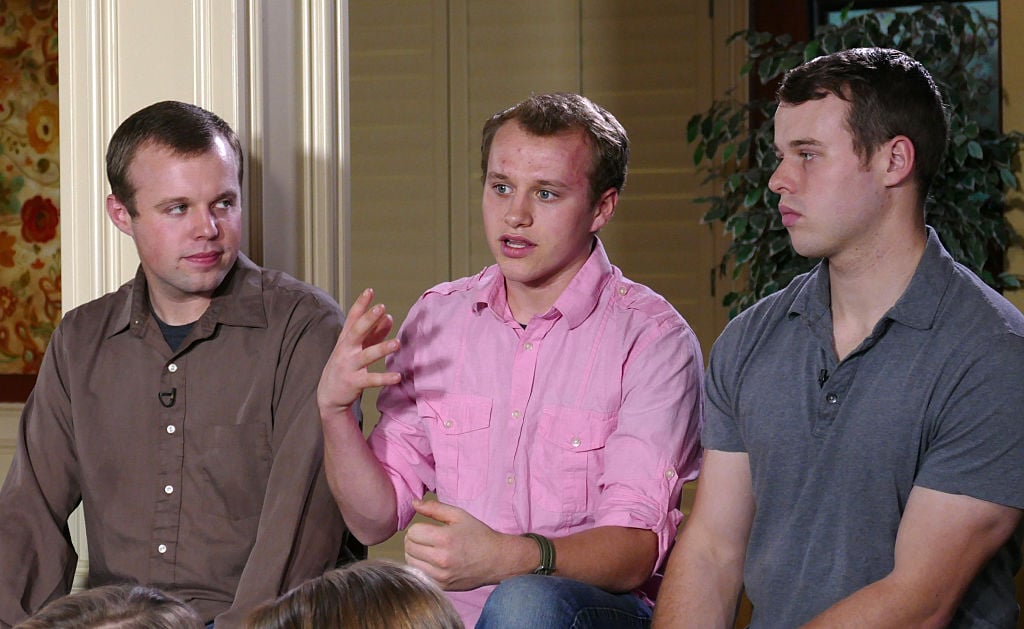 At the time, it was assumed that Marjorie was using Josh as an example of someone who messes up their entire life for some online pleasure. The news of his adultery was still pretty fresh at that point. Now, years later, family critics are getting a clearer picture of the Duggar family, and it seems equally possible that the vague quote was shading Josiah.
Insider information seems to connect Josiah's behavior to things Marjorie talked about in her book
On May 4, The Hollywood Gossip reported that a Duggar family insider suggested Josiah was a deviant child who was married off in an attempt to quell his rebellious ways. The reported insider, who was not identified, pointed to a secret Facebook account that Josiah was rumored to operate as proof that he was flouncing the family's strict rules. The Facebook account, which was under a pseudonym, was deleted long ago, but several insiders claim the page was "secular" in nature, and that Josiah appeared to have a deep interest in the world outside his family's strict belief system.
Katie Joy from Without a Crystal Ball noted that Marjorie's statements, in light of recent admissions, seem to point to Josiah as the "creeper" who indulged in more secular internet activities. The full scope of what Marjorie was told about the family's scandals remains unknown, as does the extent of Josiah's internet habits. Since the book was published, Josiah married Lauren Swanson, although there is talk that the couple's marriage was arranged by Jim Bob and Lauren's father, Dwayne Swanson.