'Counting On': Realistically, How Much Could Jeremy Vuolo Have Made Playing Soccer?
Jeremy Vuolo's soccer days are long behind him. Once a signed member of Major League Soccer, Jeremy once claimed he gave up his athletic pursuits to live a more godly life. Along the way, he became a pastor and then married Jinger Duggar, which garnered him a fair bit of notoriety. While some family followers believe Jeremy has enough money from his soccer career to avoid being controlled by Jim Bob Duggar, family critics point out that Jeremy probably didn't make all that much kicking a ball around the field. Realistically, though, how much cash would he have made as a professional soccer player?
How much money would Jeremy Vuolo have made as a soccer player?
Jeremy's soccer skills are clearly better than the average. After all, he did play the game professionally after graduating from college. That, however, doesn't mean he was earning a considerable salary. In fact, most professional soccer players receive a fairly modest paycheck.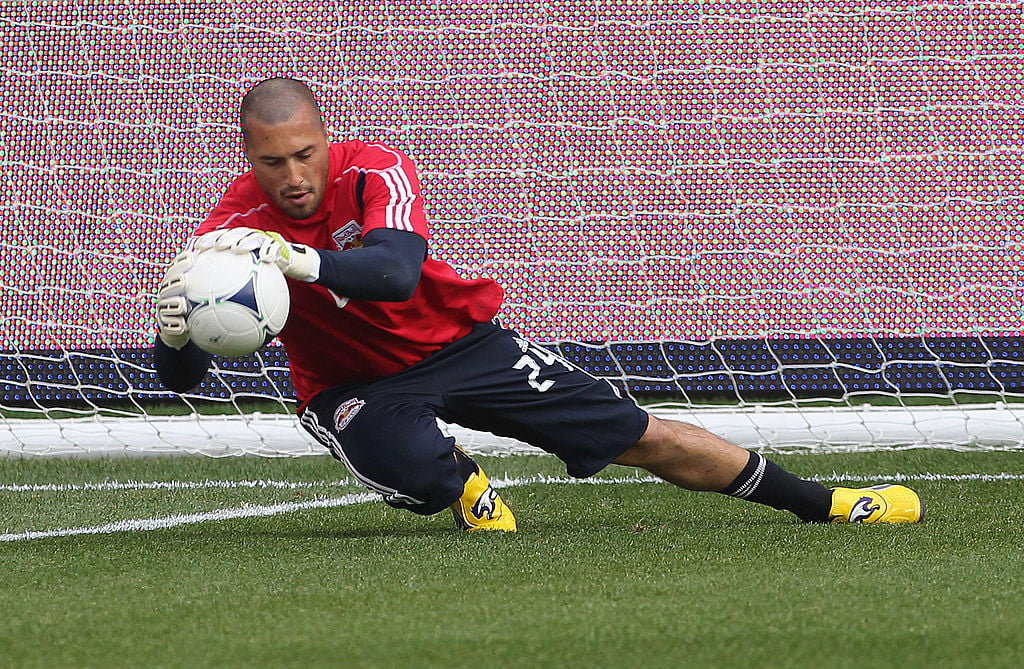 Jeremy began his career in the Finnish First League. The average salary for players entering the league today is around $35,000 per year. When Jeremy started playing, it is unlikely that he earned more than $30,000 for his time. After spending some time overseas, he returned stateside and signed a contract with the New York Red Bulls. The Major League Soccer contract he signed wasn't nearly as lucrative as some would think, though. According to the New York Times, about one-third of players signed to the MLS earn less than $100,000 per year. Jeremy did not appear in a single game during his time with the team, so it seems likely he fell into the lowest pay bracket.
After being released from the MLS, Jeremy signed a contract with the North American Soccer League. While he did appear in 22 games during his time with the league, he likely wasn't a big earner there, either. The average player in the league currently earns around $80,000 per year. While that's not an insignificant salary, especially for a young, single man, Jeremy likely wasn't sitting on a fortune when he married into the Duggar family.  
Could his salary as a pastor sustained a small family?
After giving up his dream of soccer stardom, Jeremy became a pastor. According to a fan-generated information page, Jeremy became the pastor of Grace Community Church in March 2016. He remained in his position at the church in Laredo, Texas until the summer of 2019, when he and Jinger sold their home and moved to Los Angeles so he could pursue higher education.  
According to Payscale, the average worship minister at a church like Grace Community Church can expect to make between $30,000 and $60,000 per year, with the average pastor earning around $37,000 each year. Laredo has a relatively low cost of living, but Jeremy's salary would still be considered on the lower end of workable.
With that being said, he theoretically could have sustained a small family on his salary, as long as he was willing to cut some corners. Jeremy and Jinger appear to enjoy dressing well and eating out, which likely wouldn't have fit into the budget on just Jeremy's salary. So, where did they get the rest of the money they needed to survive? Some family critics believe Jim Bob has supplemented their income along the way, while others think Jeremy may have cut out the middleman and worked out a deal with TLC.
Fans think Jeremy may have negotiated his own Counting On contract
Jeremy and Jinger definitely have the most interesting storyline on Counting On. The couple, unlike the rest of the Duggar clan, has strayed pretty far from Arkansas. When first married, they set down roots in Laredo, Texas. More recently, they've taken up residence in LA. It's no surprise that fans have enjoyed following them on their journey, but rumor has it that TLC had to pay up for the rights to film the duo.
In March 2019, Life Is Not All Pickles and Hairspray, a Facebook group dedicated to unearthing Duggar dirt, claimed that a family friend revealed that Jeremy and Jinger were ready to walk away from Counting On in 2017, but that they may have negotiated their own contract to make filming worth their time. The alleged insider has not been identified but claims the source of their information was Jeremy's father, Chuck Vuolo.
If the rumors are true, Jeremy and Jinger's lifestyle is not subsidized by Jeremy's soccer savings or Jim Bob, but rather TLC. Derick Dillard, who married Jill Duggar in 2014, has been particularly outspoken about the fact that he and his wife were never paid for their time on the hit reality TV show. He also recently suggested that none of the participants were paid because none of them had individual contracts. Perhaps, Jinger and Jeremy do have a private deal, but they aren't telling the rest of the group. None of the rumors have been confirmed.