Jeremiah Duggar Is Courting Hannah Wissmann: Former 'Counting On' Star Says He's 'Never Felt so Blessed'
Could a double wedding be the next big Duggar-related televised event? It would certainly make for better headlines than the current scandal.
While some stars from reality TV are just a flash in the pan, others have real staying power. The Duggars seem to be in the latter category, though many of the reasons they continue grabbing headlines are less than appealing. As Josh Duggar's high-profile child sexual abuse case continues to play out both in court and in the media, the appeal of following big families continues to draw reality TV fans. 
That has left the other Duggar family members with the tricky job of keeping their own fame focused on more positive aspects of the family's identity without getting forever linked to Josh Duggar's scandal. Jeremiah Duggar's courting of Hannah Wissmann is just the kind of attention-grabbing story that has the potential to put a better light on the "blessed" reality star. 
Jeremiah Duggar fights to escape his family's scandal-filled shadow
Jeremiah Duggar is in the middle of a huge family, and his efforts to break free from the negative press that has plagued his family name will need to be impressive. The 22-year-old twin (to brother Jedediah Duggar) has been featured on television for most of his life.
What started as 17 Kids and Counting on TLC premiered in 2008 and ran until 2015. After that, a spinoff series called Counting On focused on some of the grown children in the family and kept the entire Duggar group in the spotlight. 
In 2015, it leaked that Josh Duggar had been accused of molesting young girls — including his own sisters — back in 2006. The subsequent cover-up and the uproar about the entire ordeal were enough to get the original show canceled. While the spinoff attempted to shift the focus away from Josh Duggar and his crimes, when a fresh scandal broke involving the tarnished brother, it was simply too much controversy to keep the show on the air. 
Jeremiah Duggar appears to be moving on with his life
For a series that was so focused on old-fashioned relationship standards, marriage, and children — there were, after all, plenty of babies born on screen over the years — Jeremiah Duggar's relationship details are particularly noteworthy. 
As People reports, Jeremiah Duggar is now in a relationship with Hannah Wissmann. The pair posted identical photos on Instagram to make their fledgling love social media official. Duggar captioned his posts with: "Getting to know each other has been one of the greatest joys of our lives!" The comments filled up with support and well wishes from several of his family members. 
Is Jeremiah Duggar trying to stay in the spotlight?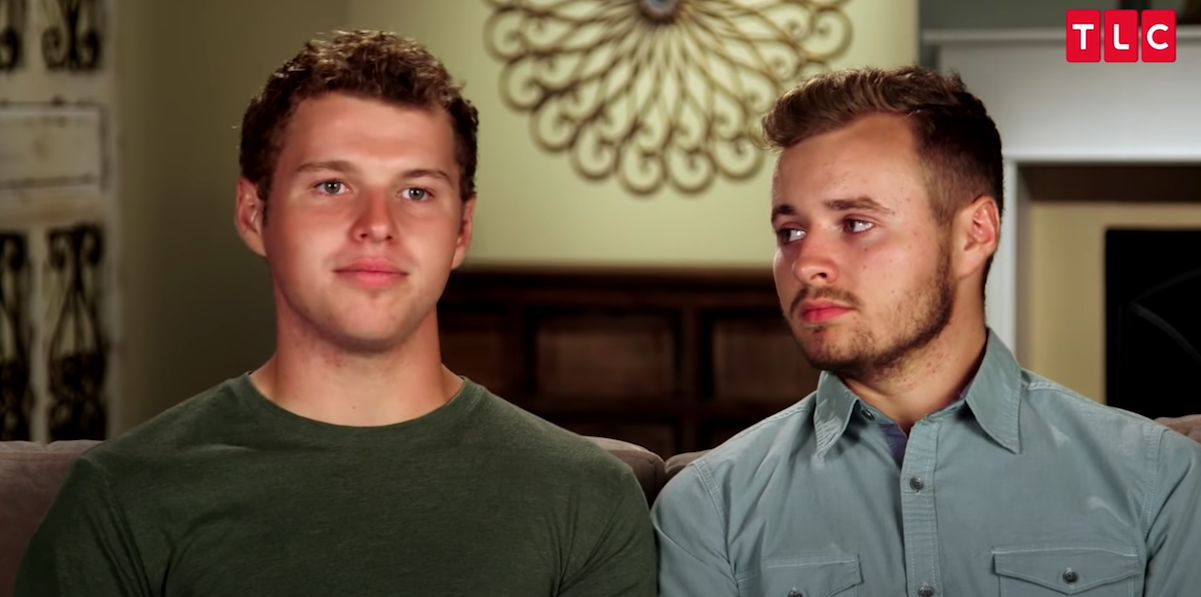 While it might be easier to simply slink out of the glare of reality TV and try to escape the family's scandals in peace, Jeremiah Duggar gave some hints in the post that suggest he still has an eye toward fame. 
The rest of his Instagram post announcing his relationship with Wissmann said, "We are excited to start sharing our story with all of you and to see what God has in store for our future." 
Wissmann, for her part, is from another large family that has managed to snag national attention. The Wissmans are a Nebraska family with 13 children. It seems like she likely has an eye toward not only her future with Duggar but also her future as a public figure.
Eagle-eyed fans noted that Hannah Wissmann's sister recently started following an Instagram account with the handle @hannahduggar. A wedding announcement in the not-too-distant future wouldn't be much of a surprise. 
To make matters even more interesting for the two attention-grabbing families, it also seems that Jana Duggar and Stephen Wissmann may be courting. Could a double wedding be the next big Duggar-related televised event? It would certainly make for better headlines than the current scandal.