'Counting On': Why This Duggar's Instagram Post Is Making Fans Ask, 'Where's Jill?'
Michelle and Jim-Bob Duggar of TLC's Counting On have appeared to have a somewhat uneasy relationship with their oldest son, Josh Duggar, for years. In 2015, revelations about his extramarital affairs and sexual abuse against his sisters when he was a teenager caused the Duggar family's show, 19 Kids and Counting, to be cancelled.
Since then, Jim-Bob and Michelle have gradually made their way back into the rebranded Duggar show, Counting On. Josh and Anna Duggar reconciled and have since had several more children. Along the way, Josh and his parents began to spend more time together, and the oldest Duggar son has occasionally appeared on his parents' social media platforms.
Meanwhile, second-oldest daughter Jill Duggar Dillard and her husband Derick Dillard, who were allegedly fired from Counting On by TLC due to Derick's negative comments about Jazz Jennings of I Am Jazz, haven't received the same grace.
Derick has spoken out against his in-laws on social media in the last several months. He accused Jim-Bob in particular of pushing Jill to film after her brother's abuse was revealed and of withholding payment from the young couple. In turn, the Duggars haven't acknowledged Jill and Derick on social media at all in recent years.
For some Counting On fans, a recent Instagram post from Josh's wife Anna highlighted just how differently the Duggars treat their oldest son in comparison to their second-oldest daughter.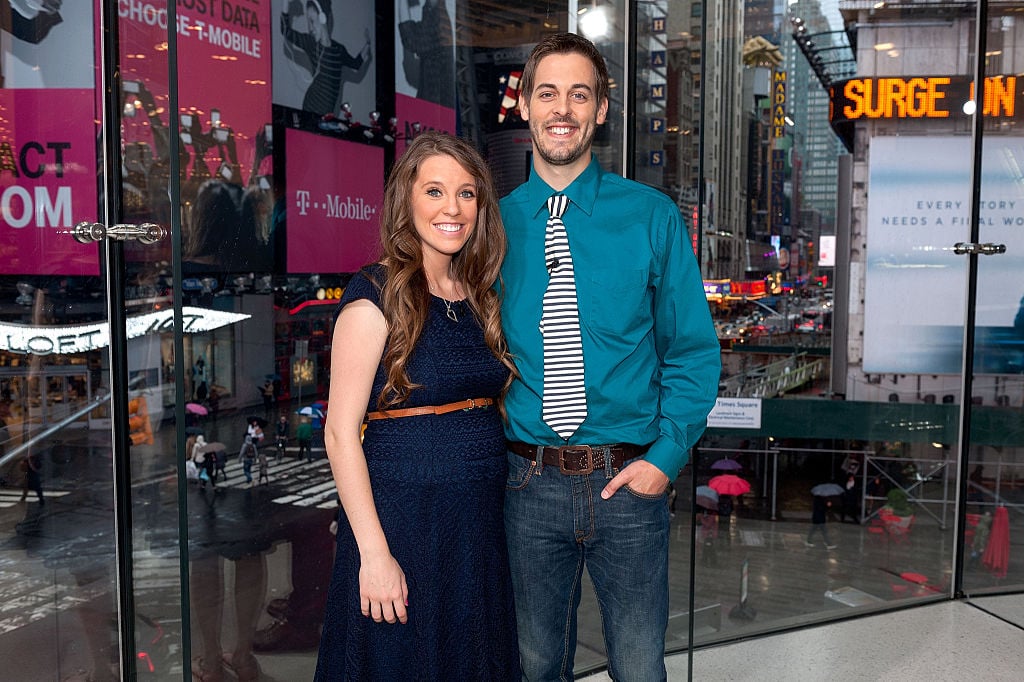 Anna Duggar took to Instagram to rave about her mother- and father-in-law
On Jan. 21, 31-year-old Anna shared a picture of herself with Jim-Bob, Michelle, husband Josh, and baby Maryella Hope after a night out. The mom of six captioned the photo, "We enjoyed a double date with Pops & Lolli this evening! It means the world to have parents that unconditionally love us and who are there to encourage us along life's way."
Josh's wife added a message of gratitude for her father- and mother-in-law, writing: "The older I get, the more I realize just how much I value and lean on the advice from our parents and the Godly men & women who are a couple decades ahead of us in life."
Revealing the cute nicknames she and her kids have for the Duggar parents, Anna concluded, "Thanks Sweetie, Pops & Lolli for such a fun evening — it was great to chat, laugh and have a great night out together!"
Fans wondered why the Duggar parents were willing to spend time with Josh but not Jill
Most comments about the Duggars' double date were positive. Counting On fans praised Anna for building a good relationship with her in-laws, which not all daughters-in-law are able to do.
"Having a wonderful support system is definitely a blessing!" one Instagram user wrote under Anna's post. "Praying for y'all that you all have many more years together!!"
Other Counting On fans can't forget what Josh did, both to Anna and his sisters, in the past. Some Instagram commenters said they couldn't believe Jim-Bob and Michelle were willing to be photographed publicly with the oldest Duggar son. "I just can't even look at Josh," one critic wrote. "People don't change and he's a bad person."
Still others wondered why Michelle and Jim-Bob were willing to snap photos with Josh, but seemingly not with Jill. "Where's Jill?" one viewer asked.
Another pointed out the double standard between Jill and Josh, writing: "Too bad they don't show Jill and her family the same unconditional love."
A fan agreed, adding in response: "What had Jill done that was soooooo bad?" Another Counting On viewer quipped in reply: "I'm sure it couldn't [have] been worse than what Josh did to his sisters."
The Duggars haven't mentioned the Dillards on social media in years
This isn't the first time Duggar fans have noticed just how estranged Jill seems from the family, especially in comparison to her disgraced older brother.
Many Counting On fans were surprised when Michelle wrote a sweet post in honor of Josh's birthday in Mar. 2019. The Duggar mom even wrote as part a lengthy tribute to Josh, "You are a thoughtful and sensitive man, a caring brother to your siblings, and we are so blessed that you are our son!"
Meanwhile, the Duggars haven't mentioned Jill or Derick on the family Instagram or blog since 2017, when their son Sam Dillard was born and spent time in the NICU. Particularly because Jill was one of Josh's victims as a child, Duggar fans can't help but notice the double standard.