Country Star Darius Rucker Had Some 'Crazy Nights' With Tiger Woods
Darius Rucker has had an enormously successful music career, by almost any standard. He earned fame as a member of the 90s alternative rock band Hootie and the Blowfish, before branching out on his own to forge an equally successful country music career. Rucker's enduring popularity has made him a very wealthy man, with a net worth of around $14 million.
In addition to being a music fanatic, Rucker is also an avid sports fan. He has also cultivated friendships with numerous athletes—the most famous being Tiger Woods. Here we take a closer look at Rucker and Wood's longstanding bond, in particular the crazy origin story of their friendship, and the surprising loyalty the two men have shown.
The longstanding friendship between Rucker and Woods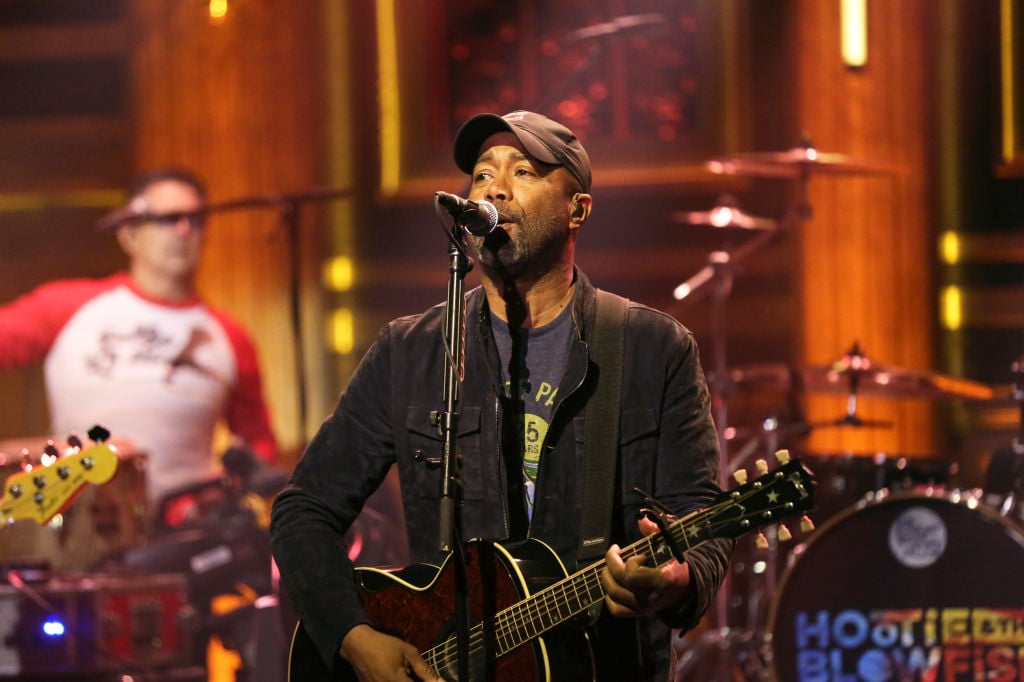 Rucker and Woods became friends way back in 1995 and have enjoyed 25 years of steady friendship ever since. The two men have been intimately involved in various aspects of each other's lives, with Rucker singing both at Woods's wedding and at Woods's father's funeral. He also sang a private concert on the occasion of Woods' 40th birthday.
Rucker and Woods are close enough friends that they even engage in good-hearted trash talking now and then. Rucker has pointed out on several occasions that Woods is a terrible singer. The two men apparently even spend time playing video games together, with Rucker claiming that he can beat Woods at both Madden and at Woods' own golfing game.
The crazy night when Rucker and Woods first met
Rucker and Woods first met when both men were still just on the cusp of stardom. Rucker's band, Hootie and the Blowfish, was finally starting to gain national attention. Yet they were still small enough to be playing local clubs across the country. One such gig brought the band to East Lansing, Michigan in August 1995.
After the gig, Rucker and his bandmates went to relax at a nearby bar, Rick's American Cafe. While sitting at the bar, Rucker looked over and saw somebody he recognized immediately as Tiger Woods. At that point, Woods was just 18 years old and still attending Stanford. Rucker went over to introduce himself, only to learn that Woods had recognized him as well.
The two hit it off and spent the whole night chatting together. To make the encounter even more surreal, that entire night the Stanley Cup—the championship trophy of the National Hockey League—was sitting nearby on the bar. NHL champion Danton Cole had possession of the cup for a one week victory tour. As luck would have it, Cole decided to drop by Rick's with the trophy, thus leading to a highly memorable night for all involved.
Rucker's loyalty to Woods in tough times
More often than not, celebrity friendships are easy come, easy go affairs. So long as the bond remains mutually beneficial, both parties get along great. Yet the moment any friction or difficulty presents itself, somebody quickly abandons ship. The relationship between Rucker and Woods has followed a refreshingly different course.
Late in 2009, Woods became a media scandal when word of his serial cheating got into the tabloids. The scandal ultimately cost Woods his marriage, as well as sponsorship deals with companies like AT&T, General Motors, and Gillette. Rucker, however, stayed true to his friend, and even publicly declared his loyalty.
"I feel for everybody involved," Rucker said in a radio station interview. "I know how much he really does love his family, and I just feel for everybody."
Loyalty like that is a rare thing and proves how strong a bond exists between Rucker and Woods.