Country Star Jason Aldean Is Obsessed With Post Malone's Music
Avid country music fans have undoubtedly heard of Jason Aldean; if you're not a fan of country music, there is still a good chance you have listened to at least one of his songs.
The "Amarillo Sky" singer has been topping country music charts and serenading fans for well over a decade.
Jason Aldean is starstruck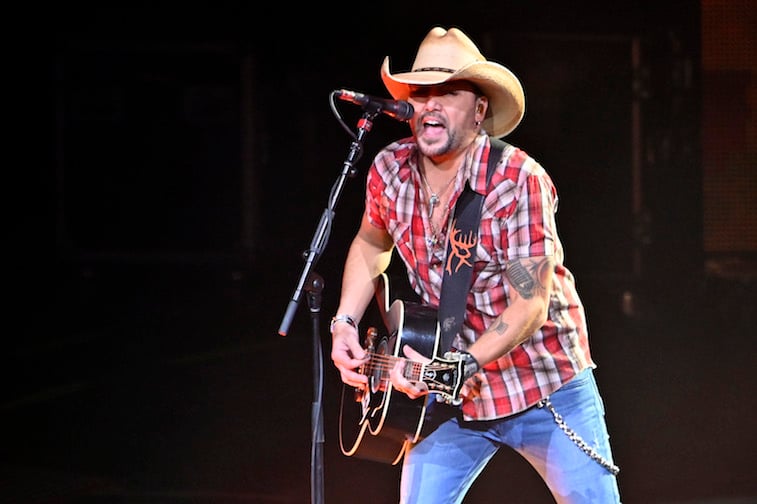 Aldean may be a country music superstar, but he also knows what it's like to be a music fan. In a recent interview with E! News, Aldean revealed that he is a fan of the famous hip-hop artist Post Malone.
"I'm a big fan of Post Malone. I don't know if that comes as a huge shock but I really dig what he does. He just dropped a new album not too long ago and I think the guy has his own style and he's killing it right now. He's a guy I find myself listening to a lot and really digging what he's putting out."
Even country music artists can't resist the catchy jams of Post Malone.
Jason Aldean's longstanding country music career
Aldean has been established in the music industry for roughly 15 years. His earliest track to top the country music charts was "Why," from his debut album in 2005. Aldean's music often includes stereotypical redneck themes, as seen in his hit tracks "Big Green Tractor" and "Hicktown." Aldean's musical achievements include more than 30 top 10 songs, nine of which earned the No.1 spot on the Billboard charts.
In 2015, tragedy struck while Aldean was performing on stage at a Las Vegas music festival. The gunman, Stephen Paddock, released fire into the crowd of 22,000 fans, leaving 55 people dead, and more than 500 people injured.
Aldean has spoken out about the tragedy, honoring the victims, and encouraging his fans not to allow fear to stop them from doing what they love.
Post Malone's unusual rise to stardom
Post Malone's real name is Austin Richard Post, and his rise to fame is anything but typical. Post Malone's musical journey began with the once-popular game Guitar Hero 3. The game had him hooked on music; he quickly became a self-taught guitar player by watching YouTube videos. He was in his mid-teens when he made his first mixtape.
He wanted a cool rap name to go with his mixtape, so he did what many teens would do- he used an internet rap-name generator.
Post Malone's first hit song, "White Iverson," achieved No.14 on the Billboard Hot 100 in 2015. It didn't take long for him to land a record deal with Republic Records. Post Malone's albums, Stoney and Beerbongs & Bentley's, both achieved roaring success, earning certified triple platinum and certified double platinum respectfully.
Post Malone songs "Physcho" and "Rockstar" both earned No.1 on the Billboard Hot 100 list.
Is there any chance of Jason Aldean and Post Malone collaborating on music together?
Though Aldean and Post Malone dominate different genres of music, it is possible the two may work together in the future. In an interview with Fader, Post Malone spoke of his interest in country music, "The old country singers, they were badass, they were the American bad*** people. I'm an American badass. At 40 years old, I'm gonna be a country singer. That's down the line."
Given the mutual appreciation for each other's respective music genres, it's entirely possible that the two stars may join forces in the future.
Any possibility of collaboration will have to wait until the two musicians have a little extra time in their schedules. Aldean leads a busy life and is currently in the middle of his We Back Tour 2020. One thing is for sure; Aldean and Post Malone were both destined for musical greatness.