Country Star Toby Keith Inspired the Name of the World's Oldest Living Dog
Country singer-songwriter Toby Keith has influenced fans and even inspired the name of a Guinness World Record-setting pooch.
Toby Keith is an award-winning country singer-songwriter. He's gained a large fan base thanks to hits such as "Should've Been a Cowboy," "How Do You Like Me Now?!" and "American Soldier." Though music stars often motivate fans to follow their singing dreams, Keith has done more than that with his country career. He inspired the name of Guinness World Records' oldest living dog. 
Toby Keith has accomplished plenty in his country career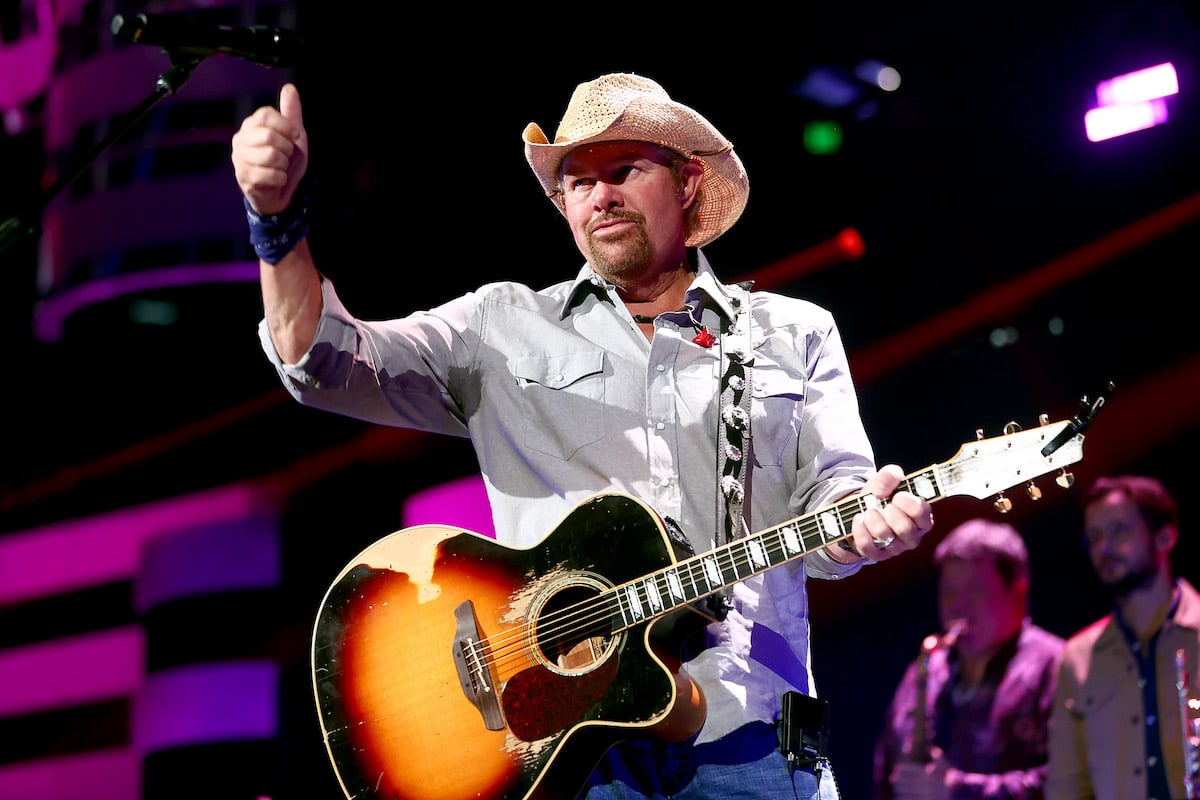 Keith moved to Nashville in the early '90s to pursue his country music dreams. Though he initially didn't draw interest from record labels in Music City and moved back to his Oklahoma hometown, he got a break in 1993 with his debut single, "Should've Been a Cowboy." The song topped country charts, and many other number-ones followed throughout the '90s and early 2000s.
Throughout his career, the singer has released 19 studio albums and sold over 40 million albums worldwide. In addition, Keith has collaborated with numerous artists, with his most notable being a duet with a country legend. "Beer for My Horses" with Willie Nelson became one of the longest-lasting number-one hits on the Billboard Hot Country Songs charts. The catchy tune held the spot for six weeks.
After his many hits, it's no surprise Toby Keith has won multiple Country Music Association Awards for Male Vocalist of the Year and Music Video of the Year, several Academy of Country Music Awards, and American Music Awards, including AMA Favorite Country Male Artist in 2003 and 2005. 
The world's oldest living dog shares a name with Toby Keith
When most people hear "Toby Keith," they think of the successful country star. But now, many might also envision a record-setting canine.
TobyKeith, a Chihuahua from Florida, recently became the talk of the town and beyond after breaking the Guinness World Record for the oldest living dog.
On March 16, Guinness World Records verified that TobyKeith is the oldest living dog. The tan Chihuahua is over 21 years old, celebrating its birthday on January 9.
Although TobyKeith the dog is 40 years younger than the famous country singer, American Veterinary Medical Association calculations show that the pup is nearly 100 in human years. Therefore, the small dog is an equivalent of 40 years older than the music star. Toby Keith the musician will celebrate his 61st birthday on July 8.
The pooch's parent, Gisela Shore, gushed that "people can't believe how good he looks for his age."
A Chihuahua's average life expectancy is 12 to 18 years. Shore contributes TobyKeith's record-setting age to "good genetics, a healthy diet, and a loving home."
However, she told Guinness World Records that the dog has a heart condition that doesn't give him too much trouble. Shore takes extra care to ensure the sweet Chihuahua gets regular exercise and a diet consisting of vegetables, rice, chicken, and no sugary treats. 
Experts reveal small dogs often live longer than larger dogs
According to American Kennel Club, scientists state that, in general, large mammals live longer than smaller ones. So it's difficult to explain the relationship between body mass and a dog's lifespan.
Researchers say large dogs age at an accelerated pace, concluding that "every 4.4 pounds of body mass reduced a dog's life expectancy by about a month."
Other possibilities of how dog size affects mortality include that age-related illnesses might affect larger dogs sooner, or accelerated growth could cause abnormal cell growth in the animal.
Regardless of their pets' size, parents cherish the time spent with their fur babies.