Courteney Cox Just Shared A 'Friends' Series Finale Throwback Featuring A Perfect Easter Egg
As it turns out, the theme song wasn't lying: Our Friends will always be there for us. And when they come bearing unseen images from their days on the show, we can hardly contain our excitement. Courteney Cox just shared a photo from a special anniversary, and you won't believe what makes an appearance.
'Friends' began airing in 1994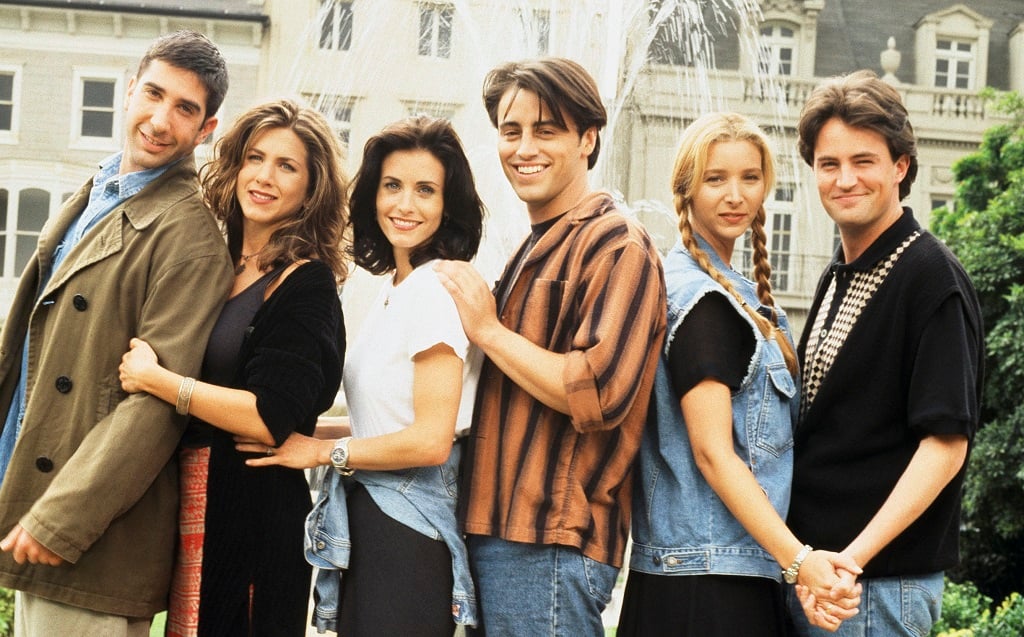 The pivotal series kicked off in 1994. It starred (from left in the photo above) David Schwimmer as Ross Gellar, Jennifer Aniston as Rachel Green, Courteney Cox as Monica Gellar, Matt LeBlanc as Joey Tribbiani, Lisa Kudrow as Phoebe Buffay, and Matthew Perry as Chandler Bing.
Friends begins when Rachel leaves her fiancé at the altar and moves in with her high school best friend, Monica. Phoebe was once Monica's roommate but is now just a friend. Ross is Monica's brother (and has always had a thing for Rachel). And Ross's friend from college, Chandler, lives across the hall with his roommate, Joey.
The series finale came ten years later
Of course, every good series must come to an end. And though Friends is still considered one of the best, they chose to say goodbye after the tenth season. In the episode, appropriately titled "The Last One," everything is changing for this group, who have spent a decade living with and learning from one another.
Rachel is moving to Paris to begin working for Louis Vuitton. But Ross realizes at the last minute that he's still in love with her, and goes after her. Meanwhile, Monica and Chandler's twins are here, and they've decided to move to the suburbs to raise their family. Phoebe and Mike talk about having kids as well, and Joey is, well, just Joey.
Fans can't get enough photos of the cast
If there's one thing that Friends fans love, it's rewatching the series over and over again. Of course, Netflix took that away from those of us who live in the U.S. But until HBO Max arrives, we can still get our fill of Friends content on social media.
Case in point: When Jennifer Aniston joined Instagram in 2019, her first post was of a recent reunion with the rest of the cast. It was one of the few in which all six were present, and she essentially broke the internet with the image.
Courteney Cox recently shared one from the last episode
It's been more than a decade and a half since the finale of Friends aired. But they taped the episode a few months prior. In fact, according to Cox, that event took place on Jan. 23, 2004. So to celebrate the 16th anniversary of the last time they all filmed together, she shared the above photo of their "last supper."
One thing keen Friends fans will notice? Their epic meal appears to include lobsters. And anyone who's seen the show multiple times through (as most of us have) will recall the importance of that specific creature. Phoebe says that Rachel and Ross are each other's lobsters, meaning they're destined to be together. And this is proven in the series finale. How perfect is that?