Did Courtney Love Call Olivia Rodrigo 'Rude'?
Singer Olivia Rodrigo hasn't been a celebrity for very long. But many of her most prominent contemporaries, like Taylor Swift, are already singing her praises. However, Courtney Love isn't among them. Instead, the rock musician had some choice words for the up-and-coming artist.
Olivia Rodrigo paid tribute to Courtney Love with her 'Sour' concert film artwork
Rodrigo graduated from high school in 2021. However, she didn't exactly have the typical teenage experience. given her work on the Disney series High School Musical: The Musical: The Series and her album, Sour. So instead, she decided to hold an event promoting the album for her fans, with a theme befitting an 18-year-old.
"Since I never got to go to prom, I wanted to throw a little prom party with my fav ppl (you guys obvs)," she wrote on social media. "SOUR prom the concert film comes out Tuesday!!!!" In the image of Rodrigo for the post, she's wearing a prom dress and crown, holding flowers, with makeup running down her face.
Love responded to Rodrigo by asking her to send her flowers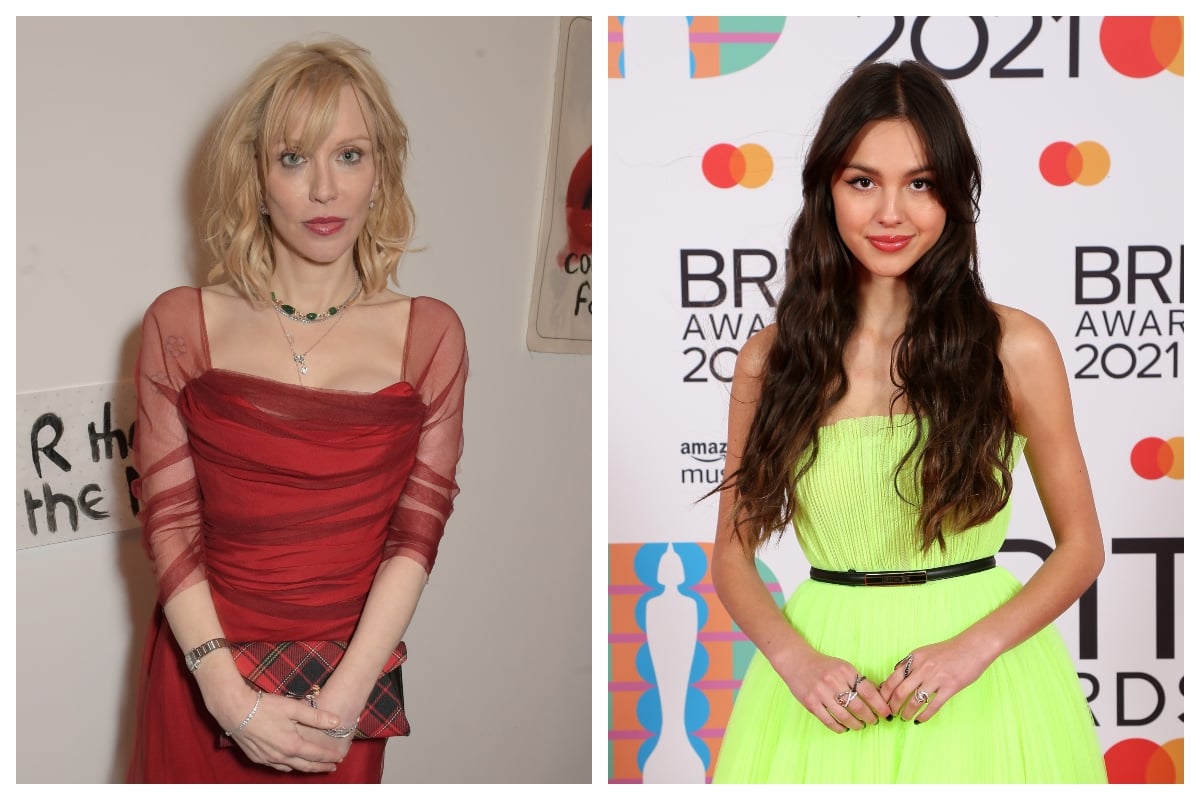 Several people noticed a resemblance between Rodrigo's photo and the cover art for a popular '90s album, Live Through This. Among those who pointed it out was the artist behind said record, Hole frontwoman Love. "Spot the difference! #twinning," she wrote on her social media accounts, sharing Rodrigo's photo.
The teenage songwriter immediately copped to her tribute. "love u and live through this sooooo much," she commented on Instagram. Love replied, "Olivia – you're welcome. My favorite florist is in Notting Hill, London! Dm me for deets! I look forward to reading your note!"
Love called Rodrigo's actions' rude' and 'bad form'
Where Love really got into it? Facebook. "Stealing an original idea and not asking permission is rude. There's no way to be elegant about it. I'm not angry. It happens all the time to me," she wrote, adding she's typically "very gracious." "But this was bad form," Love continued. "This person's music has nothing to do with my life. Possibly never will. It was rude."
In another comment, Love mentioned the flowers again, writing, "I've informed her I await flowers [and a] note. I super hope it's long. Does Disney teach kids reading and writing?" she questioned, touching on Rodrigo's affiliation to the company. Yet another comment saw Love state, "I dislike someone not asking permission of me or [photographer] Ellen von Unwerth."
Love's response disappointed some of her fans. "Choosing to see this as theft (and demanding tribute) rather than a referential nod and an extension of Courtney's own legacy says a lot about how she relates to peers and to the industry," tweeted writer/producer Muna Mire. "Unfortunate. And I'm a Courtney stan"
Did Rodrigo reference 'Carrie' too?
Before Love's comments, Rodrigo explained that Sour and its accompanying artwork and music videos reference a lot of pop culture, especially that of the '90s. "I wish I could be a teenager in the '90s because that's my favorite music ever," she told Vogue, listing the likes of Fiona Apple and Alanis Morrisette as influences.
But other decades made their way into Sour. For example, Rodrigo channeled Megan Fox's Jennifer's Body character in her "Good 4 U" music video. And she may have been reaching back even further with her prom look. As some pointed out, the sad prom queen trope dates back to the 1976 film Carrie.
RELATED: Courtney Love Wrote 'Doll Parts' in a Bathroom in 20 Minutes