'Cowboy Bebop': The Netflix Series' Costume Designer Didn't Want Faye Valentine 'Overtly Sexualized'
Netflix's live-action Cowboy Bebop debuts on Nov. 19, and it promises to shake up the story told in the classic anime series. While fans don't know how accurate the adaptation will be to the source material, many have already pointed out one change in the costume department. Faye Valentine wears a vibrant yellow outfit that shows off a lot of skin in the original Cowboy Bebop. However, the costume designer for the live-action series had an understandable reason for switching up Faye's get-up in the adaptation.
Faye Valentine's costume is different in the live-action series
Faye Valentine's look in the original Cowboy Bebop has become one of the most recognizable among longtime anime fans. And with its vibrant yellow and purple colors, that's probably no surprise. However, there's no denying Faye's clothing in the anime leaned toward sexualizing the character.
In hindsight, it probably wasn't all that practical either. A bounty hunter getting into shoot-outs and running from fights probably needs more protection than what Faye was wearing. Thankfully, in the live-action series, she's got that.
Fans noticed the change in Faye's costume when promotional images and teasers for the series first dropped — and some weren't happy about it. According to ScreenRant, Netflix even received complaints about the change. However, the series moved forward with the new design regardless.
The 'Cowboy Bebop' costume designer didn't want her 'overtly sexualized'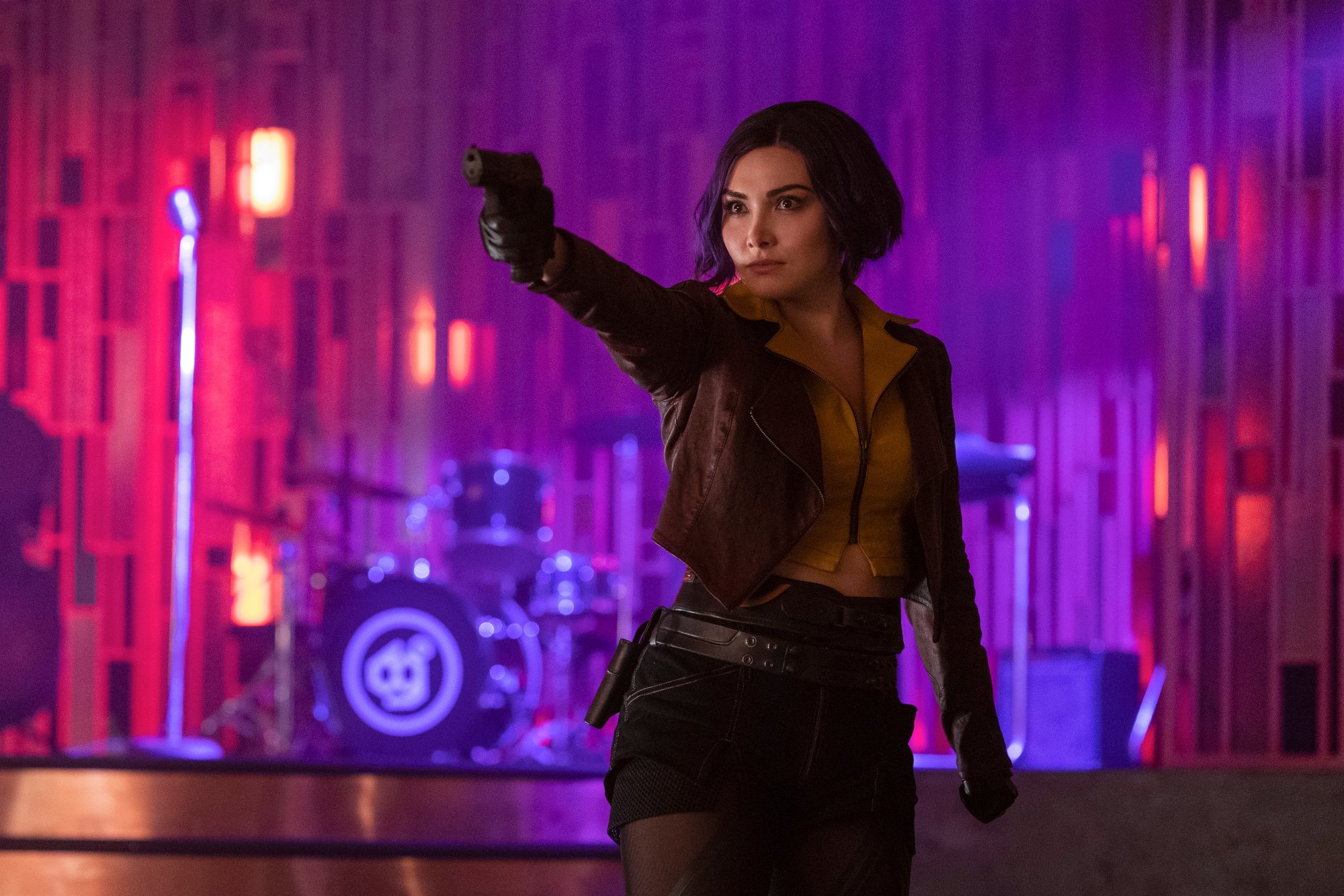 When it came to creating Faye Valentine's costume for Netflix's live-action Cowboy Bebop, costume designer Jane Holland knew they needed something more practical. During an interview with Insider, she recalled the late nights on and action sequences Pineda needed to film — all of which required comfortable attire.
Of course, practicality wasn't the only reason behind Holland's decision. She also wanted to ensure the character wasn't objectified:
"I do have to say, as a woman, I felt resistant to the idea of the lead female character being gratuitous or overtly sexualized. It's not about it not being revealing, it's not about any of that, it's actually got all of those elements. But my take on it is that it's designed by a woman and it was made by a lot of women, and it's worn by a woman. So the same elements are there but they have just manifested in a different way."
In a film and television climate that's moving further and further away from depicting women through the male gaze, Holland's choice makes perfect sense. And knowing that she drew inspiration from Spike (John Cho) and Jet's (Mustafa Shakir) get-ups while crafting Faye's is comforting. After all, the trio are all dealing with the same situations, and all of them should be dressed accordingly.
Daniella Pineda responded to criticisms of her 'Cowboy Bebop' costume
Despite a bit of backlash, Holland stuck with her design for Faye in the new Cowboy Bebop — and she's not the only one who appreciates it. In addition to many fans welcoming the change, Daniella Pineda had something to say about all the drama over her character's costume. During an Instagram video, she sarcastically emphasized how impossible it would be to replicate Faye's animated look completely:
"Six foot, double-D sized breasts, two-inch waist… They looked everywhere for that woman, and they couldn't find her. Kinda weird, so they went with my short a**. I know, right?"
She's not wrong, and having Faye appear more realistic certainly comes off as more relatable. There will always be purists upset with minor changes, but this one serves multiple purposes — all of them completely justifiable.
Cowboy Bebop arrives on Netflix on Nov. 19, 2021.