'Creed III' Star Michael B. Jordan on Directing his First Film: 'I Had to Think Outside the Box'
The undisputed champion of boxing movies is currently Michael B. Jordan. With Creed III, Jordan took another major leap forward in an already brilliant career by stepping behind the camera for the first time. Looking to do more than rehash a familiar genre, the 36-year-old turned to some unexpected sources for inspiration while figuring out how to be a double threat. The result: a significant amount of critical acclaim and high box office takings for the final leg of the well-liked trilogy.
Michael B. Jordan searched for new ways to film boxing scenes in 'Creed III'
Dealing with the past has been an essential element of the Rocky franchise, dating back to the early Sylvester Stallone entries. For both Jordan and his character, Adonis Creed, the past is an inescapable part of the present. That theme comes right at the audience once again in Creed III, which pits Creed against a formidable opponent from his upbringing (played by Jonathan Majors).
This time, of course, Jordan had to deal with the realities behind the camera as well. As the ninth film in the Rocky/Creed saga, Creed III couldn't simply borrow techniques already used in the franchise and other boxing movies. "I had to think outside of the box and be a little bit more creative on how to make the fights look and feel different," Jordan explained in a sit-down on The View.
To elevate the boxing action, Jordan used IMAX cameras to give the audience even more access to the brutality of the ring. Per Y.M. Cinema Magazine, it was the first time a sports movie was ever shot with IMAX cameras.
But Jordan also had to go beyond technical upgrades to separate Creed III from its predecessors. While he borrowed the expertise of producer Irwin Winkler, who produced boxing classics Rocky and Raging Bull, he turned to other material not usually associated with boxing. As he explained on The Tonight Show Starring Jimmy Fallon, his love of Japanese anime made it into the ring as well. Jordan ended up liking the anime influence so much that he is considering doing an anime series within the Creed universe (via Deadline).
Micahel B. Jordan revealed his motivation for directing
While artistic inspirations and an experienced production team helped, Creed III turned out to be a career-defining challenge for Jordan. While accepting the Melvin Van Peebles Trailblazing Award at the Critics Choice Association's Celebration of Black Cinema and Television, Jordan was humbled at the outpouring of support. "Directing my first film tested me in more ways than I knew was possible," Jordan said during his acceptance speech. "…But what motivated me every day was my why. Why did I direct."
Passing praise along to his entire family, Jordan gave them credit for giving him something to strive for while pushing forward in his career. Jordan also pointed to the small number of directors, producers, and writers of color currently working in Hollywood. To Jordan, taking the jump from actor to director is a way to keep proving himself to his family and broader community. Jordan also explained that having something to say with his work is what has kept him going for more than 20 years.
As for whether he's truly a trailblazer now that he's a director, Jordan poked fun at the idea and said, "I feel like I just got here." He instead pivoted to honoring the work of Van Peebles, the award's namesake. Jordan celebrated Van Peebles' drive to overcome obstacles as a filmmaker. Van Peebles was a writer/actor/director best known for directing and starring in the 1971 blaxploitation classic Sweet Sweetback's Baadasssss Song.
Michael B. Jordan wants to direct again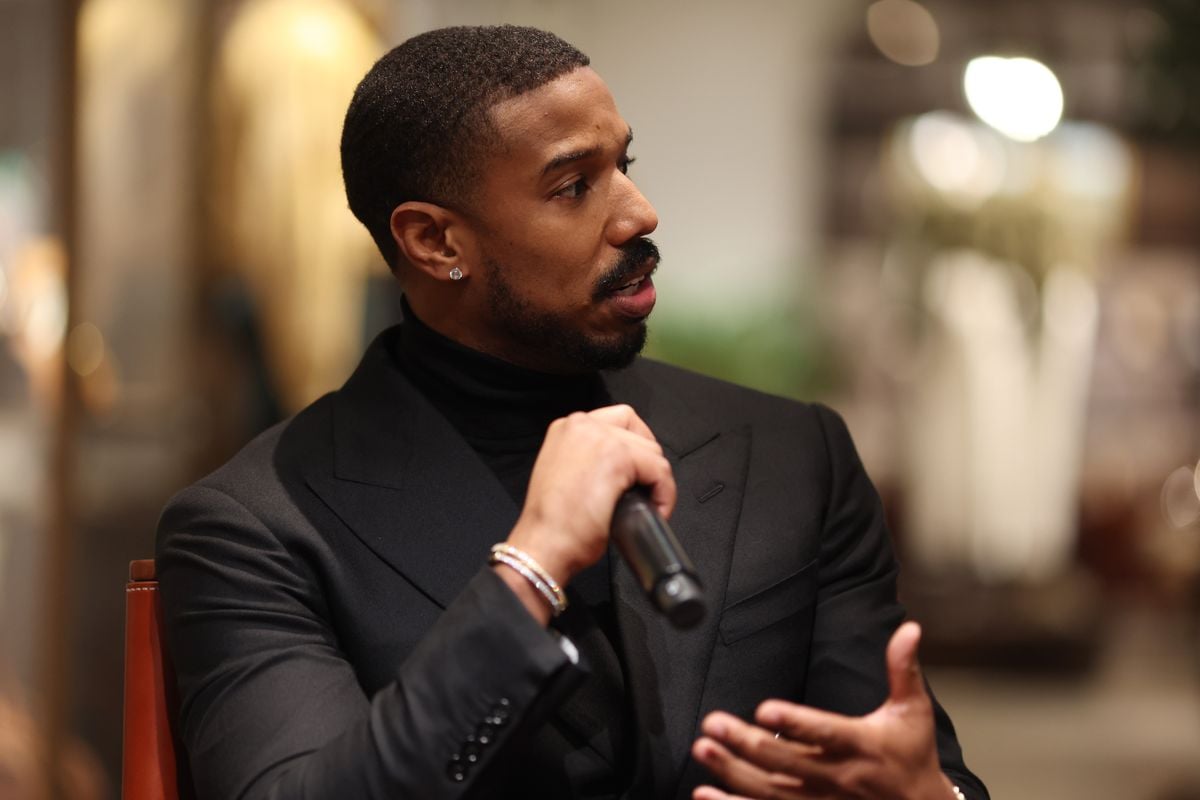 Even though he told The View there were inevitable challenges with time management on set, Jordan ultimately enjoyed being in the driver's seat. By the end of it, Jordan admitted that he "got the (directing) bug" and hinted that he will likely direct again at some point in the future.
Just when that might be is an open question, as Jordan is now one of the most in-demand stars in Hollywood. With plenty on his plate, Jordan is clearly in no hurry to jump back in the director's chair no matter how great the experience was with Creed III. "I'm still kind of wrapping up this chapter right now," he told Variety, "which has been a transformative experience for me — as a man, as a director, as an actor, as a son, as a brother."
Jordan has plenty of projects lined up for the future. Near the top of the list is the Danny Boyle-directed Methuselah, with Jordan taking over starring duties from Tom Cruise, according to Variety. With Jordan starring and producing, Warner Bros hopes the movie about the Biblical 969-year-old survivalist can jumpstart a franchise.
Jordan is also set to produce and star in a remake of The Thomas Crown Affair. Previously, both Steve McQueen (1968) and Pierce Brosnan (1999) starred in versions of the film at the height of their careers, showing the type of star power Jordan currently has.