'Criminal Minds': Cast Members Answer Questions Before the Premiere of Season 15 and You Have to Hear These Responses
Viewers can't wait for the premiere of the final season of Criminal Minds. Fans are understandably excited for season 15 and what could happen. The cast members of the hit series recently answered some fun and rather strange questions regarding crimes. Read on to find out more about the hilarious comments made by our favorite members of the BAU team.
The cast members of 'Criminal Minds' answer questions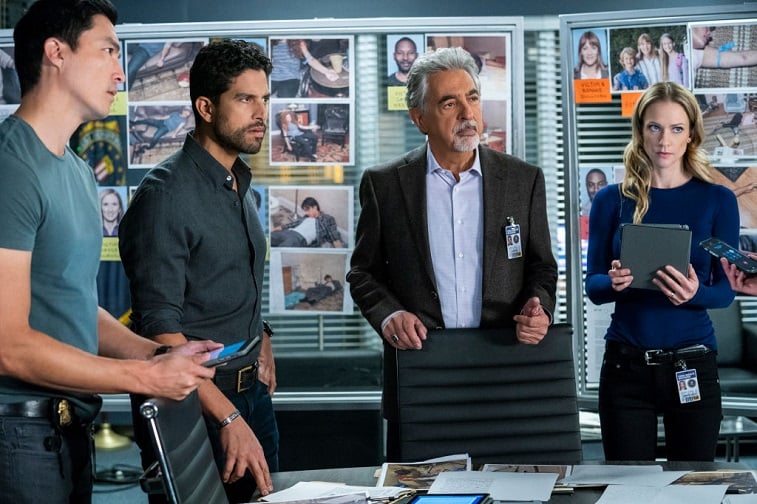 The hilarious video, which was posted on the official Twitter account for the series is captioned: "Which #CriminalMinds cast member would *you* trust to help you pull off the perfect crime? To drive the getaway car? To avenge your DEATH?!"
A.J. Cook starts off by asking the first question. "Who would be able to help you pull off the perfect crime?"
Joe Mantegna answers with, "That would be Matthew Gubler because he has that devious kind of mind, and I think he would be best suited to help me do that."
It was Matthew Gray Gubler's own turn next. "Of the castmates, I think all of them. We have. We pulled off a crime of getting to be on TV for 15 years," Gubler explains. "Is that a crime? If it is, I'm guilty."
Daniel Henney jumped in next by saying, "Definitely Joe Mantegna. He has a lot of connections. If you get in trouble, you want to call Joe Mantegna."
Adam Rodriguez seems to agree. "Definitely not worried about Joe snitching," he explains.
Aisha Tyler thinks it would be Henney. She gave a very elaborate answer to the question. "Obviously Daniel Henney. 'Cause he's so pulled together and organized that I know if we were gonna meet somewhere, he'd bring all the right weapons, he'd bring the appropriate sized shovel, the lye. And then he's so good looking that no one would believe he'd ever committed a murder."
Kirsten Vangsness says, "That would be Paget and Aisha. They've done all of my crimes."
'Who would you want to design your disguise?'
The next question involves the design of the disguise they'd be theoretically using. "That would be Kirsten," Henney reveals.
Others seem to really agree with the statement. "I think that would have to be Kirsten," Mantegna explains. "She's just a mass of tchotchkes and makeup and hair. And hopefully she can do the same for me."
A.J. Cook is taking a different approach. "Definitely Gubler, because it would look really weird and strange. And he is a little Picasso."
'Who would be the best getaway driver?'
"Yeah, I'd say a toss up between Daniel and Adam. They're young and fearless and crazy," Mantegna says.
"I like to take my life in my own hands, if I'm going to risk it," Rodriguez assures.
"No. Aisha. Aisha," Vangsness says.
Gubler seems to agree. "I think Aisha, her car looks fast."
Henney says it would be A.J. Cook for him. "A.J. Cook, she's like a race car driver," he says. Cook agrees and when asked, says, "Me."
'Who would you trust to be your alibi?'
The best answer for this next question came from Gubler. "Joe Mantegna, because that guy does not squeal," Gubler says. "I don't know if you've seen his other work or him in real life, or his face. But he will keep a secret." A few other cast members seem to agree that Mantegna would make the perfect alibi.
These are just a few of the hilarious responses the cast members of Criminal Minds gave viewers via social media ahead of the premiere.