How 'Criminal Minds' Worked A.J. Cook's Pregnancies Into J.J.'s Storyline
Actor A.J. Cook's personal life presented some challenges for 'Criminal Minds' producers to work around.
A.J. Cook played one of the most beloved characters on Criminal Minds, the popular show about FBI profilers that ran for 15 seasons on CBS. In more than a decade as J.J. Jareau, Cook saw her off-camera life present some challenges for producers to work around. Her two pregnancies tested the writing team's creativity and even helped mold the character.
Read on for more about how showrunners incorporated Cook's pregnancies into the story, how her children appeared in the series, and Cook's expected appearance in a Criminal Minds revival.
A.J. Cook's first pregnancy came early in 'Criminal Minds'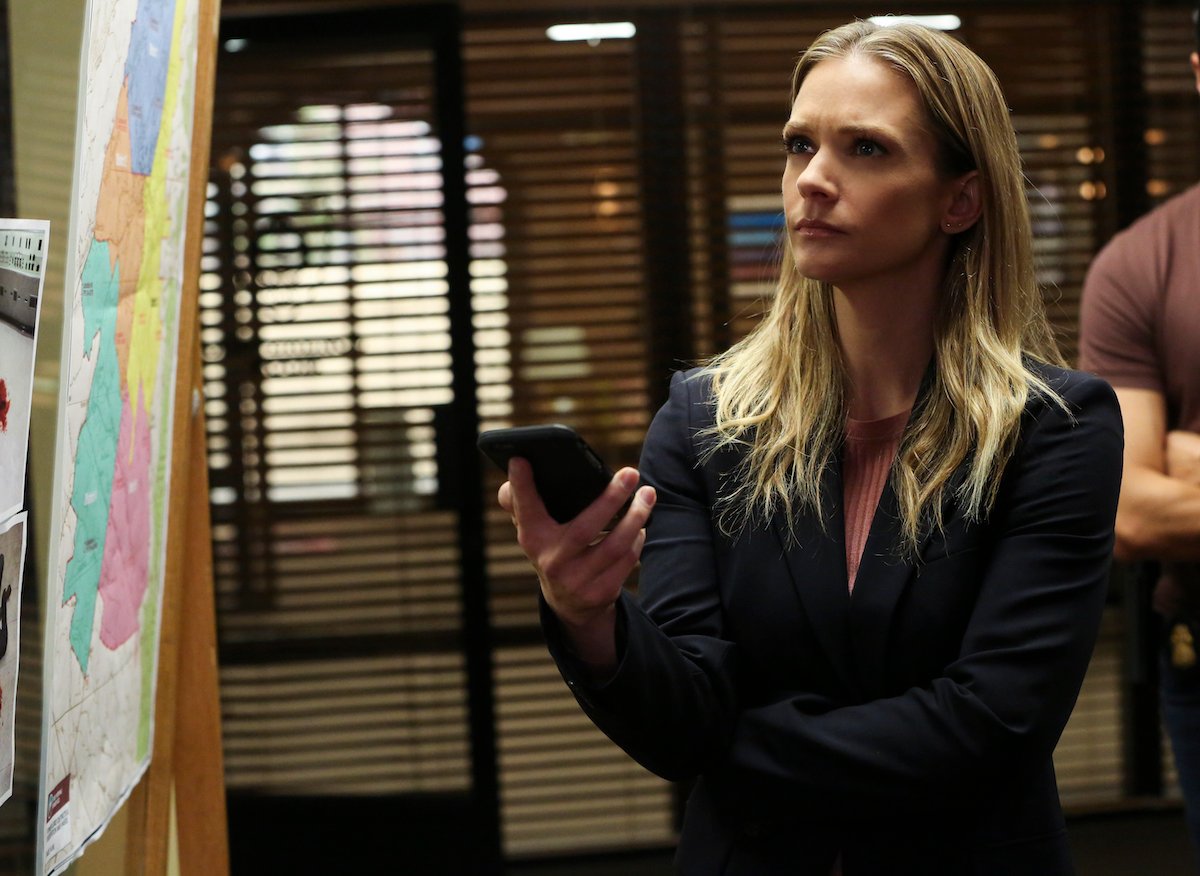 By season 4 of Criminal Minds in 2008, the show had turned into a juggernaut for CBS. According to TV by the Numbers, the season was among the top five in overall viewers and experienced the highest ratings in the show's history. It's also the season when Cook had her first pregnancy, challenging producers to change the script on the fly.
Using costumes and props, Cook downplayed her baby bump on camera, Distractify reports. It bought the writers time to squeeze in a romantic angle in seasons 3 and 4 so that her character had a reason to become pregnant. Although Cook pulled it off, the experience wasn't without trepidation. "I'm kind of freaked out because not everyone has to go through their pregnancy on national TV," she told TV Guide.
A similar process played out in seasons 10 and 11. With no feasible way to hide Cook's second pregnancy, J.J. ends season 10 with an announcement she's having another baby. It leads to a maternity leave that carries into season 11, correlating with Cook's maternity leave. J.J. headed back to work later that season and immediately began pitching in on the FBI's Behavioral Analysis Unit.
A.J. Cook's sons followed in their mother's footsteps
According to TV Insider, A.J. Cook turned to her sons, Phoenix and Mekhai, to represent J.J.'s onscreen children. Although their appearances are brief, Cook's sons stepped in as Henry and Michael, creating undeniable on-screen authenticity. The tidbit is also a nice toss-in for fans who were fully aware that Cook was pregnant multiple times in real life, not just playing a pregnant FBI profiler on TV.
Cook herself began acting at a young age, although not as young as Mekhai, who appeared in the series as a newborn. After a couple of TV roles when she was a teenager, Cook had her breakthrough in Sofia Coppola's acclaimed feature debut, The Virgin Suicides, playing one of the five ill-fated Lisbon girls. Cook also appeared in the popular Final Destination 2 before landing the part of media liaison J.J. in Criminal Minds, a role she held for more than 300 episodes.
So when Cook finally said goodbye to Criminal Minds after the (assumed) series finale in 2020, she could certainly say it was a family affair.
Fans ensured she was in 'Criminal Minds' for the long haul
Despite her popularity in the series, A.J. Cook's long-running role in Criminal Minds was almost cut dramatically short. As producers looked to trim the budget, they didn't offer Cook a contract extension after season 5, leading to a diminished role in season 6 that nearly led to her exit from Criminal Minds. Cook's character even appeared to be in the process of being written off the show.
But instead of J.J. heading out for good, fans all but demanded the show add Cook back to the cast. After returning for a couple of episodes in season 6, the actor inked a new deal that reinstated her in a full role for season 7. Not only did Cook return to the BAU, but J.J. was also bumped up to full-fledged criminal profiler from season 7 onward. Cook even went behind the camera to direct the season 14 episode "Chameleon," marking her first time in the director's chair.
Cook has become such a staple of Criminal Minds that she also appears to be a part of the revival planned for Paramount+. According to Deadline, Cook is expected to return alongside other fan favorites like Joe Mantegna, Adam Rodriguez, Paget Brewster, Aisha Tyer, and Kristen Vangsness. Although details are scarce as of this writing, fans shouldn't have to wait too long to see Cook reprise her role as J.J. for one last case.