Cristiano Ronaldo Just Announced the Death of His Newborn Son
Cristiano Ronaldo and Georgina Rodríguez are mourning the death of their newborn son.
Celebrity soccer superstar Cristiano Ronaldo was thrilled to welcome two more children into his family with his girlfriend, Georgina Rodríguez. As one of the biggest stars in the world, Ronaldo's personal life has been as intriguing to fans are his work on the field. However, he has now shared some tragic news with fans.
The Manchester United player just announced the death of his newborn son.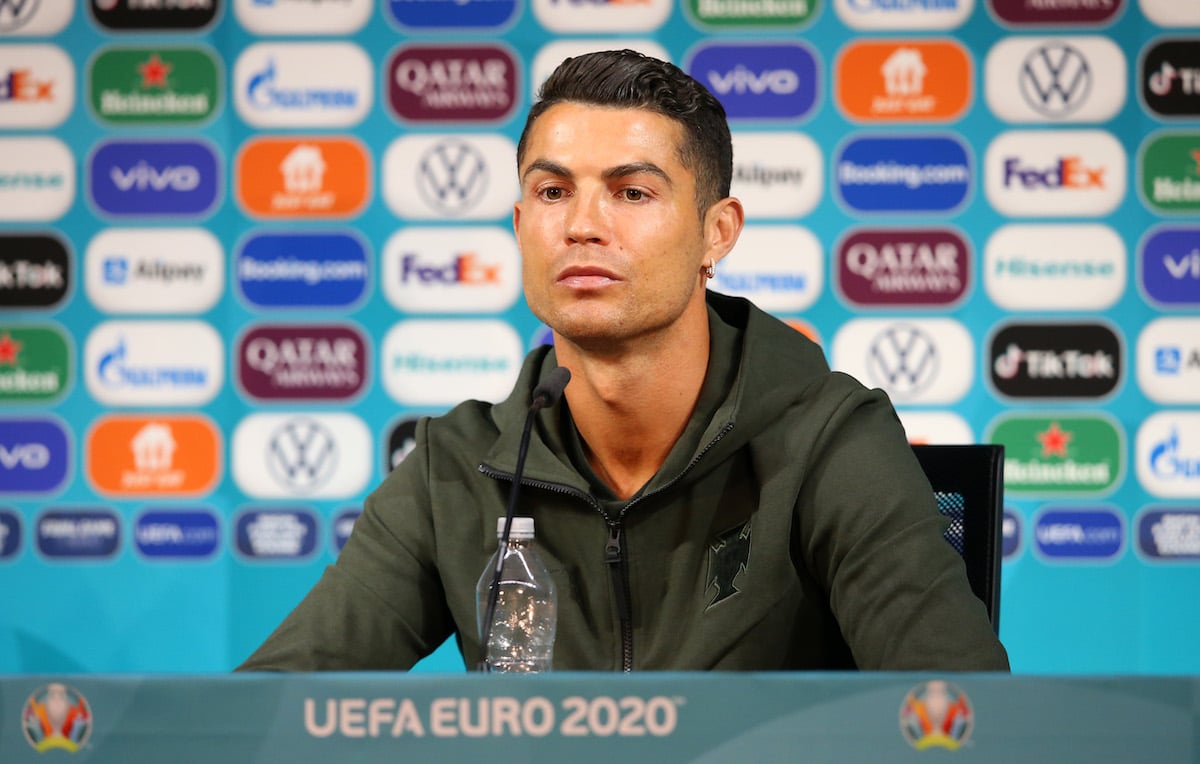 Cristiano Ronaldo and his girlfriend Georgina Rodríguez were expecting twins
Back in Oct. 2021, the soccer player and his girlfriend, Georgina Rodríguez announced that they were expanding their family by two. "Delighted to announce we are expecting twins👶🏻👶🏻. Our hearts are full of love – we can't wait to meet you ❤️🏠#blessed," Cristiano shared on Instagram under two photos of himself and Georgina with their ultrasound scan. He also shared a photo of his four eldest children.
Rodríguez is the mother of Ronaldo's daughter, Alana Martina. However, the identity of the mothers of his eldest three children has not been announced publically.
Cristiano Ronaldo announced the death of his newborn son
Sadly, the 37-year-old has announced that their newborn son has died. "It is with our deepest sadness we have to announce that our baby boy has passed away. It is the greatest pain that any parents can feel," Ronaldo wrote on Instagram. "Only the birth of our baby girl gives us the strength to live this moment with some hope and happiness."
He continued his message by thanking the hospital staff and by asking for privacy for himself and Rodríguez
"We are all devastated at this loss and we kindly ask for privacy at this very difficult time," he said. "Our baby boy, you are our angel. We will always love you."
Cristiano Ronaldo has kept the identities of his children's mothers a secret
In addition to Alana and the newborn twins, Ronaldo is the father of Cristiano Ronaldo Jr. who was born in 2010, as well as twins Eva and Mateo Ronaldo who were born in 2017.
Eva and Mateo were born via surrogate. However, the identity of Ronaldo Jr.'s mother remains a mystery. "It is with great joy and emotion that I inform I have recently become father to a baby boy," he shared in a statement in 2010 via Now to Love. "As agreed with the baby's mother, who prefers to have her identity kept confidential, my son will be under my exclusive guardianship."
Since then the sports star has revealed that he will never reveal the identity of his son's mother to anyone but his son. "When Cristiano [Junior] is going to grow up, I am always going to say the truth to him because he deserves it because he is my son, but I am not going to say because people want me to say," he explained.