'Critics Choice Awards': Jason Sudeikis' Hoodie Was a Nod to Olivia Wilde
Jason Sudeikis accepted the awards 'Ted Lasso' won at the Critics Choice Awards in another hoodie, but this time his look was a nod to his former partner Olivia Wilde.
Jason Sudeikis' hoodies have been the talk of the town during awards season. Well, his hoodies and the Apple TV+ series Ted Lasso, which took home three awards from the 26th Critics Choice Awards ceremony. Many viewers weren't shocked to see Sudeikis wearing another hoodie. But they might be surprised to learn what film inspired the logo on Sudeikis' look.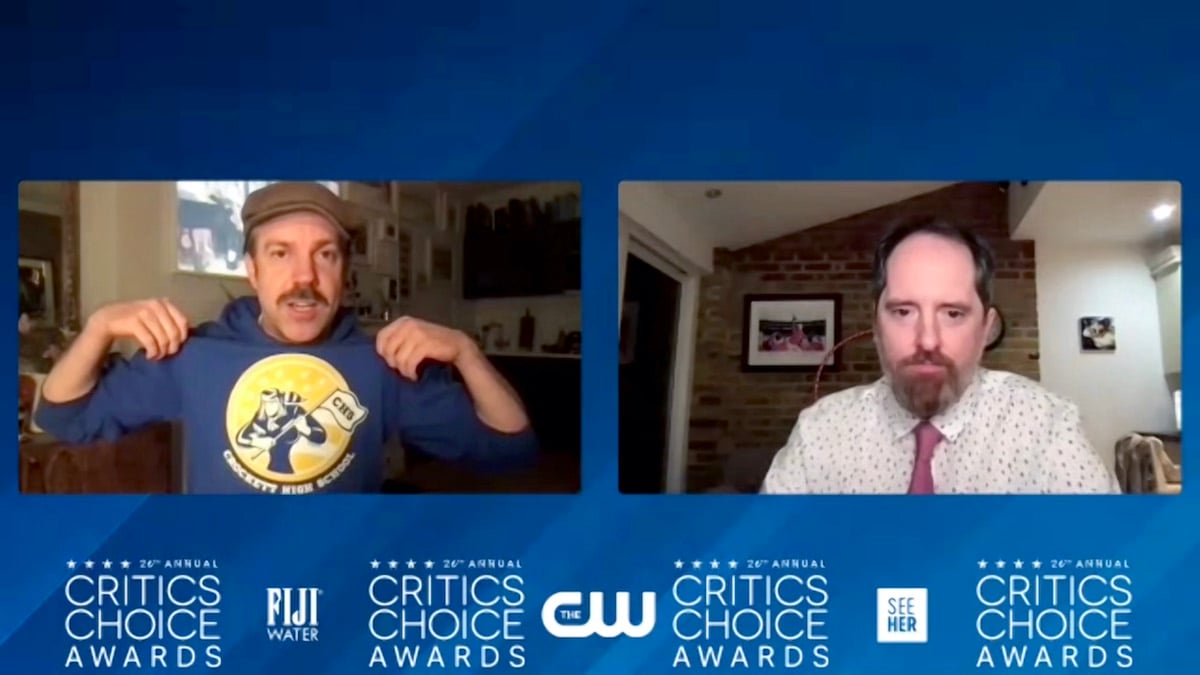 Jason Sudeikis accepted his Golden Globes award for 'Ted Lasso' in a tie-dye hoodie 
Since award shows are taking place virtually this year, stars like Sudeikis are dressing down for the occasion. At the 2021 Golden Globes, the Ted Lasso star sported a casual look. His tie-dye hoodie and shocked reaction to his win for best actor in a comedy series had Twitter thinking Sudeikis may have been "high for his Golden Globes award speech." To be fair, he was conferencing in from England, where he is filming Ted Lasso season 2.
Fans trying to get their hands on the now iconic style are out of luck. The Forward Space hoodie is currently sold out in all sizes. What's more, the hoodie is on a four to six-week waitlist. Regardless of why Sudeikis wore a tie-dye hoodie to the Golden Globes, it didn't take long for his look to go viral. A few weeks later, Sudeikis broke out a different hoodie another special occasion. 
Jason Sudeikis credits Olivia Wilde for 'Ted Lasso' 
Despite having called off their seven-year engagement, Sudeikis will give credit where credit is due. During his acceptance speech for best comedy series at the Critics Choice Awards, the 45-year-old actor thanked Olivia Wilde and their two kids. According to Sudeikis, Ted Lasso was Wilde's idea. "I want to thank my kids, Otis and Daisy, and I want to thank their mom, Olivia, who had the initial idea for this as a TV show," Sudeikis started, wearing another hoodie. He continued:
She was like, 'You guys like doing that so much, you should do it as a movie or a TV show,' and she was right! This has been a whack-a*s year and this [show] has been a wonderful vessel to hear people's stories of forgiveness and redemption and healing and understanding.
Wilde showed her support for Ted Lasso's win on Twitter, congratulating the team who made the Apple TV+ series possible. She also addressed Sudeikis' attire for the evening, writing how she hopes the hoodie trend will continue with future awards. But the hoodie Sudeikis was wearing was about more than comfort.
Jason Sudeikis' hoodie is from Olivia Wilde's movie 'Booksmart' 
After Ted Lasso won for best comedy series, Sudeikis and his Ted Lasso co-creator/star Brendan Hunt accepted the award. In the virtual press room, Sudeikis revealed that his hoodie featured the Crockett High School emblem from Wilde's 2019 film Booksmart. Sudeikis played Principal Brown and Lyft Driver Jordan in his former partner's directorial debut starring Beanie Feldstein and Kaitlyn Dever. 
It's unclear why Sudeikis donned a Booksmart hoodie for the Critics Choice Awards. Perhaps he wanted to thank Wilde in a unique way for her award-winning idea. Regardless of his reasoning, fans were delighted by Sudekis' outfit choice. Fans of Booksmart or Sudeikis' awards ceremony style looking to snag the bright blue hoodie can do so online for $45. But if Sudeikis' style goes viral again, it's only a matter of time before the hoodie sells out.