Critics Think Kylie and Kendall Jenner Look 'Incestuous' in Makeup Collab Photos
The new Kylie Jenner and Kendall Jenner Kylie Cosmetics collab was unveiled yesterday and people had a lot to say about it — but some of them zeroed in on the packaging more than the actual products. The photos used for the packaging included some images of the sisters looking very intimate and a number of people found it to be creepy and bordering on "incestuous."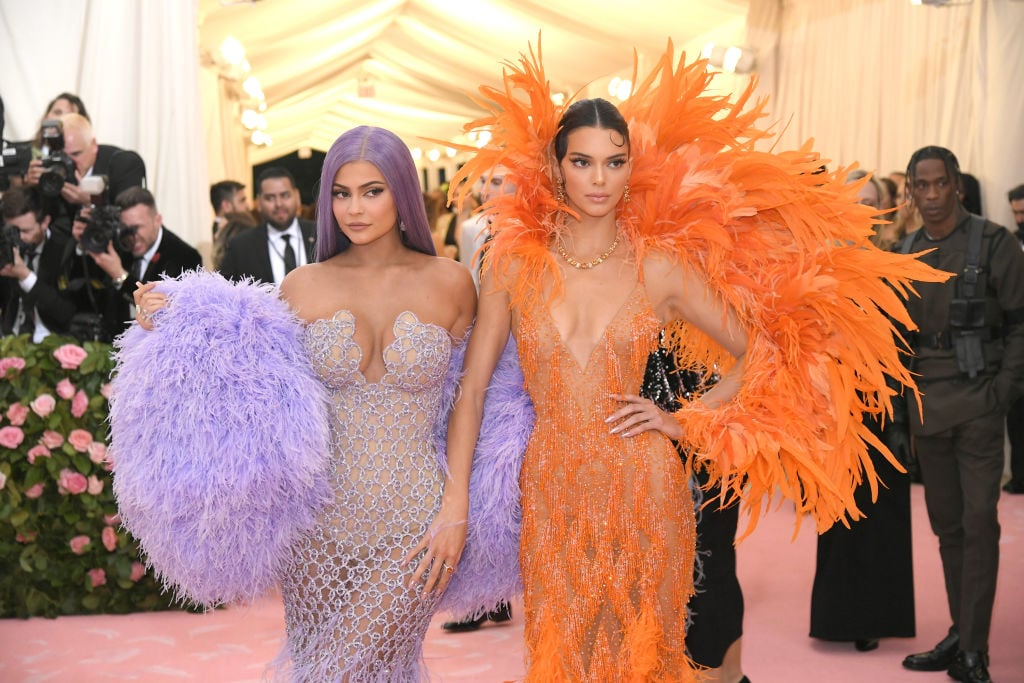 Kylie Cosmetics latest collab
Kylie finally revealed the latest Kylie Cosmetics collab — the highly anticipated collection with Kendall, something that's been in the making for years. The sisters couldn't work on the collab until Kendall finished up a contract with another makeup company, but the women have been working behind the scenes until they could officially launch something together.
Kylie unveiled the products on her Instagram, a beautiful collection that she noted, "The KENDALL X KYLIE collaboration is launching on the 26th! We have been dreaming this up for quite some time so I hope you guys love it!"
"We did this photo-shoot for the packaging maybe two years ago? A year and a half ago. So long… I've been so excited to finally collaborate with my sister," she explained. "With everything going on, it's been pushed back a lot so I'm very happy to finally be showing you guys."
As for what fans can find in the collection, Kylie explained, "We have a lip blush kit that I've never done before, three face sticks — bronzer, highlight and blush — which I've also never done before, this amazing blotting powder and an amazing eye shadow palette."
Fans called out the images for being 'creepy'
Plenty of fans were chattering about the collection, naturally, but a discussion kicked off on Reddit about the photos of the sisters used in the packaging.
One Redditor asked, "New collab with Kendall for Kylies cosmetics… as a person who is best friends with my sister I WILL NEVER UNDERSTAND THE INCESTUOUS SISTER PHOTOS. This is makeup… how are these photos supposed to appeal to who would actually buy Kylie cosmetics?"
One fan responded, "Because everything they do is through the male gaze" and another person agreed, writing, "This. This this this. Or at least the sexually objectifying gaze."
"Kylie and Kendall grew up in this oversexualized environment and it definitely affected them," another Reddit user commented. "They are all guilty of posing all over each other in a creepy way but I feel Kylie does it the most. She's always all over Stass, her friends, her sisters, twerking on them, leaning on them, etc. Tbh I feel like she just tries to be sexy all the time she's on camera, she barely acts like a normal person."
Another Redditor remarked, "Soft incest is a part of their brand," with others calling it "a level beyond weird… straight gross" and "tacky," and "very creepy." One Redditor explained, "Those were so cringey! It's like neither of them knew how to give any look other than bedroom eyes, and their bodies were so awkward laying next to each other."
Sex sells… so the packaging is 'genius'
Other Redditors debated who the demographic for this type of messaging is and found it confusing all around. One person noted, "Sex sells, I guess" and others agreed, with comments such as, "But like, for makeup I just don't understand who this is appealing to lol" and "Idk either lol especially with that top right picture with Kylie's hand on Kendall's neck… why soo sensual?"
Not everyone was so confused, however, with one Reddit user noting, in part, "…I think their marketing is pretty genius. They have never paid for an ad in a magazine or on tv like so many other makeup companies have. A huge part of marketing is getting people talking about the brand…"