Crosby, Stills, Nash & Young: Graham Nash Says Neil Young Added 'Toxic Masculinity' to the Group
Crosby, Stills, Nash & Young were far from perfect. They fought over many things. However, Graham Nash claims Neil Young added 'toxic masculinity' to the group.
Singer/songwriters Graham Nash and Neil Young have always had a complicated relationship. After Crosby, Stills & Nash formed in the late 1960s, they knew their music was groundbreaking. No one harmonized like them. They inspired singers like Stevie Nicks. However, fame and money eventually affected them. They started fighting over everything, including women. When Young began playing with the group, their toxic masculinity only worsened.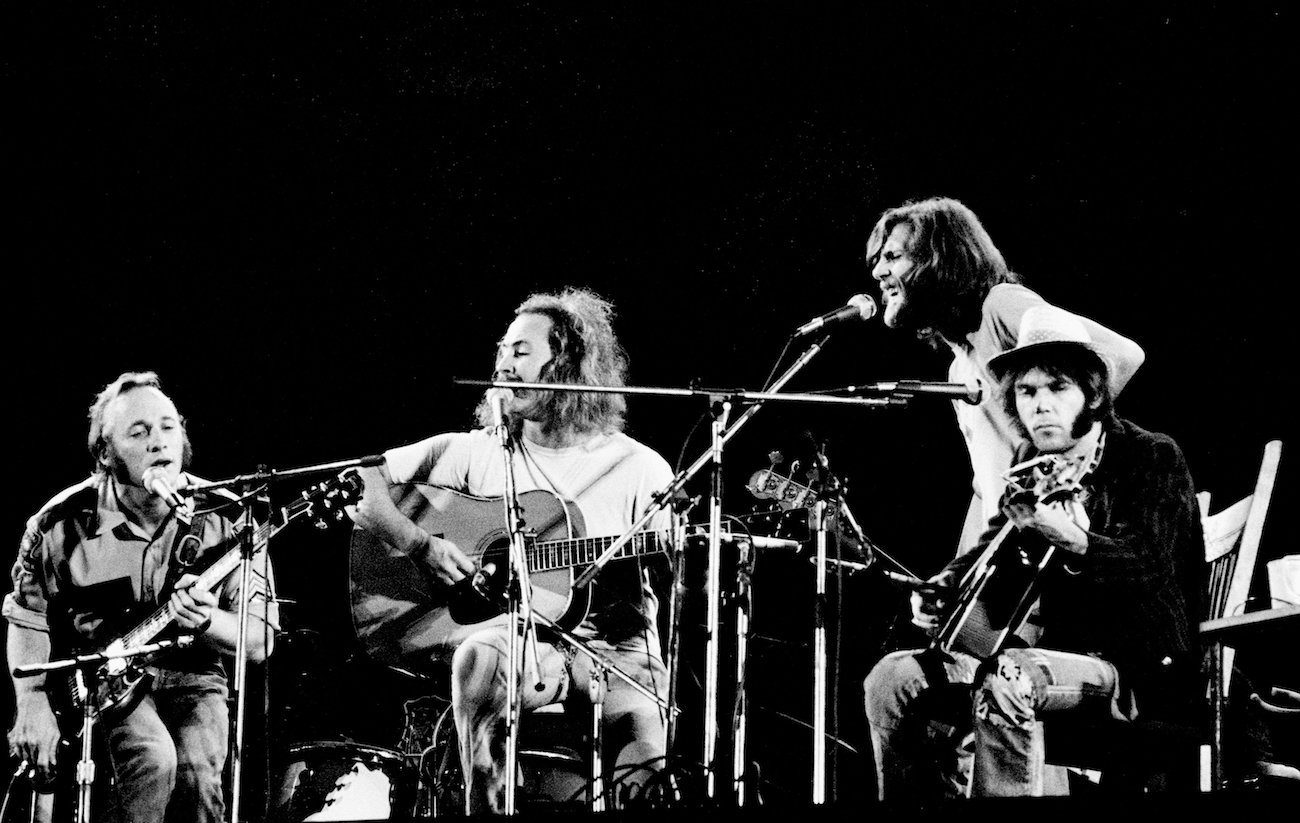 Crosby, Stills & Nash's excessive drug use and toxic masculinity undid their relationship with one another
Crosby, Stills, and Nash first played together at Nash's then-girlfriend Joni Mitchell's house. Nash told the Guardian, "The world f***ing changed from that moment. And that's what Joni was the only witness to."
After that, the three couldn't stop harmonizing. Nash said, "We used to go to our friends' houses in Laurel Canyon, me and David and Stephen with a couple of guitars, and we'd kill them. We were f***ing fantastic. We had discovered a new way of singing, of creating a vocal blend, making our three voices into one. They could not believe what we were doing."
In the beginning, Nash says the three were "in heaven." However, their relationship started to disintegrate due to their egos, drug use, and toxic masculinity as time went on.
Nash said, "When we first started there were no egos. I think that came from all the cocaine we snorted. That's what brought egos into it. There were an enormous amount of drugs being taken."
Nash once asked the singer Rita Coolidge out on a date. However, Stills called her and said Nash was sick and that he'd take her. Stills and Coolidge lived with each other for a few weeks before Nash "won" her back.
In his memoir, Wild Tales, Nash mentioned Michelle Phillips of the Mamas and Papas. He wrote that the only reason he went to meet the band was because he "wanted to f*** Michelle."
Nash continued, "Well, I didn't want to f*** John, I didn't want to f*** Denny, and I didn't want to f*** Cass. I wanted to f*** Michelle." He paused. "Now this was pure toxic masculinity. Completely."
According to Nash, the group's toxic masculinity only worsened when Young joined.
Graham Nash said Neil Young brought more toxic masculinity to the group
In 1969, Young joined the trio. While the newly formed quartet made more great music together, their relationship with each other wasn't always the best. Nash claims more toxic masculinity came into Crosby, Stills & Nash when Young joined the group.
"It became more evident when Neil joined," Nash said. "I've stood in the middle of Stephen and Neil countless times, with these two stags talking to each other through guitar riffs." The Guardian asked, "If Stills and Young were stags, what were he and Crosby?" Nash replied, "We were the grass that kept the two stags alive."
Nash respects Young but thinks he's selfish
The English rock star still has some conflicting thoughts about his bandmate. While Nash respects Young, he also thinks the "Heart of Gold" singer is the most selfish person he knows.
"I've got utmost respect for him," Nash said. "You can put a European tour together with a crew of 25 people and then a week before he says: 'Nah, I don't feel like it,' so all those people are now out of a job. Things like that with Neil I don't agree with, but I understand his strength and I applaud him for it."
However, in his defense, The Guardian pointed out that Young had a couple of excusable cancelations. Young canceled tours in 1997 after slicing the top off his finger while making a sandwich. In 2013, he canceled after Crazy Horse guitarist Frank Sampedro broke his hand.
Still, the Guardian asked Nash if he thinks Young knows he's selfish. "Neil knows what is best for Neil," Nash replied. He also revealed he prefers CSN to CSNY.
Nash isn't the only one who thinks Young is selfish. Crosby also thinks Young is the "most self-centered person" he knows. Whether the four singers/songwriters can put all their drama aside to tour again remains to be seen. Nash said there's "not a chance in hell." There's even a completion between them on who can hold a grudge the best. Young claims it's him.
How to get help: In the U.S., contact the Substance Abuse and Mental Health Services Administration helpline at 1-800-662-4357.