Crossover Reveals How 'Riverdale' and 'Chilling Adventures of Sabrina' are Connected
The 'Riverdale' and 'Chilling Adventures of Sabrina' crossover episode on The CW finally reveals one way in which the two worlds are connected.
Fans of Chilling Adventures of Sabrina were thrilled to see Sabrina Spellman make her Riverdale debut in the Dec. 7 episode. And after months of speculation, viewers now know how the two worlds are connected. 
'Riverdale' and 'Chilling Adventures of Sabrina' come from creator Roberto Aguirre-Sacasa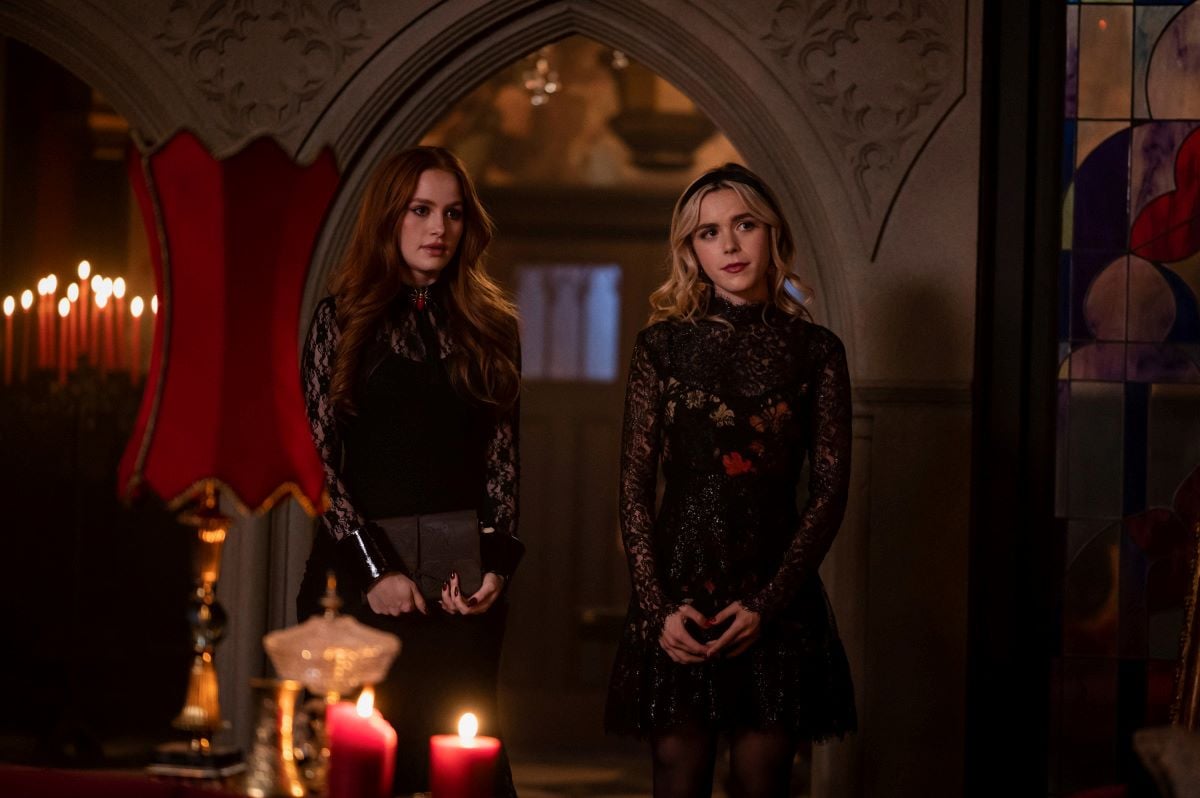 Roberto Aguirre-Sacasa wrote the Archie comic books Riverdale, and Chilling Adventures of Sabrina are based on. And after Riverdale premiered on The CW, the showrunner hoped to bring the witchy teen drama to the network as a companion series. 
But Chilling Adventures of Sabrina landed on Netflix. And after four seasons, the show was canceled. Aguirre-Sacasa wanted to continue telling the Spellman story, and he'd been teasing a Riverdale crossover for months. 
'Riverdale' and 'Chilling Adventures of Sabrina' connected through Cheryl in the crossover episode
In episode four of its supernatural "Rivervale" story arc, Riverdale resurrected Sabrina Spellman (Kiernan Shipka). The teen witch arrived at Thornhill to help Cheryl (Madelaine Petsch) cast a transference spell on her Nana Rose (Barbara Wallace). 
When Britta (Kyra Leroux) asks Cheryl (who's a witch in Rivervale) and Sabrina how they know each other, the witches reveal that they socialize through their covens. 
"Oh, we have a lot of mutual friends, share a lot of the same interests," Sabrina says. "Our covens are in the same softball league."
So in the Rivervale reality, the two worlds are connected through Cheryl and Sabrina. However, we don't know how this connection will translate when Riverdale returns to its original reality next season. 
The showrunner had plans to bring Archie and the gang back as witches
Before Chilling Adventures of Sabrina was axed at Netflix, Aguirre-Sacasa wanted to make an epic fifth season. When talking to Deadline this summer, the showrunner revealed that he had plans to bring the Riverdale crew to Greendale as witches. But he noted the idea was scrapped due to the pandemic.
"I finished editing the [Chilling Adventures of Sabrina] finale at the beginning of the pandemic and pitched a possible part five to Netflix which would've produced Archie, Betty, Veronica, Jughead, and all the Riverdale characters as witches," Aguirre-Sacasa said. 
"And there would've been a witch war between the witches in Greendale versus all of these witches and warlocks in Riverdale," he added. "Netflix was excited about that idea, but due to the pandemic, it didn't feel possible."
The showrunner didn't get the witch war he wanted. But he still hopes to bring Sabrina Spellman back, on TV or in a film. 
"My plans are to work on the comics and build up that library with the hopes that one day we can do a stand-alone movie or hopefully bring back the series," he told Deadline. "I feel like right now, this is like the research and development stage of the next iteration of Sabrina."
On her Instagram page, Shipka posted a story sharing a screenshot from the Riverdale crossover episode on her Instagram page. And she captioned it with a hopeful message. 
"That was fun," Shipka wrote. "Let's do it again."