'Crossroads': Britney Spears Only Asked for These 2 Food Items During Production
Britney Spears was surprisingly down-to-earth on the set of the 2002 rom-com 'Crossroads.' The film's producer said Spears only asked for two food items to be on set.
While filming the 2002 rom-com Crossroads, Britney Spears went on her own Starbucks runs. But she asked for two favorite snacks to be on set to get her through the long shooting days. Here's what one crew member says Spears requested during the filming of Crossroads. 
Britney Spears' 'Crossroads' was her debut as the star of a feature film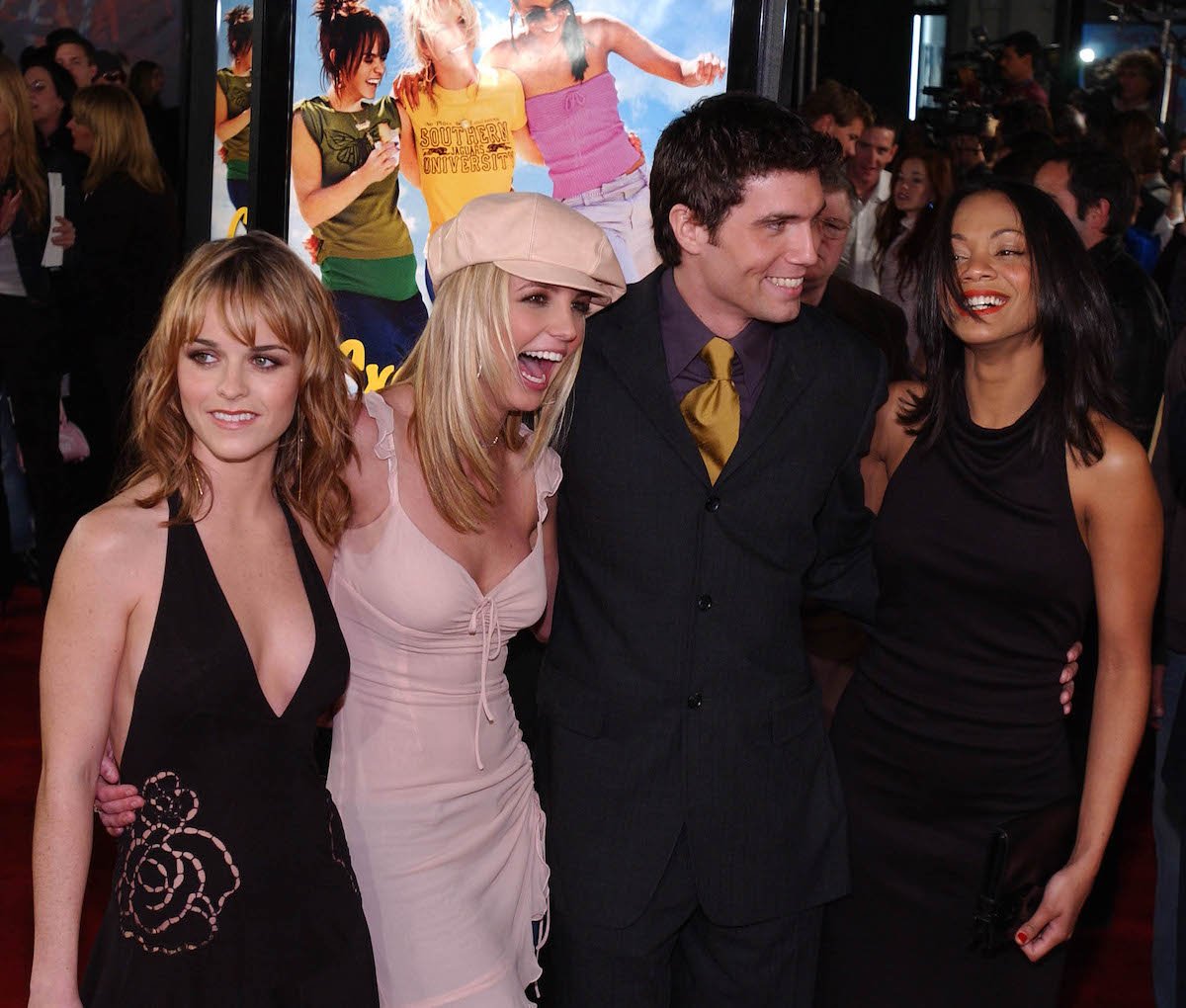 While Spears had a cameo in Longshot (2001) alongside NSYNC and Jungle Cruise star Dwayne Johnson, she hadn't yet starred in a feature film. Crossroads changed that. Spears starred as Lucy Wagner, a young woman just beginning to figure out the big problems in life. 
Lucy goes on a road trip with BFFs Mimi (Taryn Manning), Kit (Zoe Saldana), and Ben (Anson Mount). Along the way, they deal with such weighty issues as sex and teen pregnancy. 
According to MTV Films executive David Gale, despite her major role in a studio film Spears wasn't a diva. "She was not remotely like people's expectations of a young, teen star," Gale told Broadly.
Crossroads director Tamra Davis agreed, sharing a very down-to-earth memory of the pop star in Las Vegas.
"I knocked on her hotel room door, and she opened it up, and she was wearing, like, a little pink T-shirt and little shorts, and she was just hilarious," recalled Davis. "She opened the door and she was like, 'Man, I was hammered last night!' I was like, 'What! You're Britney Spears, and you were hammered last night?' She was, like, the funniest, really good girlfriend-y type of girl."
Spears asked for certain foods to be on set 
According to producer Ann Carli, Spears was equally down-to-earth on set. In the same Broadly article, Carli remembered the singer asking for only two simple items on set: tuna Lunchables and edamame. 
Spears also requested that the production team pick her up for work a half hour before call time because she wanted to pick up her own Starbucks coffee. Carli said she offered to simply have it waiting for Spears on set. However, the "I'm Not a Girl, Not Yet a Woman" singer rejected the suggestion. 
"She said, 'I don't mind,'" recalled Carli. "'I actually like going in and getting to decide.'" It seemed to be a moment of normalcy in an otherwise chaotic world for the globally famous pop star. 
Taryn Manning said Spears mostly kept to herself during the 'Crossroads' movie production 
In a recent appearance on Paris Hilton's podcast This is Paris, Crossroads cast member Taryn Manning revealed that Spears was fairly isolated from her co-stars. 
"I haven't talked to her since," Manning told Hilton in September 2021. "There was a time I ran into her, maybe, like, 10 years ago. She was never allowed to talk to anybody. I don't know if she was ever allowed to just have a friend, to be honest with you. … I don't know for sure, but it didn't seem like she could just call a friend and go kick it. Way before [the conservatorship]."
Courts placed Spears under a restrictive conservatorship in 2008, as a result of a series of highly publicized incidents that brought her mental health into question. After 13 years, Los Angeles courts finally lifted the conservatorship in September 2021. The courts removed Jamie Spears from control over her estate amid accusations that he was excessively controlling and surveilled her private activities.