'Crossroads': Everything Dan Aykroyd Said About Playing Britney Spears' Dad
Aykroyd commented on star's acting ability and admitted that his character is controlling.
In the fracas surrounding Britney Spears' controversial conservatorship, it's easy to forget that she once had a movie dad (Dan Aykroyd) in addition to a real father. While her dad Jamie Spears presided over the court arrangement — which finally ended in November 2021 — a well-known actor was the patriarch of her 2002 movie Crossroads. 
Here's everything that Saturday Night Live legend and Ghostbusters star Dan Aykroyd said about playing Britney's father in the road trip dramedy. 
'Crossroads' Director Tamra Davis said Dan Aykroyd's character needed to be 'stern'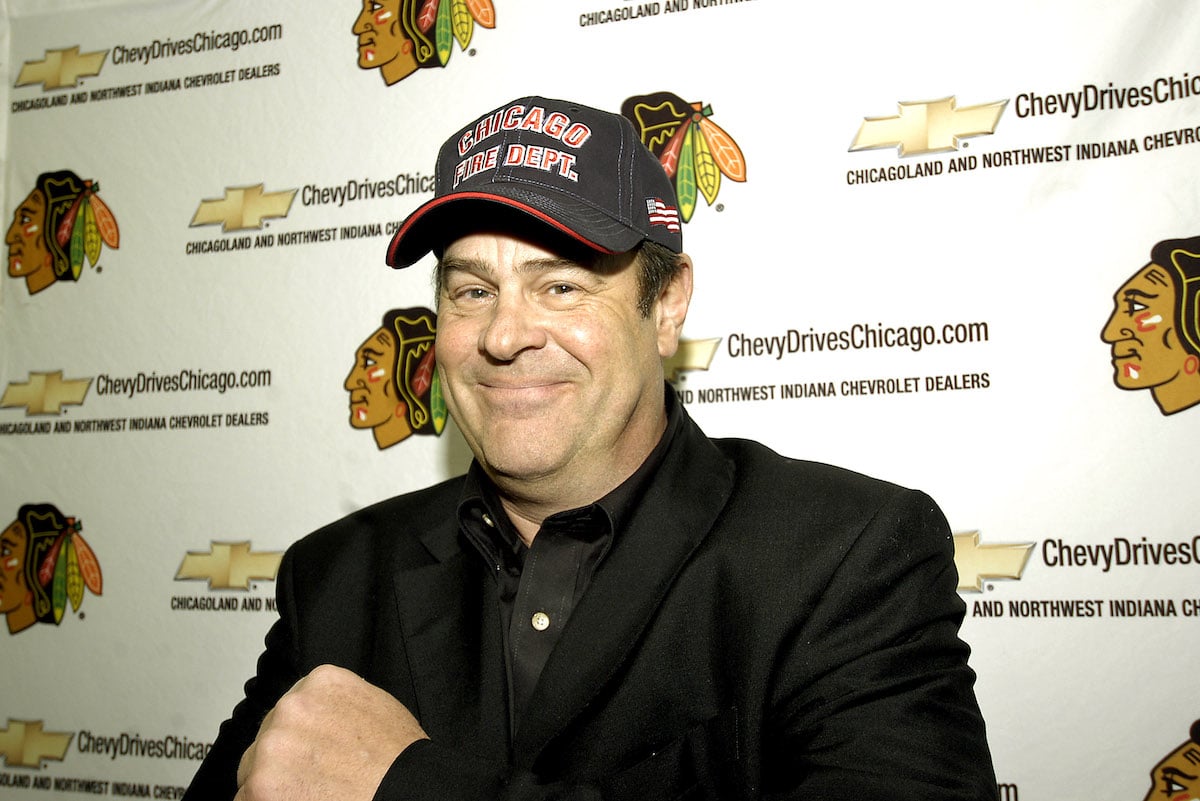 In the 2002 Crossroads episode of MTV's Making the Movie, director Tamra Davis says she was looking for something specific when casting Pete Wagner, the father to Britney Spears' incessantly doodling Lucy Wagner. 
"It was kind of this fun thing of like, trying to find the right mom and dad," Davis said in the docuseries. "And with the dad, we wanted somebody that would be stern, but that also would have a heart of gold, because it would just be too one-dimensional if he was just like 'Mr. Hard Guy.'"
Aykroyd agreed with the assessment that Pete is a bit over-the-top as a character. In fact, some of our earliest exposure to Pete's tough parenting appears in the movie's trailer. 
"Lucille Wagner! You're gonna be late!" Aykroyd barks through Lucy's closed bedroom door as she gleefully dances in her underwear to a Madonna hit. 
"Pete is definitely overprotective, for sure," Aykroyd says in the docuseries. "And he's got her in that rigid channel, and she's going to go to medical school, and that's it. And this is what they have dreamed for her." 
Davis added that Britney Spears was an essential part of casting her movie parents. "She was very involved also in the casting," she said. Sex and the City icon Kim Cattrall played Britney's mother, Caroline. 
Dan Aykroyd was impressed with Britney Spears from the beginning
According to a 2001 report in The Guardian, Aykroyd was nothing if not enthusiastic about playing the famous singer's dad. 
"She told me that she and her mother admired my work and then offered me the role…" Aykroyd reportedly told People magazine. "The dad in the movie is an ex-navy, nuclear submarine expert. He doesn't want his daughter to be a pop star. He's so strict that she eventually runs away."
Furthermore, Dan Aykroyd, who next appears in Ghostbusters: Afterlife beginning November 19, 2021, commented on Spears' acting. "She's got the essence of greatness," he said. "She can really act."
Britney Spears' 'Crossroads' is almost 20 years old 
With renewed interest in the singer's life, some fans wonder if the twenty-year-old movie will get a sequel. Screenwriter Shonda Rhimes says it's not altogether likely. 
"It's 20-something years later," Rhimes told Broadly in a 2016 interview. "I don't know what Crossroads 2 would be! Would I work with that group of people again? Absolutely!"
Crossroads Producer Ann Carli was more enthusiastic. "We've actually talked a little bit, in a weird way, about a sequel," she said in the same article. "There's a lot of people [involved], and they're really busy. Who knows? I think it would be a lot of fun, but everybody's in different places, from Taryn to Zoe to Britney to Shonda."
As if mirroring real life, in Crossroads, courts locked Britney in a battle of control over her life with her father. Eventually, however, Jamie Spears did relinquish control over her conservatorship. 
To sum up, maybe if a sequel rolls around, Dan Aykroyd's character will similarly become a little less intense.