'Crossroads' Sex Scene: Britney Spears Admitted Producers Removed a Condom Reference
Britney Spears was only 19 years old when she starred in her first and only feature film, 2002's Crossroads . Moreover, she already had an adult career, and she was facing some very grown-up situations. Among them was the question of how to handle a sex scene involving a teenager.
'Crossroads' was Britney Spears' only feature film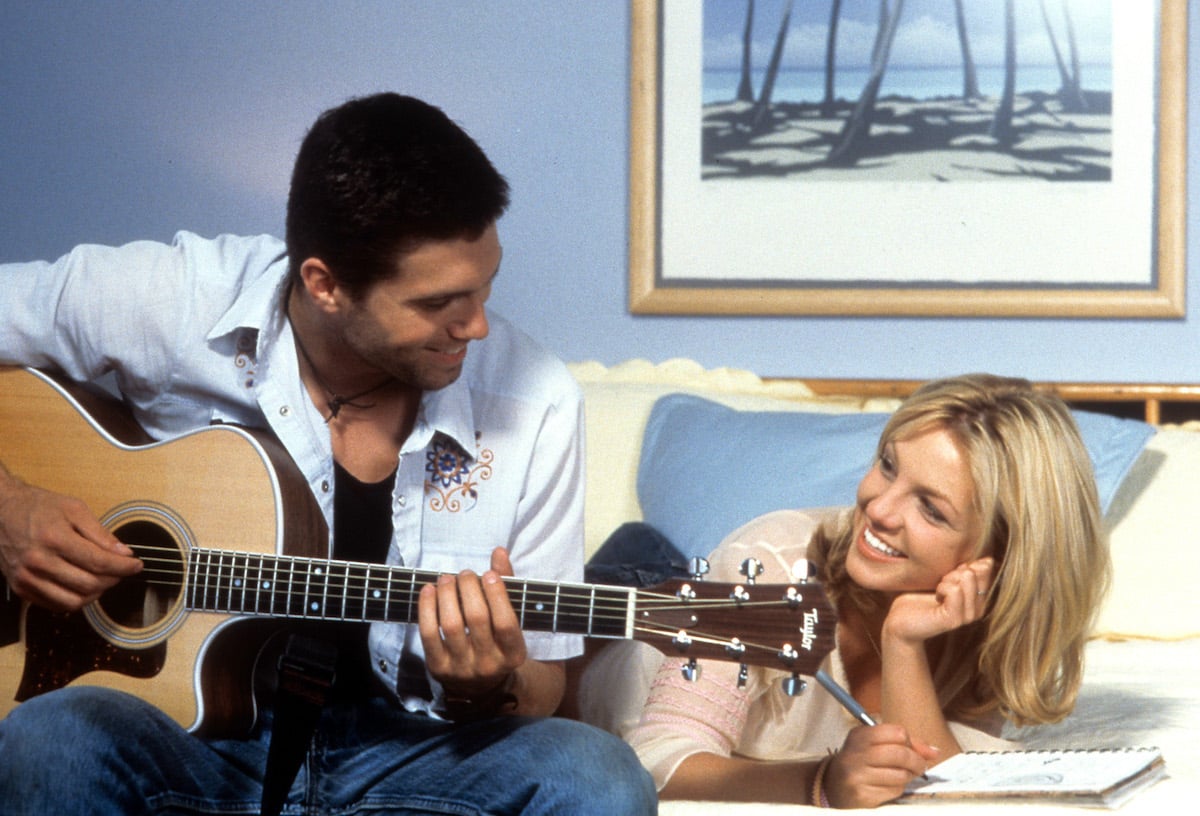 Despite auditioning for movies like The Notebook, Britney Spears only ended up starring in one feature film. The 2002 romantic comedy Crossroads. The singer was famous for a string of bubbly/sexy hits including the iconic Baby, One More Time. She stepped into the role of movie star as Lucy Wagner
Lucy is a teen looking for direction in life. She goes on a road trip with her two best childhood friends, played by Taryn Manning and Zoe Saldana. It's an emotional "life lessons" kind of movie, and it put the teen characters into difficult situations. 
Additionally, some of them are overtly sexual. Firstly, Mimi (Manning) brings along her hunky pal Ben (Anson Mount). The heat between Ben and Lucy is obvious. Secondly, Mimi is pregnant and facing hard choices. It's a lot for a small crew of teenageers to handle. Additionally, it makes the movie heavier than a typical teen flick.  
Britney Spears' character appears to lose her virginity in a 'Crossroads' sex scene
It was one particular scene that caused issues with some parents of young Britney Spears fans. In a relatively mild sex scene, Lucy seems to lose her virginity without any hint of using protection. In a 2002 interview, while promoting the movie, Spears addressed the concerns. 
"I think [the scene] leaves it to the people's imaginations that she was responsible enough and hopefully did [use a condom]," she said in a Hollywood.com article. "Actually…after I talk to Dan Aykroyd [who plays Lucy's father] at the very beginning of the movie there was a scene where I actually open a box of condoms that [the producers] took out because the movie was too long. So that was our attempt."
Spears continued, addressing Mimi's teen pregnancy and its fallout in the film.
"As far as [Manning's character Mimi] being pregnant, I think that's real," Spears explained. "That goes on every day, and I think that teenagers do make mistakes. I think it's cool that teenagers can go and watch that and say they're not alone and to know that they have their friends to talk to."
'Friends' is the ultimate theme of the movie, and it's something Manning recently addressed in a statement to Us Weekly. 
"I have not spoken to Britney in 10 years, but we had an amazing time on Crossroads," she told the magazine. "We spent months in the car that we took 'cross country' sharing stories, joking, laughing and had a friendship for years, especially while filming. I wish her only the best and am so happy about the progress of this week. Nothing but love for Brit!"
The singer just gained freedom from her controversial conservatorship
Manning's comment about "progress" refers to Britney's recent victory in her infamous conservatorship. On September 28, 2021, the singer finally extricated herself from a complex legal arrangement that put her father, Jamie Spears, in control of her life and estate. The conservatorship was the result of a protracted public meltdown during the mid-2000s.
In a series of documentary films, witnesses to Britney's life experiences recently came forward and claimed Jamie Spears' and others surveilled and heavily controlled her under the conservatorship. Moreover, Manning told Paris Hilton in a recent episode of her podcast This is Paris, that Spears was "never allowed to talk to anybody" while filming Crossroads, years before the conservatorship even began. 
It all finally seems to be behind her, though, and Britney Spears is headed for a new 'Crossroads' in life. She's engaged to longtime boyfriend Sam Asghari as of September 2021. 
RELATED: Britney Spears' Father Alleges Pop Star Is 'Mentally Sick' and Needs Psychiatric Hold