'CSI: Miami': Why Kim Delaney Was Fired After Just 10 Episodes
In the early 2000s, nothing ruled primetime television like police procedural dramas. One of the first and most popular ones was CSI: Crime Scene Investigation. The show followed a crew of Crime Scene Analysts in Las Vegas as they attempted to solve murders based on evidence found at the crime scene. The show spawned a number of spin-offs, including the hugely popular CSI: Miami.
CSI: Miami differed from the original show in its setting and its cast of characters. But one specific member of the cast was written off of the show due to her lack of chemistry with her on-screen partner. 
'CSI: Miami' was a huge success for almost 10 years
CSI: Miami first aired in 2002, as a spin-off of the success of CSI. As the years went on, the CSI franchise grew into a four-show universe with CSI: Miami, CSI: New York, and CSI: Cyber.
CSI: Miami centered around Lieutenant Horatio Caine (David Caruso) alongside Lieutenant Megan Donner (Kim Delaney) during its first season and Detective Calleigh Duquesne (Emily Procter) from seasons 2-10. 
CSI: Miami ran from 2002-2012 for a total of 10 seasons and 232 episodes on CBS. It was a critical hit and many viewers thought it had the potential to surpass the original show in popularity.
While CSI: Crime Scene Investigation outlasted CSI: Miami by three years, BBC once ranked the latter as the most popular show on television in the world in 2006 — so the popularity certainly wasn't lacking. 
Who is Kim Delaney?
Actress Kim Delaney was no stranger to police procedural television when she started out on CSI: Miami. Before landing the lead actress role alongside David Caruso, Delaney was a member of the NYPD Blue cast for eight years, where she played Detective Diane Russell. She also had a starring role in the legal drama Philly, where she portrayed a defense attorney for the show's only season.
Before finding her niche in NYPD Blue, Delaney appeared in a number of television movies early in her career. She started out in daytime television with a recurring role in All My Children from 1981-1984. After that, she made a number of guest appearances on TV shows before having her breakout in primetime television.
Why didn't Kim Delaney stick around on 'CSI: Miami'?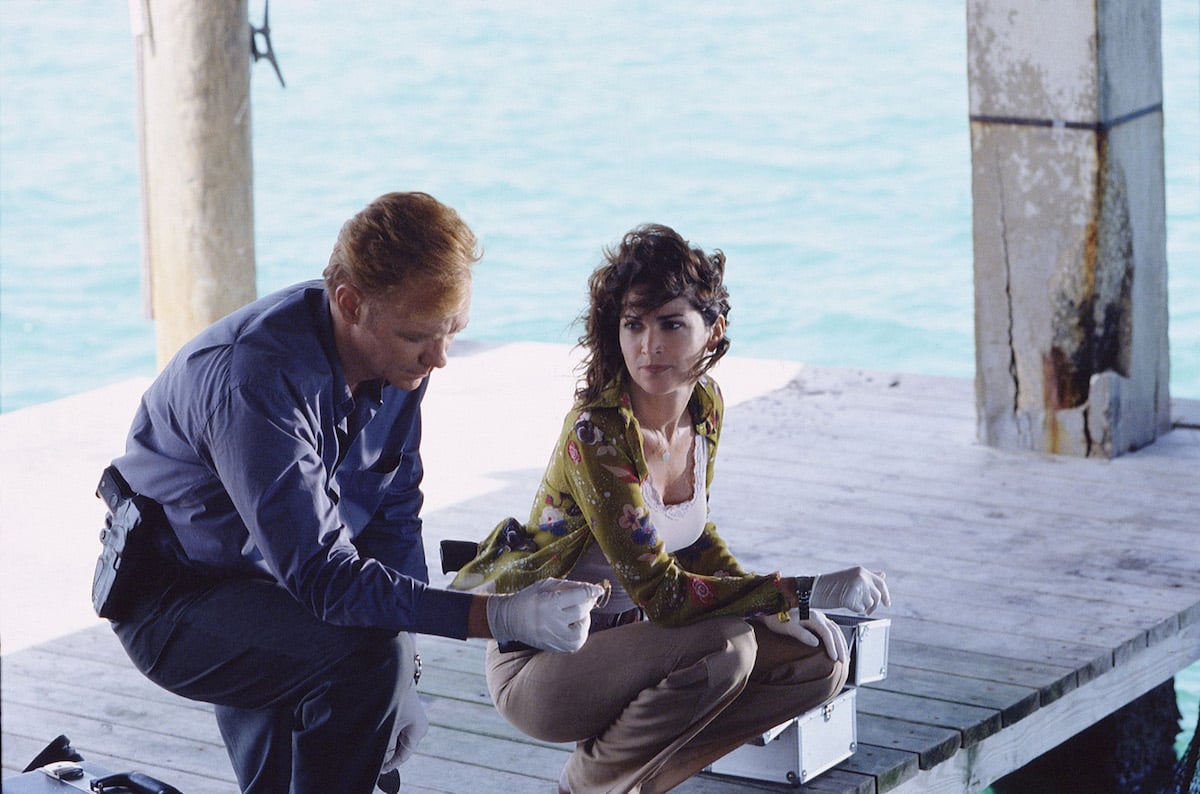 With how successful CSI: Miami ended up being, it may be surprising to hear that Delaney didn't even stay on the show for all of the first season. She only starred as Lt. Megan Donner for 10 episodes.
After that, Emily Procter took over as Detective Calleigh Duquesne. Because of the switch in partners, the show's first season often gets overlooked. Why did Kim Delaney have to leave, anyway?
In the show, Delaney's character was mourning the death of her husband, who was killed in the line of duty. Her technique of following the evidence to figure out the "whodunit" of each episode differed greatly from Horatio's "go with your gut" way of thinking about each crime scene. As a result, the two didn't often see eye-to-eye and Delaney's character decided to leave.
In reality, it's suspected that the lack of chemistry between Delaney and Caruso was to blame for the actress's early departure from the show. Reportedly, the show's producers didn't think that their potential romantic arc in the first season would appear natural, fearing that their lack of chemistry would make everything feel forced and unbelievable.
So, they wrote her off of the show, to be replaced by Procter. Procter stuck it out for the remainder of CSI: Miami's nine more seasons, being an excellent partner to Caruso's Horatio.