'Curb Your Enthusiasm': Larry David and Richard Lewis Hated Each Other When They First Met
When Richard Lewis and Larry David first met when they were 12 years old they definitely didn't need to "curb their enthusiasm."
David, the creator and star of Curb Your Enthusiasm wasn't a fan of Lewis when they met at camp and the feeling was apparently mutual. Lewis recently gave a candid interview to The Washington Post about white-knuckling his way through life and his friendship with David.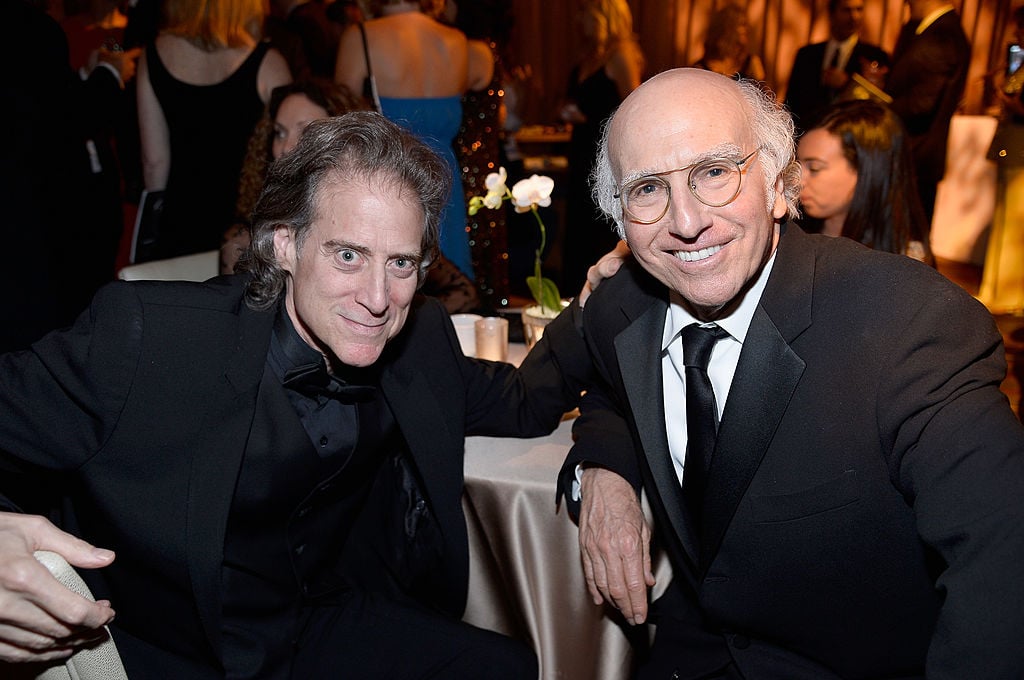 Lewis basically portrays a bombastic version of himself on the HBO series. He and David are friends who still get into squabbles on the show. For instance, when David decides to ban Mochas Joe's Lewis says he too will ban the coffee establishment. Of course, David finds Lewis sipping coffee at the banned coffeehouse which provides a gateway for a hilarious argument.
Their animosity is rooted in childhood
A lot of the animosity had everything to do with basketball, Lewis recalled. "We hated each other. He was an annoying, lanky, obnoxious basketball player," Lewis told The Washington Post. Also, "I was a better shooter."
Of course, David refutes this statement.  "I was a better player. I had more moves. I was harder to guard. I could go left and right. And put up a jump shot. And I was a much better rebounder." They drifted as children but reconnected in their early twenties on the New York City standup circuit.
Fast forward a few decades and Lewis now plays a friend who actually annoys David, shown recently via the Mocha Joes plot. Lewis says he plays "the friend who really annoys Larry, and I really annoy him. Whenever I hit him with the truth — just straight-faced telling him the truth — he just starts laughing." 
They also had a 'million dollar' dispute
They also have different recollections of a time when Lewis supposedly asked David to "give" him $1 million. They both recall that Lewis asked for the money. David said he'd have to consult with his wife, who didn't want David to give Lewis the cash.
Their dispute stemmed from whether or not the money would be a loan or not. "Here's our big argument about that. I promised him I would pay him back and he says, 'No, you didn't,'" Lewis told The New York Daily News. "He says, 'No, you never said that.' To this day I know I would never take a million dollars and not try to monthly or yearly pay him back, but he doesn't believe me."
David recalled the instance quite differently. "He just said, 'I want you to give me a million dollars.' He never said the word 'loan,'" David told The New York Daily News in a separate interview.  "I would never refuse Richard Lewis anything."
But they still have a tight bond
Despite the disdain for each other as children and the million-dollar dispute, the guys remain tight. Just not so close that they'd drive the 23 miles to visit each other when not on set.
"We're as close as can be," David told The Washingon Post. But adds, "We live too far apart," The 23-mile drive is really just a little too much. "We're both extremely lazy when it comes to moving."